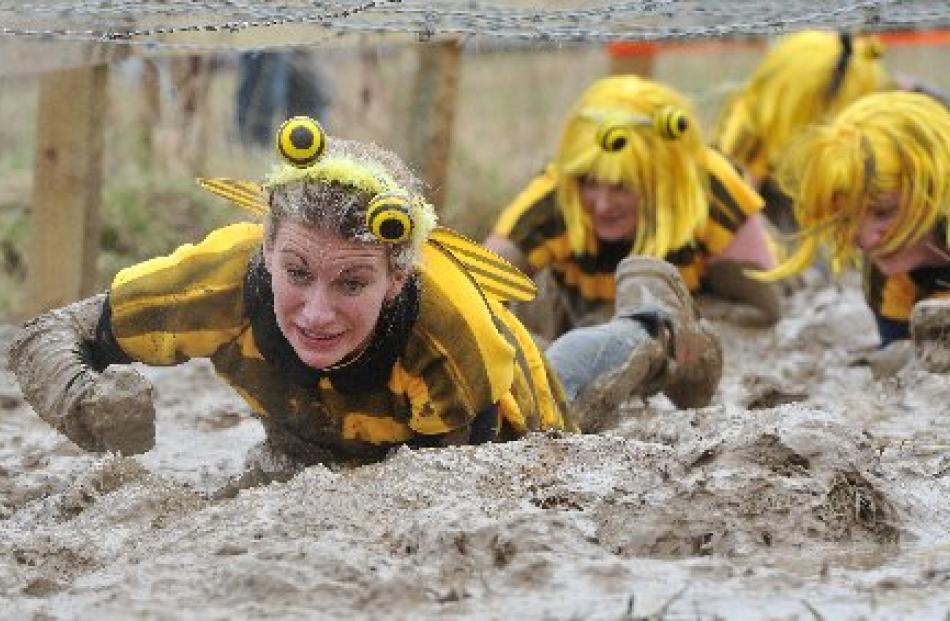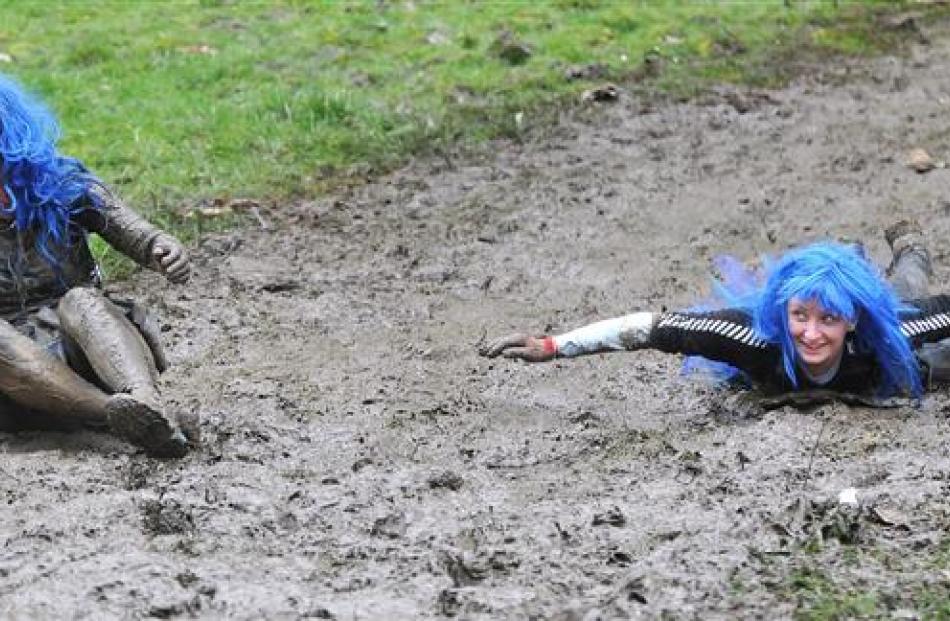 A little mud never deterred a fairy, Batman and Robin, the musketeers, or even a bumblebee.
Conditions were perfect for the Mud, Sweat and Tears event at Wingatui yesterday, with the day starting out with some rain before becoming fine, Dunedin operations manager Paul Vlieststra said.
As a result there was plenty of mud for the 600 competitors, many in fancy dress, to wade through, crawl in and slide down over the 5km or 10km loops.
''The costumes were really great this year.''
Once they had done a lap of the racecourse, then crawled under the low barbed wire platform, there were not many who were not covered from head to foot in mud.
They then dragged themselves up a hill to a slide, many revelling in the muddy slide down, before heading back on to the racecourse and to the hot showers after the finish line.
Results were.
10km: Women's under 45: Louisa Andrew 1, Mel Aitken 2, Monique Francois 3; Women's over 45: Jane Matchett 1; Men's under 45: Josh Brinkman 1, Ken McDonald 2, Michael Shearer 3; Men's over 45: Ross Ingram 1, Kevin Merrychurch 2.
Teams: Mixed: You Know it 1, Cross fit Dunedin 2, Team Thermatech 3; Men: Absolute Number one 1, HWh 2; Women: We KKKKan Do it 1, The Invincibles
2.5km: Women's under 45: Nikita Fitzgerald 1, Jordan Bone 2, Sonya McGregor 3; Women's over 45: Lisa Palmer 1, Jenni Topliss 2, Debbie Bishop 3; Men's under 45: Royce Madigan 1, Tyrell Cunningham 2, Youri Wijland 3; Men's over 45: Brent Bachop 1, Fraser McGrouther 2.
Teams: Men's: Blind Venison 1, Team Frucor 2, Classic Hits 3; Women's: Mitchell Partnerships 1, Scuba Fit 2, Where's the finish? 3; Mixed: I See you TWO 1, Move Me 2, Les Mills Roads Runners 3.