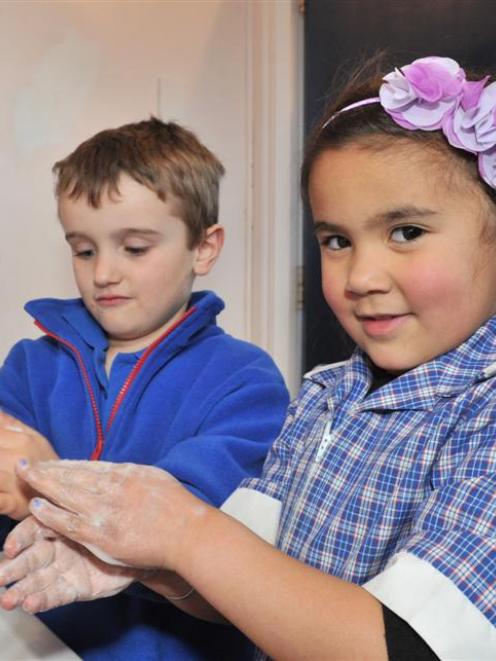 A cold is different from influenza. The flu usually develops more quickly. You will have fever and muscle aches within a few hours and will generally feel sicker than with a cold. John Lewis and Eileen
Goodwin report
.
If you thought there was a lot of illness around Dunedin lately, the bad news is the worst may be yet to come.
Environmental Science and Research nationwide statistics show the annual influenza season is just beginning.
In the past week, a total of 121 consultations for influenza-like illness were reported from 53 general practices in 16 out of 20 district health board regions.
This gives a weekly consultation rate of 44.2 per 100,000 patient population.
Based on 2012 records, the number of people reporting influenza-like illness could more than triple over the next few weeks.
Reported cases in district health boards around the country are already well ahead of those reported this time last year.
Health experts are predicting the peak of the flu season will be later arriving this year and, as a result, the New Zealand Government has extended free flu vaccinations for the elderly and others at increased risk of serious flu complications by one month, until August 31.
Laboratories are reporting influenza A (H1N1) - the strain which caused the pandemic in 2009 and 2010 - is the main virus causing flu sickness across Otago and the rest of the country this year.
Bayfield High School principal Judith Forbes said the school was hit by a bout of bad colds and gastroenteritis at the end of last term, which affected most pupils.
It was one of the worst periods of illness the school had experienced in recent years, with up to 30 pupils a day off school for between two days and a week, she said.
Mrs Forbes said illness was minimal again at the school, but she was preparing for the impending peak.
Otago's largest school, King's High School, has also had issues with ''coughs and sniffles''.
Principal Dan Reddiex said this year the same number of pupils had been off sick as in previous years, but they were taking longer to recover.
''Normally, pupils are absent for 1 to 2 days at this time of year, but it's up to five days at the moment.''
Otago Primary Principals' Association chairwoman Stephanie Madden said the number of primary pupils off school around Otago with winter bugs this year was on a par with previous years but she, too, was concerned the winter illness season was just getting started.
Most pupils at her school, Abbotsford School, were hit by gastroenteritis at the end of last term, which saw up to 16 pupils per day absent for up to two days.
Pupils were being advised on good hygiene practices in a bid to keep germs and viruses at bay.
''In term two and three, we give reminders about good hand-washing, staying home if you are unwell - those sorts of things.''
Southern District Health Board medical officer of health Dr Keith Reid said about 140 people consulted with their general practitioner across the DHB's region last week for symptoms which might be influenza, which was typical of a ''moderate flu season''.
''The trend is still upwards and the peak has not yet been reached.
''Usually, peak levels of influenza would occur in the next week or so but the peak occurred late in the season last year.''
Since the start of the flu season, there had been nine cases requiring hospitalisation in the Southern district and some of those required intensive care.
He said the present vaccination included the H1N1 strain and was the best way to obtain protection against influenza.
As well as vaccination, it was important other control measures were followed, he said.
These included staying home if sick to avoid spreading infection; using tissues to catch sneezes and coughs; binning tissues immediately after use and then washing hands; and sneezing into your elbow.