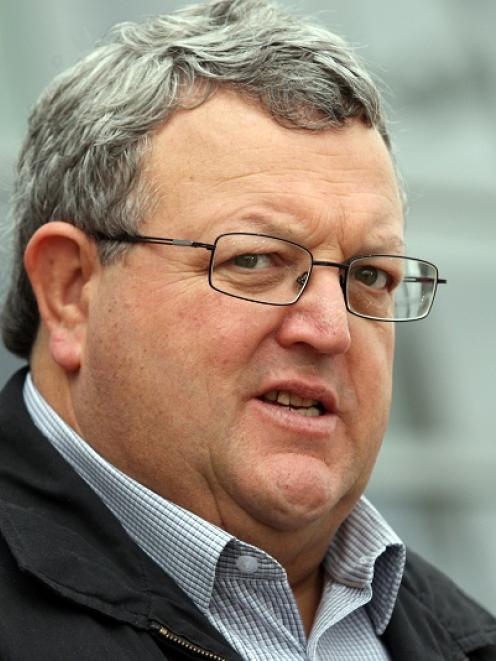 The Canterbury earthquakes disaster has given Christchurch an opportunity to rise as "the best small city in the world", earthquake recovery minister Gerry Brownlee said this morning.
Giving a State of the Recovery address at a refurbished central city Ibis Hotel, due to reopen next week, Mr Brownlee said the city's $30 billion rebuild was on track, despite the adversity the city has faced.
He said the central city red zone cordon - an initial area of 387 hectares after last February's killer quake - had shrunk to just 49 hectares today.
It should be "fully open" by the middle of next year, he said.
"Out of the tragedy comes the opportunity to create the best small city in the world, and there are extraordinary opportunities for anyone who wants to be part of it," he told the large breakfast gathering.
Mr Brownlee said the rebuild was gaining momentum, with nearly $1 billion worth of building consents approved in Canterbury in the first half of 2012.
"The residential rebuild is about restoring our lives and the places we live. How and where we work, has also been changed.
''In the CBD and suburbs, 1600 buildings needed to be partially or completely demolished. Already, over 80 per cent of that job is done. That process has meant that we are not stuck with a dangerous dead zone at the heart of our city."
In the aftermath of the disaster, the Government passed the Canterbury Earthquake Recovery Act 2011 to streamline reconstruction.
Cera was set up "restore confidence", and for householders with broken or destroyed homes, rebuilding their homes has been a "key priority".
"It has been a big task, but we have now re-zoned almost 190,000 throughout the city and in the CBD. It is an extraordinary achievement," Mr Brownlee said.
"The zoning has restored confidence that we can rebuild Christchurch and restore our homes and neighbourhoods with some comfort, and know that if we had a similar quake in the future, it would not cause the same level of devastation."
He accepted it "wasn't a smart idea" to have built many neighbourhoods and suburbs on land which is now unfit for further residential occupation.
A total of 7779 properties have been red-zoned, leading to the Government paying homeowners out more than $915 million to date.
"It has been a tremendous success," Mr Brownlee said.
Latest GNS predictions say seismic activity is abating, and Mr Brownlee cited their long-term forecast that in the coming month the probability of a 5.5 to 5.9 shake has declined to 4 per cent.
The easing earthquake sequence has allowed more confidence from insurers and reinsurers, and is helping to drive the rebuild, he said.
Mr Brownlee said New Zealand had "something of a record of doing things a bit half-arsed", citing Auckland's harbour bridge, which was a short-sighted construction when opened in 1959, and Wellington's Parliament building, which "wins awards for being ugly".
"I am determined that this is not how we are going to recreate Christchurch," he said.
"The policy has to be that everything we decide to do in Christchurch is going to be the best.
"What's more, we need to do it quickly and - to use the jargon - it must be future-proofed. And will benefit New Zealand as a whole. We have the opportunity to now make it happen."