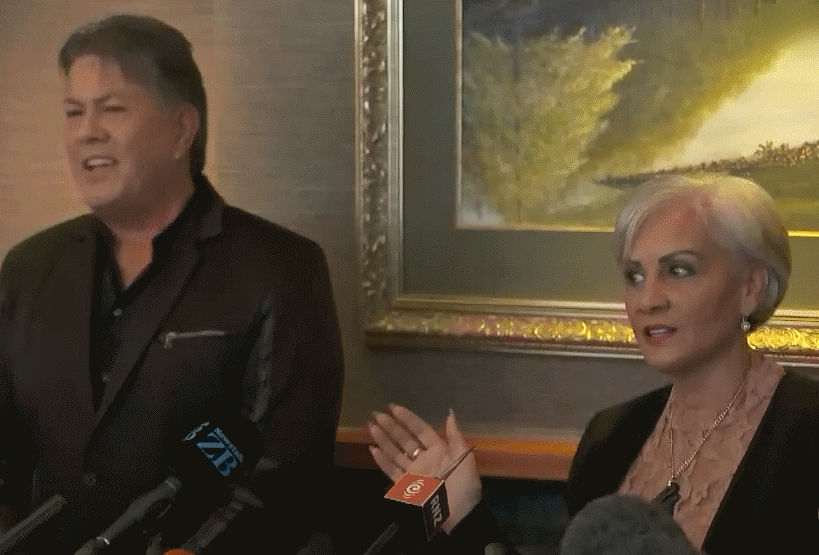 Destiny Church leader Bishop Brian Tamaki has promised "politics with teeth" which he believes is lacking from both Labour and National.
"Leadership is what's lacking right now," he said at a press conference launching a new political party.
"This party is desperately needed right now in this country."
He says a "silent majority" will gain a vehicle to express their voice, and not only Christians but the "wider public of New Zealand" need a voice to express how they feel about the current government.
Tamaki and wife Hannah will be standing together for the party, he says.
"Together this shows to a country that I believe has gone further away from family values because the cornerstone of any great nation is a strong family."
Anne Williamson will be party secretary and chair of the policy group, while Jevan Goulter will play a key role in the campaign and supporting Hannah Tamaki.
"I stand here as a Maori woman and a Christian...as a wife of 39 years with 40 years of helping 1000s of New Zealanders," Hannah Tamaki said.
"I stand here as an extremely concerned New Zealander. After extensive consultation with friends and family...I have decided it's time to make a stand."
She is fed up with seeing children in poverty, censorship of views that do not "Fit the leftist agenda", Tamaki said.
"I have a message for Alfred Ngaro," Tamaki said. "I do not know you. You seem like a reasonable man looking for somewhere to call home."
Despite some differing views, she suspects they share many ideas and invited Ngaro to "come and sit with me."
Hannah Tamaki will be leading the new party, called "Coalition New Zealand".
A two-pronged strategy would be to raise the party vote and achieve 5 per cent.
The second strategy will be to win an electorate. "Every vote will still count toward bringing in further members of Parliament."
She would not yet announce the seats the party will be contesting or the people who would stand for the party on its list or in electorate seats.
She will be focusing this year on letting New Zealanders get to know her better.
"Let it be clear, Coalition Party is not a Christian Party."
It will be a party "for all New Zealanders. You do not need to be a Christian to be marginalised in this society" or to be concerned about its direction.
"That said there is nothing to fear in Christian values", many of which have formed New Zealand, she said.
"Sadly many of our politicians have lost their moral bearings which after recent events in the news show evidence in our Parliament today."
They could "surely find a way forward through this that could beenfit the future."
She is not looking for a "backroom deal" from National or Labour, Tamaki said.
Speculation around Hone Harawira contesting Te Tai Tokerau against Kelvin Davis was not confirmed but Tamaki said Davis was "not safe", criticising the Labour deputy leader for his record on prisons.
The rights of Kiwis are being eroded and "swept away" before our eyes, Tamaki said.
"For me yes it's uncharted waters, like our ancestors with the pioneering spirit that got us to this beautiful country...so I will take my message to the NZ public and let them judge me come polling day."
Brian Tamaki's role at this stage would be in supporting his wife, he said.
"My role at the moment is being who I am in the movement of Destiny Church and leading the church...but we'll see what happens." He did not yet know if he would be standing.
"At this stage it's too early."
In answer to a question about whether women were equal, Tamaki said "yes, definitely" - she would be leading alone.
She would like to see prison numbers down and children cared for more, Tamaki said.
Families whose children had been taken away would be one of her priorities, Tamaki said, saying those actions were "attacking families".
Her concerns include the legalisation of marijuana, euthanasia and changing abortion laws. Tamaki called for a slower process that would give NZers more time to have their voices heard.
She believes marijuana is a stepping-stone toward harder drugs such as meth.