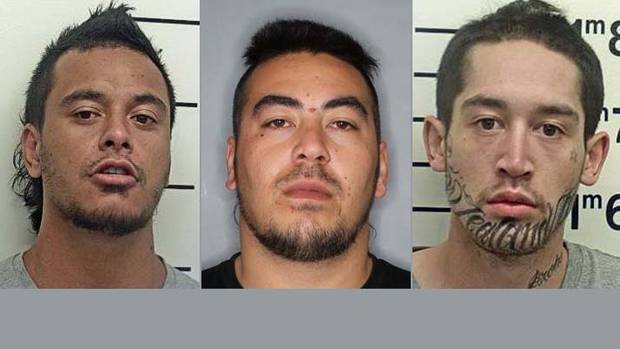 Police have admitted they did not follow best practice after three inmates overpowered a guard and escaped from Levin court yesterday.
Only two officers were guarding four inmates - which was not ideal, a police spokesperson told reporters today.
A man is appearing in court charged with aggravated assault and assists escape following the incident yesterday.
The spokesperson told media she did not know whether the prisoners had been handcuffed at the time they escaped.
The group had been in court on various charges related to violence and driving offences.
The police manhunt was focusing on Manwatū and further afield.
Meanwhile it has emerged that one of the trio has previously attempted to escape from prison.
Police are still hunting for Wiremu Eparaima, Te Wera Hemara and Emmanuel Witana, who escaped while being placed in transport at Levin District Court about 5.40pm when a fourth man restrained a police officer, allowing the trio to flee.
They ran from the station and hijacked a car, forcing the driver to take them some distance before they got out and fled.
Eparaima has tried to escape prison before, when he and fellow prisoner Jacob Peta tried to break out of Manawatu Prison in 2007, when he was just 18.
The Manawatu Standard reported their escape attempt took over an hour as they climbed four 4m mesh fences.
But they were thwarted at a final perimeter fence when a guard raised the alarm.
Eparaima was sentenced to four months imprisonment to be served cumulatively with his current sentence.
Levin Police said last night they did not want to unduly concern members of the public, but that anyone who saw suspicious activity should call 111 immediately.
Members of the public were advised not to approach the three men.
"Police are committed to locating and arresting these offenders as quickly as possible and ask for the public's support to do this," police said.
There were reports last night of police stopping and searching cars in Waiterere Beach, looking for the escaped prisoners.
Concerned locals posted to social media that they were triple-checking their locks and would not be answering any door knocks.
A spokeswoman said police were still trying to find the men at 6am. She did not answer a question about whether the men had been spotted.