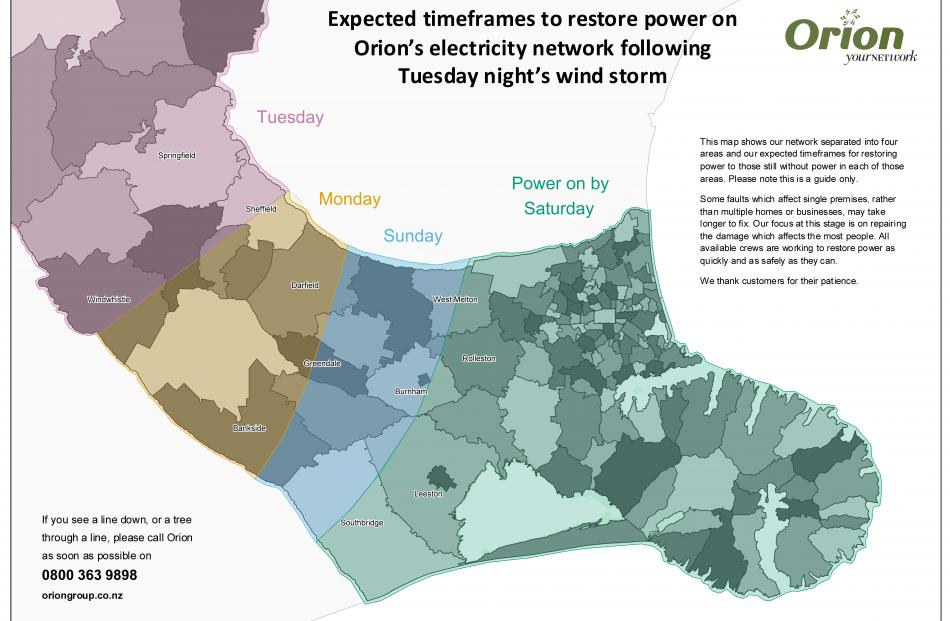 Thousands of rural Cantabrians remain without power, and many will not be reconnected until Tuesday, electricity company Orion says.
Four thousand customers from areas including Springfield, Darfield and Greendale have been without power since gale force winds struck the area last week.
At its peak, 28,000 customers lost their power after the storm.
"We are continuing to move in an east to west direction to restore supply to affected customers," Orion chief executive Rob Jamieson said.
"Our priority remains to reconnect the areas with the most customers first. We are also continuing to work with Selwyn District Council to prioritise water supplies."
Many lines remained damaged and as linesmen worked through the network repair new damage continued to be found.
"As a result some customers will unfortunately be without power for a few more days. We now hope that we can get power back onto all customers by Tuesday," Mr Jamieson said.
All available crews were working to restore power as quickly and safely as they could, he said.
Residents were asked to contact Orion if they discovered a fallen power line, or a tree on a power line.
"We appeal for people not to try and remove trees and branches from power lines. Please leave any works near electricity lines to our staff and contractors," Mr Jamieson said.
Meanwhile, while the worst of the storm has passed over the country, a band of rain was still moving across the Auckland region.
Heavy rain drenched the area yesterday and the continued falls today could lead to isolated areas of surface or minor flooding, and an elevated risk of coastal slips, WeatherWatch.co.nz said.
The rain was expected to ease after midnight.