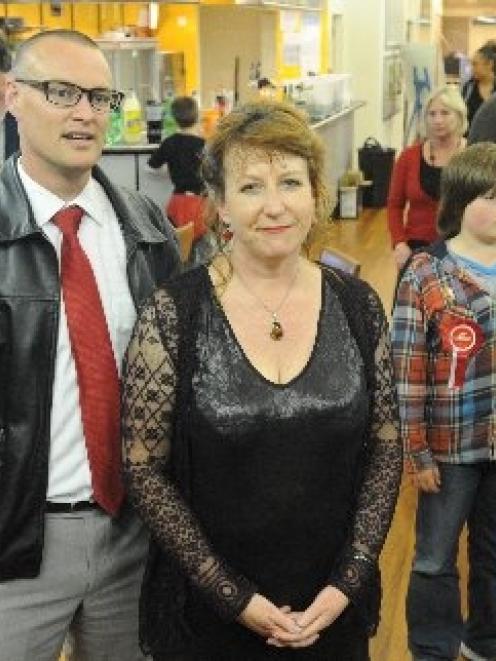 Incumbent Labour MP Clare Curran has had her majority slashed in the traditional Labour stronghold of Dunedin South and National has pulled off an upset by winning the party vote in the working class electorate.
The general election result has left both sides claiming victory, with Ms Curran declaring the result showed Dunedin South remained a "pretty strong'' Labour seat, while National rival Joanne Hayes described the result as "beyond my wildest dreams''.  
Ms Curran polled 15,759 to pull 3867 votes clear of National rival Joanne Hayes who got 11,892 votes. 
However, the winning margin is markedly down on her 6449-vote majority in 2008. 
And, in a reversal of 2008, National has won the party vote in the seat, polling 13,190 to Labour's 11,429. Three years ago Labour got 17,408 party votes and National 12,742.
Ms Curran, celebrating with about 50 campaign volunteers and supporters at Robbie's Bar and Bistro in South Dunedin, said South Dunedin voters sent a "clear message'' they wanted the seat to remain with Labour.
The increased party vote for National mirrored results around New Zealand, she said.
Ms Hayes, celebrating with about 100 volunteers and supporters at The Kensington pub, admitted she was surprised to have closed the gap with Ms Curran and win the party vote.
"It's beyond my wildest dreams.''
National list MP Michael Woodhouse, who polled second in Dunedin North, said he was "absolutely delighted'' with results in Dunedin North, as well as those in Dunedin South, and attributed it to National's "energetic, visionary and positive'' campaign.
"I think we can be very pleased.'' 
Dunedin North
Labour's Dr David Clark has won Dunedin North with a 3304 majority, retaining the seat for Labour.
Mr Woodhouse rang Dr Clark's campaign team in Alhambra rugby clubrooms at 10.05pm to concede.
Dr Clark thanked his supporters, and retired Labour MP Pete Hodgson, who left the seat in "good heart''.
Mr Hodgson never took the grassroots movement in Dunedin North for granted, and that meant the campaign had "stood on the shoulders of giants'', Dr Clark said.
The win was a culmination of 12 months' hard work from dedicated volunteers.
His brother, Ben Clark, had contested North Shore for Labour, which National's Maggie Barry had taken with a huge majority.
Dr Clark's mother, Faye, was in Dunedin to support him, while father Richard was in Auckland. That both sons were contesting seats had been a surprise for his parents, who were interested in "social justice'' but were not party political.
Dr Clark said he and wife, Katrina, who have a young son, would ensure they had appropriate strategies in place to deal with him dividing his time between Wellington and Dunedin.
Asked about the party's reduced party vote majority, of 587, Dr Clark said the Greens had run a strong campaign in the electorate, winning 5829 party votes.
Dr Clark's majority was also down on Mr Hodgson's 7155 in 2008.
Mr Woodhouse said he was impressed with the party vote result in Dunedon North, which saw Labour earn just 587 more than National.
"That was 5000 three years ago. I think we can be very pleased."
While supporters heartily congratulated their new MP, the mood in the Labour Dunedin North headquarters was somewhat subdued due to Labour's overall result.
At the Greens' Dunedin base at The Church, the mood was much more jubilant, with a delighted Dunedin South candidate Shane Gallagher pleased with the Green's increased party vote share in Dunedin.
Greens co-leader Metiria Turei skyped in to the venue to congratulate Dunedin party members and Mr Gallagher on an excellent campaign.
Mr Woodhouse received 8233 candidate votes, with National getting 8276 party votes.
Waitaki
In the Waitaki electorate, National MP Jacqui Dean increased her majority, beating Labour Party candidate Barry Monks 12,963 compared with 11,039 in 2008.
Mrs Dean said after the count was completed in the 80 polling booths the result exceeded her expectations.
It was the third time she had stood for the seat, after being first elected in what was the Otago electorate in 2005 by beating Labour's David Parker.
She said she expected to be judged on past performance, and hoped her increased support reflected the care she had taken to represent what was a large electorate, stretching from just south of Alexandra to Geraldine and inland to Mt Cook.
She was now confident with the support she had she could represent the interest of the whole electorate for the next three years.
In a reflection of the national support for the Green Party, its candidate Sue Coutts improved the party's vote this time to 3392, compared with 1916 by Oliver Briggs in 2008
Clutha-Southland
In Clutha-Southland incumbent Bill English held the seat with a whopping 14,915 majority over Labour's Tat Loo. National won the party vote with 18,427 compared to 4710 for Labour.
Mr English, addressing a 200-strong gathering at the Jacks Point Clubhouse in Queenstown, joked that Winston Peters had texted asking for a job in cabinet. He said he had texted back a simple reply: 'No'.
He said he had spoken to John Key and the national result "was better than we expected" and "it shouldn't be too hard to put together a government."
Te Tai Tonga
In Te Tai Tonga, Labour's Rino Tirikatene (5868) beat Rahui Katene (4423) of the Maori Party. 
Maori Party leader Tariana Turia said it appeared the electorate was sending the Maori Party a message.
"And it may well be ... that they haven't liked the relationship with National,'' she told TV3.
"I think the really disappointing thing for me is that Rahui Katene has worked harder than any Te Tai Tonga member that I can think of.''