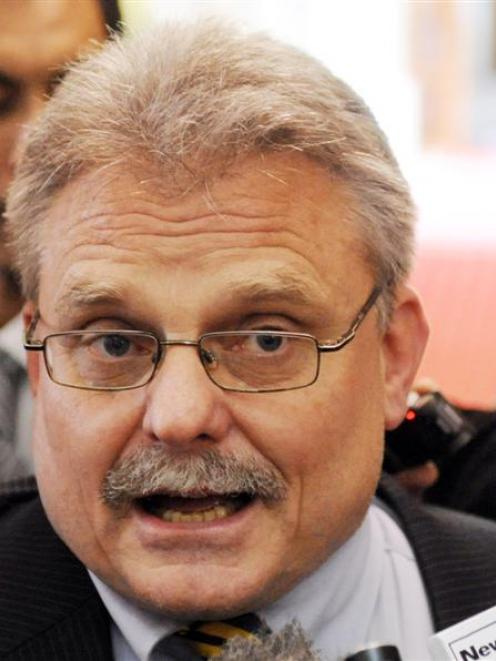 Act MP David Garrett has resigned from the party and gone to ground after issuing a statement this afternoon.
Mr Garrett has been silent since Wednesday when he revealed in Parliament that he had stolen the identity of a dead baby in 1984 to obtain a false passport. He was arrested and charged 21 years later but discharged without conviction in court.
He spoke out in the House after details of the offending were leaked to media, and the issue followed close on the heels of another revelation that he had a 2002 assault conviction after a fight in Tonga with a doctor.
"I can do nothing to change the past," he said today.
"For any number of reasons, I wish I had not done such a stupid and dreadfully hurtful thing in 1984. When my wrong-doing was revealed, the worst aspect of it all for me was reading the letters written by the mother and sister of the dead boy whose identity I used to obtain the passport."
Mr Garrett admitted his political career was "almost certainly over", but had other things to worry about.
"The worst aspect of all of this for me is that those who have seen fit to do so have opened the wounds of the boy's mother and sister all over again. As the person who inflicted those wounds in the first place -- however unwittingly -- I must take ultimate responsibility for that.
He said he wrote letters of apology at the time, and while realising they were inadequate, felt there was little more he could do.
"I wish to reiterate my profound regret for the distress and hurt my thoughtless actions inflicted on two women, one of whom is elderly. I am simply unable to imagine how it must have felt at the time they first learned of what I had done, and I am equally unable to imagine what they must feel now."
Mr Garrett said he was horrified when he read letters from the baby boy's relatives.
"I do not think I have ever felt worse. There is certainly no excuse for what I did, and I make none."
An order suppressing details of the passport fraud was lifted in North Shore District Court last night.
Mr Garrett said while that meant he was freer to speak, issues had arisen regarding an affidavit he swore in that case, meaning he was not able to address that aspect of the case.
That issue involves questions as to whether information he gave to the court included everything he was obligated to legally offer.
Mr Garrett said the ACT Party had an important role to play in Parliament and he regretted the damage he had caused it.
"I now want to do the right thing both by the public of New Zealand and the ACT Party. I have therefore this morning advised the leader that I resign from the ACT caucus effective immediately."
He said that decision was his own and he would now take two weeks' leave from parliament to consider his future.
"At this point I simply cannot make a decision on that."
A decision on his future would also include whether he stayed on as an independent MP.
ACT Party leader Rodney Hide admitted from Hong Kong on Wednesday that Mr Garrett had told him about the case before he joined the party.
Mr Hide cut short his trip and arrived in Wellington today to deal with the fall-out and is expected to hold a press conference this afternoon.