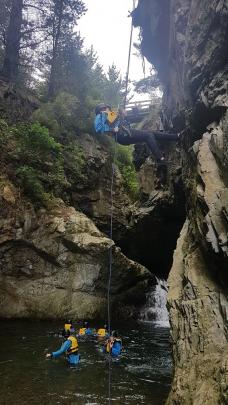 Last week, ten Year 10 students form Kaikorai Valley College took part in rafting, abseiling, high ropes, kayaking off a waterfall and a challenging overnight tramp as part of a five day programme with Peel Forest Outdoor Centre.
The programme was fully funded by Stewart Construction Ltd, a local Dunedin company with a long history of working with the Kaikorai Valley College, with the Managing Director having been a student at the School many years ago. Unfortunately the school had had to cancel its Tautuku Camp for the first time in over 20 years due to Covid and although they were able to reschedule activities for the school, the funding enable a group to have a life-changing experience.
Students had to write application letters for positions on the programme and were selected due to the benefit and impact the opportunity was likely to have on them. The programme was designed to provide a range of adventurous activities to challenge the students and help them to develop themselves both personally in areas of confidence, resilience and independence as well as socially through teamwork and shared living.
The group were amazing and really pushed themselves to achieve a huge amount. They admitted to some of the activities being the scariest and hardest things they had ever done in their lives and were extremely proud of themselves for what they had achieved. The result was a week of adventures, fun, laughter and some yodeling too!
 - Simon Turner