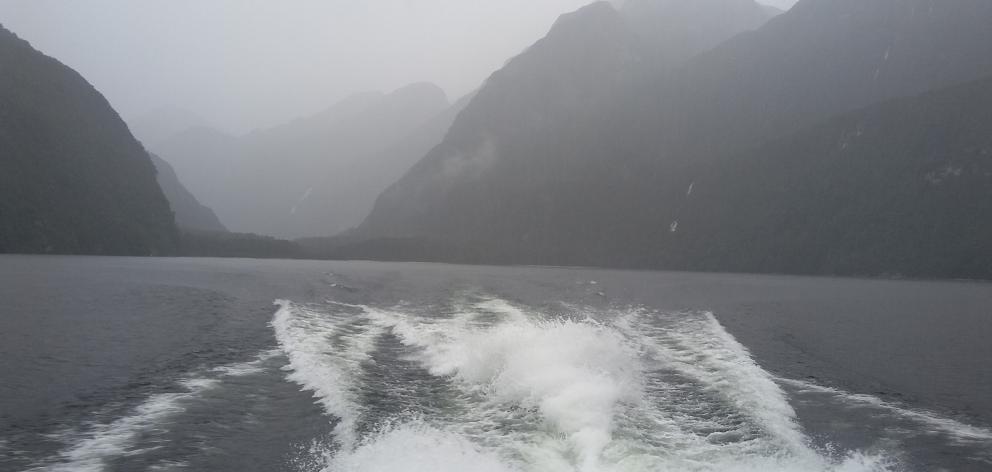 Our journey began with a hotel pick up at 7:05 am. My friend and I were on the first bus that was trapped en route to the Sound.
Noticing the weather getting worse, even from the beginning of the trip when our first leg of the journey ( a bus from Queenstown) turned off the main highway and headed for Lake Manapouri (which I now call 'Manisiteverpouring'). When Brian, our driver, pointed out the bank of dark clouds ahead, he put a positive spin on it, "looks ike we're heading into bad weather, but the good news is-you'll be seeing LOTS of waterfalls, folks!" 
The trip involved a bus to boat to bus to boat cruise in the sound. Our first bus ride led to a boat that crossed Lake Manapouri to a drop off point at the tip of West Arm. The weather kept closing in. (I did get a lovely pic of a beautiful rainbow at this point, but that's on a different camera.)
We could barely see anything from inside the boat due to rain and cloudy conditions. I went out back to get the one pic I did. Our boat detoured into a nearby finger of the lake and the Captain sidled up to a waterfall. Many came out for pics.
When we finally got to our drop point, the rain had steadily increased. It was pouring like I'd never seen before (my friend and I had been on a Red Carpet LOTR tour that kept us safe from Cyclone Gita a week ago), but rather than stop this tour (which surprised me and my friend) we were directed on to another bus.
That bus, driven by Alix, headed up a single lane, gravel top road... the only road in & out she explained. She gave us its history and reminded us that although the weather 'looked' bad, it really meant that it was 'good' for seeing waterfalls.
In truth, it was hard to see the waterfalls because of the pouring rain and clouds... until we got to a short bridge. At that point there was a RAGING river hurling down the mountain side!
She said something like "normally thus is a small stream... but she's really coming down now, eh!" (words to that effect) we didn't get much farther when she pulled our bus to the left, in a little parking pad area where we waited for about an hour. It was about noon an many of us ate our boxed lunches at this point. Then she directed us off the bus to a hostel across the road. All the while, it was pouring rain. It never let up.
We crossed or to the hostel in the rain, sat down and waited. They provided hot tea and coffee. Every couple hours a driver came in with updates.... the road washed out between us and the docks to the cruise boat ahead of us... the road washed out behind us... (many of us wondered if we were going to have to spend the night here)... then he announced they might be sending Helicopters to rescue us... then, finally he did announce choppers were being dispatched... taking Queenstown people first.
The buses had turned around when we came back out. Our bus only drove a short distance back up the road to a fork. We'd passed some road repair equipment en route. We stopped short of the fork and we're given helicopter safety lessons. They grouped us 6 at a time to the chopper. It was a brief, but very bumpy, ride through the storm.
Back to smaller boat... very choppy conditions where I slipped and cut my leg going down a stair. Our original driver greeted us with a box of pears. It was several hours after eating lunch... so that pear was eagerly accepted.
En route to Queenstown, our ever kept putting a positive 'spin' on the day's events with comments like "not everyone can say they've had the adventure you've had to Doubtful Sound. .. Plenty of waterfalls and a FREE helicopter ride!!!"
As soon as my friend and I got off the bus, we went in and asked about their refund policy... no questions asked. They refunded the trip cost and we were on our way. It was 10 in the evening and we were starving.
Pizza at Winnie's saved the day!
My 'take' on why it's named 'Doubtful Sound '??? If it's raining in that fiord, it's Doubtful you'll make it to that Sound!!!
 - Katherine Clark