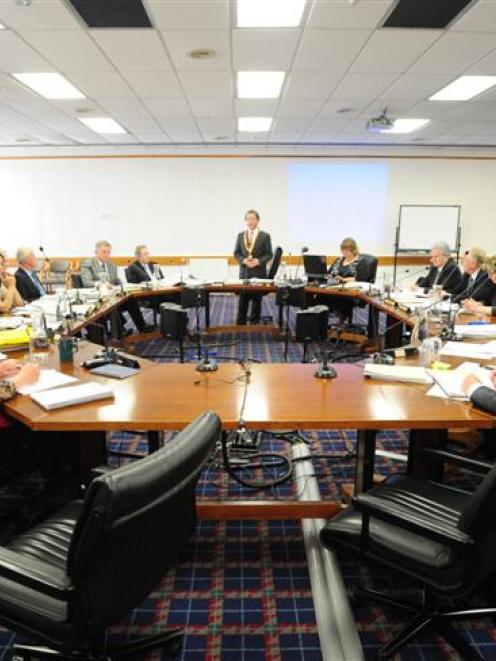 My councillor experience of Mayor Peter Chin's mayoralty was that of a man with usually gentle manners who played the role of an essentially ceremonial mayor.
He was proud of his record of leading a council which he worked hard to keep happy by avoiding direct confrontation, acquiescing to spending, and by avoiding involvement in DCC detail.
This style contrasted sharply with that of former mayor Clifford Skeggs, now Sir Clifford, whose autocratic style surprised me when I first ran unsuccessfully for council in the 1980s.
These differing approaches coincided with significantly different effects on Dunedin rates and debt. Sir Clifford's businessman's reign saw low rate rises and debt, while Mr Chin's tenure has seen unprecedented high rises in both rates and debt.
Mr Chin was fond of saying publicly that the mayor had just one vote, and his style was humble, often to the point of being self-deprecating. Privately, he appeared to value his A-Team majority of eight usually compliant councillors to smooth the passage of staff paperwork through council.
If one accepted the mayor's role as simply a facilitator with ceremonial duties, Mr Chin's focus and prowess in these roles would cast him as a successful, inclusive mayor.
My view is that ceremonial facilitation is just part of the mayor's role, and that it also vitally requires checking staff aspirations, costs, and information supplied, promoting the city and specific initiatives, and ensuring that all decisions are representative, properly consulted on and in the interests of all of Dunedin.
Unlike councillors, the mayor does not have just one vote. He has a casting vote as well, which we have recently seen used to push through the controversial Lovelock Ave realignment.
The mayor also has a personal discretionary budget, extensive staff access, communication and legal resources, a special relationship with the CEO, unmatched media access, automatic figurehead and University Council roles, and the all-important powers of appointment of committee chairs, deputies, appointments to outside organisations, and the apportionment of councillor remuneration.
These mayoral decisions do require a majority new council vote, but in practice they pass without real challenge and, most recently under Mayor Dave Cull, without any dissension or debate. The mayor is able to review all appointments throughout the triennium and is also able to decide on councillor travel and conferences.
All this mayoral discretionary power has resulted in varying degrees of mayoral sucking up by councillors and others, some of it quite extreme during my 2004-2007 term. It is a strong mayor, indeed, who is immune from flattery, allegiance, and inevitable false praise, when so much depends on mayoral favour.
The mayor's extensive influence on decisions made by Dunedin's biggest business and lawmaker also makes mayoral favour vital to many big business operators. A sympathetic mayoral ear can be worth a great deal to businessmen wanting rezoning, planning permission, roading and other big infrastructure projects.
There has been some criticism of the mayoral salary being almost three times that of a councillor's annual $40-something thousand, but in my view it is a small recompense for what is an all-consuming, totally public, 365 days per year job.
As with councillor remuneration, I do not believe it is a salary at all, rather a retainer to allow non-millionaires to afford the time to devote to civic service.
The job of mayor easily rivals that of the highly paid DCC CEO in importance to Dunedin, and any failure by the mayor to completely fill this role can lead to staff, the CEO and/or businesspeople filling the vacuum.
The kind of bureaucrat/public-representative relationship hilariously illustrated in the BBC series Yes Minister has rung quite true in recent years for our local government.
With the election of Mr Cull I hope that this master-civil-servant situation will change and that elected representatives will now drive policy, projects and priorities, instead of being driven by staff managers.
DCC staff are generally permanently employed, while elected representatives come and go at the whims of voters and an inscrutable STV computer programme.
This asymmetry between permanent staff and transitory elected representatives creates an imbalance of experience and information, which a particularly aware mayor can often redress through the wide-ranging powers and influence of his office.
In Mr Cull's first two weeks prior to officially gaining office, he has already made many decisions that matter, from appointments to remuneration to Lovelock Ave and a host of other issues. At the risk of being accused of sucking up, I think that so far he has done very well.
The exception to Mr Cull's promising start might be his apparently unsympathetic response to council candidate Bev Butler's request for an assurance of immunity from significant election recount costs above the $750 deposit she had paid.
Our mayor has exceptional powers and responsibilities, but I doubt that a yet-to-be-inaugurated mayor has the power to give such assurances.
It is a shame that sincere deposit-paid Bev is denied a recount of a bizarre STV system because she is not a millionaire, when common criminals get to appeal much more expensively with complete financial immunity every week.
If you strip away the false modesty, competition and insecurity that is rife among councillors, I believe that most would accept the mayoral chains in a heartbeat if given the opportunity. Most of us really want to make a positive difference to the wellbeing of Dunedin, but we know that it is the role of the mayoralty that really matters.

- Lee Vandervis is a newly-elected Dunedin city councillor and is a former Dunedin mayoral candidate.