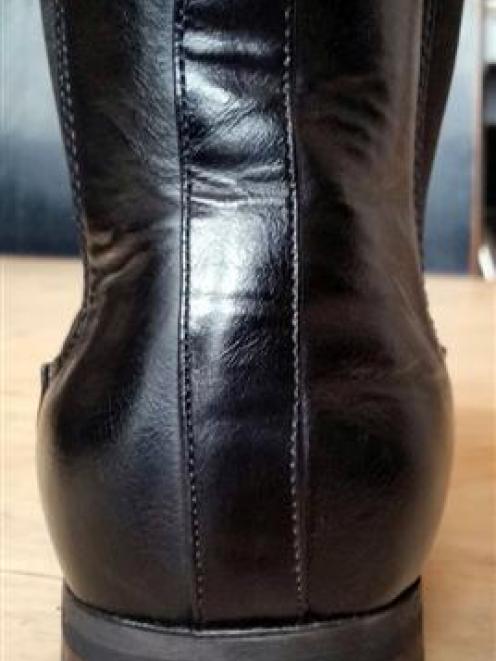 We live in a phenomenal time. Rational thinkers fight, hiss and scratch out each others' eyes long into the night arguing which phenomena should head the list.
Consistently, two subjects rise above all the rest: the internet and Imelda Marcos' shoe collection.
What a shoe collection this was!
Well over 3000 pairs, they say, although they also say there are far less than that now, some museumed, some retained by the Philippines First Lady when she fled the country, and, sadly, some eaten away by termites and floods.
There is no quarrel at all with the internet being considered pretty damn important.
But shoes?
I have never spent more than 40 seconds discussing shoes with anyone, not even people in shoe shops while I am buying a pair.
Here is the money, put them in a bag, has been the sum of it.
Why a woman, or, and this contentious issue is assuredly genderless, a man, would even own one pair of shoes strains my belief like a child's fishing line trying to pull a whale to the riverbank.
And if you seriously think whales don't inhabit rivers, then you haven't seen the mighty Manuherikea in flood up Omakau way when the snow comes down off the mountains.
Shoes were invented purely to protect socks.
Shoes have nothing to do with the feet.
Socks had already been invented to protect the feet when some madman decided we had to protect the socks as well.
The hat, too, had already been invented, to protect the head, and mercifully, nobody then tried to invent a hat to protect the hat.
I have just bought a new pair of shoes, well, boots, if you want to get overly technical, and I parted with the $20 these boots cost as I would part with one of my own lungs.
Why are shoes so expensive when they are completely useless?
I generally only buy a pair of shoes when my body and mind are simultaneously travelling in a far-off land.
The pair I just replaced for the boots, a sort of canvas sneaker thing, I bought at K Mart for $10 when I was blind drunk.
It was the Tuesday of our monthly restaurant group, and I scheduled a raft of complicated appointments to carry me through to the restaurant of 6.30.
But it was one of those Swiss watch efficiency days and I was consequently done by 1.30.
Being a rational man, I decided on a quiet Peregrine pinot gris in Nova, perhaps have a chat with someone, like one does on a weekday afternoon when the job market has dried up.
I was drunk by 1.55, hence when I tottered out at 5.30 feeling like a spot of shopping, only K Mart, which opens until midnight for goodness' sake, was open.
I quickly lunged at a $10 pair of canvas sneakers so the people monitoring K Mart's CCTV cameras would know I knew what I was doing.
These lasted three months, the sole opening up on the back left-hand heel of the left shoe because I walk, well, lurch, like a man with one leg a foot shorter than the other.
And on a day when I left home in sunshine and the rain came an hour later, I was stranded in town with water gushing in like gushing-in water.
So I bought the $20 boots and gave the holey sneakers to a busker.
The boots left black marks all over the wooden kitchen floor, so I knew they were quality.
But two weeks on, the sole is already sloping away from the centre on the left boot.
A sixth sense tells me soles should be stronger than this, especially if I have outlayed so much cash.
A friend laughed like a drain when I asked her if heel plate things might solve the problem.
''Not when the shoes are made of cardboard,'' she said.
She was lying of course, I swear there is some balsa wood in there.
A woman's envy when it comes to shoes is notoriously vicious.
But the question remains, why have shoes at all?
• Roy Colbert is a Dunedin writer.