Opponents of the proposed new international airport at Tarras had their moment in the limelight at a Christchurch City Council meeting yesterday.
Sustainable Tarras representative Chris Goddard told the meeting the representations were made more timely by the Government's announcement on Wednesday that state-owned enterprises would be carbon neutral by 2025.
The airport is being proposed by Christchurch International Airport Ltd, which is 75% owned by the council and 25% by the Government.
Mr Goddard raised the "option" of the South's airport capacity being "optimised" by getting the "full potential" out of Invercargill, Queenstown, Dunedin and Christchurch Airports.
He considered the Christchurch community would share the impact of development at Tarras.
Dividends of between $90million and $100million from the airport company to the city had been suspended for two years because of Covid-19, he said, and Standard & Poor's had noted the airport company had $576million of unsecured debts with $23million of annual interest payments.
"From the Tarras community's perspective, and from mine, it is very difficult to understand the economic, the environmental, the stewardship and the social benefits the airport would bring to Christchurch or Tarras."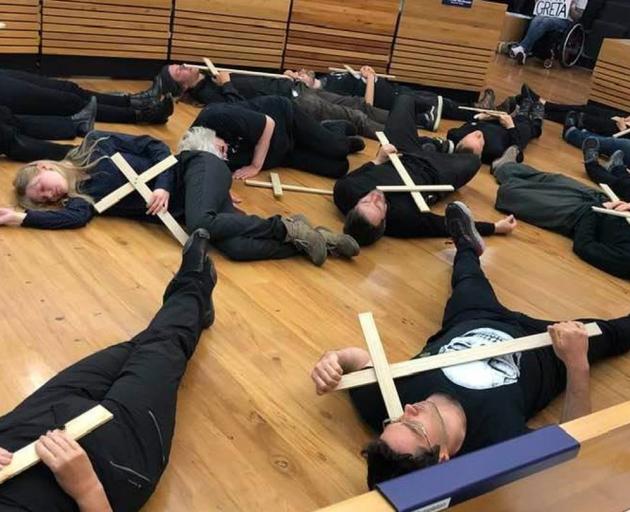 He called for the council's airport company to reveal its draft business case and plans for Tarras so there would be a "culture of openness where previously we have had a culture of secrecy around the Tarras land acquisition".
"This allows for an informed debate about the proposal.
"At the moment, the community is without real insight of what's being proposed."
There were no questions from councillors.
Protesters also attended — climate activists from Extinction Rebellion Otautahi, dressed in black and carrying grave markers, lay on the floor and pretended to "die".
For Extinction Rebellion, David Goldsmith asked the council to instruct its airport company, via its letter of expectation to the council's holding company, not to expand or build new airports "when we are living in a climate and ecological crisis".
Mr Goldsmith said he was not calling for the shutdown of the "luxury activity" of international tourism altogether.
"We are here for a ridiculously low-hanging fruit: the building of a whole new airport.
"Building a new airport is part of the crazy, criminal, great acceleration of emissions."
"Now is the time for courage and truly facing this crisis together."
It was hard to believe a new airport was being mooted in the middle of a climate emergency, he said.
"No amount of sustainability greenwashing can hide the fact that increased flight capacity will mean increased emissions.
"Our elected representatives owe ratepayers an explanation for how this project can possibly be consistent with the council's declaration of a climate emergency."
The committee later discussed the letter of expectation in committee. — Additional reporting The New Zealand Herald