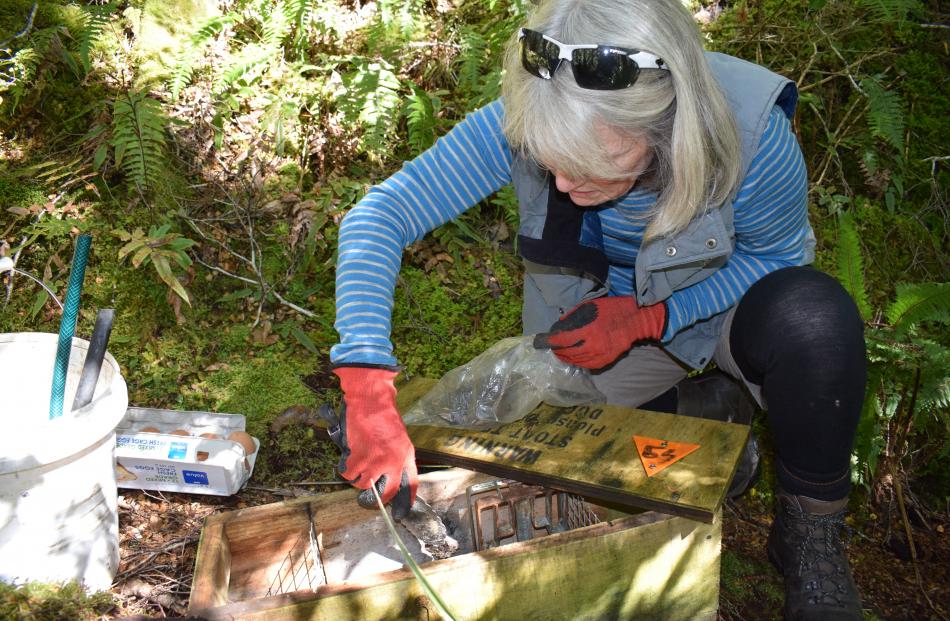 This week is Conservation Week and the Department of Conservation has been encouraging  New Zealanders to ''love your backyard'' and get involved in activities such as  trapping pests, planting natives, weeding and clean-ups in their own backyards to help bring back our native birds. Kerrie Waterworth goes trapping with a team working to try to save some of those birds.
Once a month, and more often in spring and summer, Upper Clutha Forest and Bird (UCFB) committee member Andrew Penniket and his wife Sue take a day off work and drive to a forest near the township of Makarora to check, repair and  bait a line of predator traps. 
"I first became interested in trapping when we moved to Wanaka in 1998 and I realised the forests were healthy but they were largely empty of birds.
"It was becoming widely recognised that stoats and rats were the problem," Mr Penniket said.
A group from Forest and Bird, in collaboration with  the Department of Conservation  (Doc),  established the first trapline along the Haast road, initially to protect mohua at the Blue Pools and on the Bridle Track. Twenty years on, there are now five Forest and Bird traplines in areas of known high forest biodiversity around Makarora, managed by a roster of 25 volunteers.
The Pennikets have been checking traplines for 19 years.
"Trapping is a big part of our life. It is a major priority for us, and I am convinced the bird life is better than it was 10 to 15 years ago because of it."
This month it was the Pennikets' turn to check Doc 200 series traps and Goodnature gas-fired piston traps along the Bridle Track from Davis Flat to Haast Pass, and the half-dozen traps from  Haast Pass to the lookout. The 35 separate trap sites are in the trees beside the walking trail, spaced about 200m apart,  and their location is indicated by a blue triangle attached to a tree on the track.
"The basic servicing of the old Doc traps is straightforward;  you just need a screwdriver to open the lid, a pair of tongs to remove any decomposing animals, although some can be really putrid, and to rebait the trap with a commercially bought hen egg.
"We also wipe dried rabbit meat around the trap to put down an extra scent."
Mr Penniket said the Goodnature traps worked "extremely well" but to get the predators to go to the trap they had to wipe the lure over it and near it, and the gas canisters were checked to see if they needed replacing.
All the Goodnature possum, stoat and rat traps on the UCFB managed traplines have been fitted with a kea excluder cage designed by retired vet and UCFB member Bruce Bissett and approved by Doc.
In addition to the packets of Doc-supplied stoat, rat and possum lure pastes, the Pennikets carried a freshly killed rabbit in a bucket which they dragged along the track up to and on to the traps to add another scent to lure the predators.
The practice  required an explanation to any walkers they passed on the track.
The  4km Bridle Track begins at Davis Flat and meanders  through beech forest, beforecrossing the Fish River via a swing bridge and on to what was once the old bridle track and the first link between Otago and Westland.
As you enter the Haast Pass end of the walk, there is a Doc sign telling you to "look out for forest birds such as the grey warbler (riroriro), the South Island fantail (titakataka), the  South island tomtit (ngirungiru), and the South Island rifleman (titipounamu). There was also the possibility of seeing a yellow crowned parakeet (kakariki ) or a yellowhead (mohua)."
Of all the birds listed on the sign we heard only one on the track, a a grey warbler.
In January and February, following another mast beech event, a plague of stoats irrupted  and for the first time Doc carried out an aerial drop of 1080 poisoned pellets over an area of forests near Makarora.
"1080 is the only thing that can really help the birds in a mast year. I can't tell you the numbers of stoats we caught before the 1080 drop, but we were getting a 30% catch rate in our traps. Since the 1080 drop I think we've only caught one stoat in all of our traps."
Mr Pennekit believes trapping is a good predator control when stoat numbers are not high, as "you'll get any stoats moving through an area".
Spring is the most important time to trap stoats, as it is when the male stoats visit the nest soon after the young are born to mate with the tiny female babies, as well as with the mother. On this day, the Pennekits found two dead mice and an almost "liquefied" rat in a box trap and two dead mice under a gas trap.
"That is actually really good because it means there can't be too many stoats and rats around."
Spring is also an important time for trapping, as birds are nesting, but tree hole nesting birds like the mohua,  kaka and kakariki are the most vulnerable to predators, as stoats and rats can catch them in their nest burrows and they can't escape.
"In so many instances it is the females who get caught and eaten on the nest and although you might still see mohua, kaka and kakariki around, a lot of them are male because the females have been eaten.
"So, you may have birds around but the populations are almost functionally extinct, they are not actually a viable population anymore. It's a real, real worry," Mr Penniket said.
Earlier this year, Doc announced a Makarora predator control operation plan developed in consultation with Forest and Bird Central Otago Lakes. The plan supplemented the traplines installed by Forest and Bird in the 1990s, to protect mohua with a trap network in the podocarp forest near the Makarora township, using self-resetting traps. Mr Pennekit believes Doc is now very dependent on volunteers to do work like trapping, because of underfunding for many years.
"Doc are becoming more and more involved in just looking after tourists, toilets and tracks and mowing green areas and that is good, but it should not be their priority.
"In my mind, the funding should go into the conservation as well, not just the recreation," Mr Pennekit said.
Following the Government's announcement of a plan for predator-free New Zealand by 2050, the Parliamentary Commissioner for the Environment Jan Wright released a report "Taonga of an island nation: Saving New Zealand's Birds" this year.
In the report, Commissioner Wright said Doc had a crucial role to play in protecting our birds but "restoring abundant, diverse, resilient birdlife to the mainland will require the efforts of many others, including private land owners, councils, iwi, and community groups."
She also made recommendations to government ministers, including her concern "with the need for support for, and co-ordination of, conservation community groups — the thousands of people across the country who are giving so much to suppress predators, and protect and restore habitat."
Conservation in backyards will hopefully go some way towards bringing back  birds to our cities and towns but it is volunteers and paid staff from Forest and Bird and the many other conservation groups and trusts across Upper Clutha and New Zealand who are doing so much to save the birds in the forests.
At a glance
Catch rates for UCFB across all traplines:
• 2016 total caught: 39 stoats, 40 rats, 13 mice, 31 hedgehogs and 3 possums.
• 2017 total caught up to Sept: 30 stoats, 45 rats, 27 mice, and 19 hedgehogs
• 2003-15 total caught: 894 stoats, 621 rats, 9 mice, 101 hedgehogs, 3 ferrets and 2 possums.