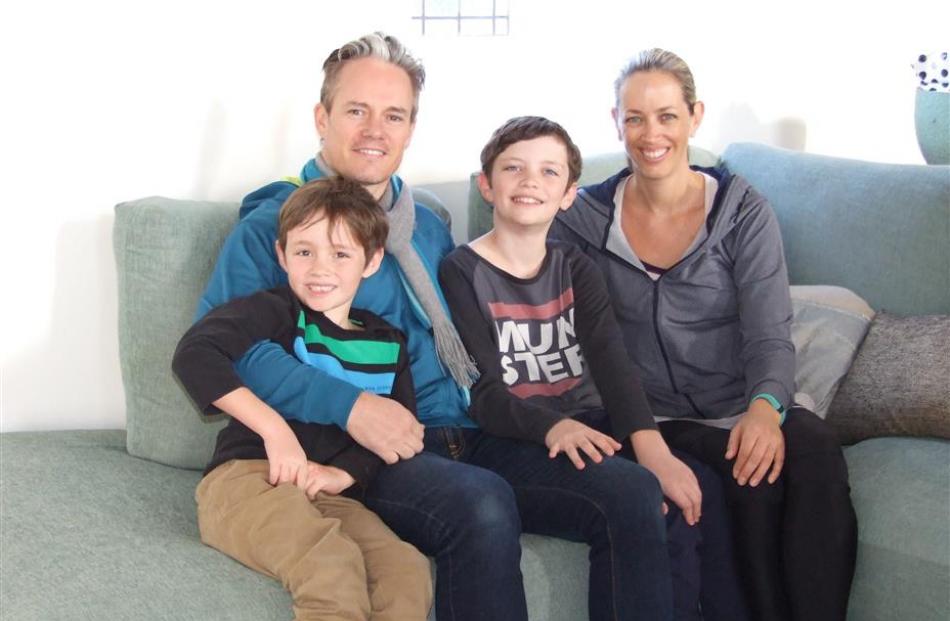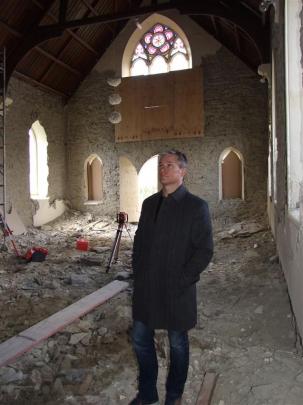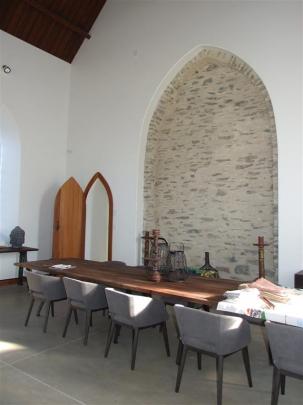 An Auckland couple have spent the past decade converting what was St John's Presbyterian Church in Cromwell into a home. Central Otago bureau chief Lynda van Kempen was recently invited to tour the completed building.
The Urlich family's Cromwell home is a piece of history 135 years in the making.
The master bedroom is under a bell tower with the bell rope suspended through the room, tantalisingly close.
Light streams in through expansive stained glass windows.
Where devout parishioners' voices used to ring out in worship, now the voices and music filling the building are decidedly lighter.
Respect for the former users of the building and those who worked so hard to construct and maintain it underlines the sympathetic makeover by the present owners, Brendon and Kerry Urlich.
After a careful and lengthy process of strengthening the church and converting it into a home, while still keeping its integrity as an historic building, the couple are finally able to take up residence with their sons, Jaydon (12) and Luka (7).
The family shifted to Ho Chi Minh City from Auckland two years ago after Mr Urlich, who was general manager of L'Oreal New Zealand, took up a role as L'Oreal head in Vietnam.
They return to New Zealand for holidays as often as they can and are spending some of the winter school holidays in Cromwell.
The family is relishing having a base in Cromwell.
"You have to pinch yourself to believe it's all done and we're here, especially on those mornings when the sun's streaming in the big window,'' says Mr Urlich.
"We're just stoked at the end result. It's far better than the picture I had in my head.''
The sale of the church and the manse was a controversial decision by Presbyterian Church leaders.
The Cromwell and Bannockburn churches were sold in 2004 for an undisclosed sum, to finance a larger church to accommodate a growing congregation.
The Gothic-style schist building, which opened in 1881, has a Heritage New Zealand category 2 classification.
It has had a complete overhaul under its new ownership.
It has been earthquake-strengthened, the roof has been replaced, exterior stonework repointed, the bell tower was removed and restored before being returned to its original site and the work on the interior has been equally comprehensive.
As part of the revamp, double glazing, insulation and underfloor heating were installed, along with a kitchen and large open plan living area.
Lofts were created for the three bedrooms and all interior wall dividers are "floating'' so they can be removed at any stage in the future an the original shell of the church remains.
"It's all taken longer than we planned but getting it right was important so it doesn't matter that we were fussy,'' Mr Urlich said.
"It's an old building, so we wanted to do it properly, and do it right and that takes time.''
"It's rock-solid now. It'll stand for another 140 years plus.''
Flooring is polished concrete or wooden floors using timber recycled from what was in the church - rimu and white beech.
The kitchen table and skirting boards throughout the home are also recycled timber.
Housing timber was in short supply 135 years ago, so most of the buildings were stone.
Wood such as white beech shipping containers, used to ship things in from Europe, were reused as flooring.
The windows and arched doors are the original fittings.
The doors have been stripped back to show the wood under several coats of paint and the massive leadlight windows now have steel reinforcing, which blends in with the design.
Mrs Urlich is responsible for the interior decoration and most of the furniture was sourced in Vietnam.
And what about the final cost of all this painstaking work?
"I'm too scared really to add up the cost,'' Mr Urlich says.
"Certainly more than we paid for it. It's proved a rather large mission but been well worth it. I suppose we could've bought a beach house or something like that but what we've got is far better - an actual piece of New Zealand history.''
The project has been an international affair - the Urliches in Vietnam, architect Adrian McNaught now in London and project manager Anthony Robertson, of Lifestyle Construction, based in Cromwell.
"We've had a few FaceTime conversations but we're lucky we've been able to trust Anthony's opinions, although obviously he's discussed the big things with us. And as well as being project manager, he can swing a hammer when he wants to.''
Mr Robertson says it was a very challenging project.
"What with the shapes and angles, it was a difficult job to restore it back to the way it was, but a new improved version.''
"You can't just go down to ITM and get the mouldings, everything had to be hand-made to fit, so timewise it takes longer and there's a bigger labour input. It forces you to think more outside the box as opposed to what you normally do.
But it was immensely satisfying to view the finished article, he says.
"It's been amazing to see such an old building come back to better than what it was originally.''
Mr Urlich says the building retains some hidden secrets, too. For example, the original builders' names are in the eaves.
There has been lots of positive feedback from the locals about the renovation.
"You can tell people are desperate to have a look inside and we're planning to have an open home some time, with proceeds to charity like Look Good Feel Better.''
There have also been approaches to use the building for weddings and another possibility is hosting conferences.
"We've definitely saved this building for the next generation,'' Mr Urlich says.
"We didn't do it for capital gain but rather to have an anchor so the kids have got somewhere to call home.
More construction work is on the cards.
The next stage of the project will involve an extension to the building, to house extra accommodation for visitors.
The family have become passionate advocates for Central Otago.
"The kids love it here. They say we've got it all here -the dairy, the supermarket and the lake: what else would we need.''