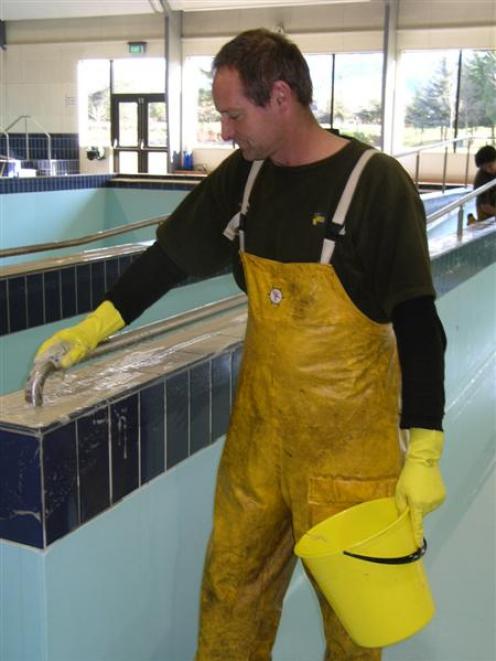 Elbow grease is being put to good use at the $3.3 million Cromwell Swim Centre, which is being cleaned after smoke from an electrical fire within the building caused extensive damage.
Breen Construction, which built the complex, was commissioned to start cleaning pools and interior surfaces this week once insurance assessors had investigated damage from the June 12 fire.
While progress has been made on the once soot-covered centre, it is not known how long the facility will remain closed.
Yesterday, workers donning waterproof overalls took soapy sponges and buckets in gloved hands to clean pools which had been emptied of dirty water.
Cromwell Swim Centre staff are helping with the job and expect insurance assessors to return to examine the centre after its initial clean next week.
Central Otago District Council district development manager Anne Pullar said the cost and length of the clean-up should be known next week.
"Unfortunately, it's taking longer than we anticipated. We will know more once the insurance assessors have completed their examination," she said.
The complex was officially opened on May 1 after eight years of planning and fund-raising.
It comprises a six-lane, 2m deep lap pool, therapeutic pool, spa pool, and children's paddling pool.
The electrical fire which damaged the complex started when a pool suction system cord shorted and burnt plastic grating along one side of the main pool.
It took fire fighters more than four hours to ventilate the complex to clear smoke.