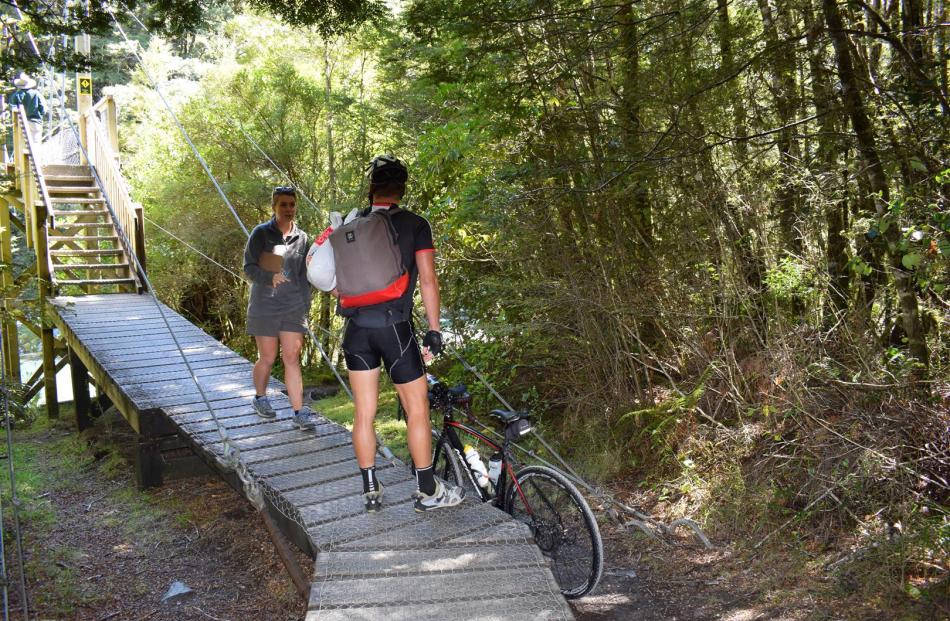 The increasing number of tourists visiting popular Department of Conservation attractions has led to concerns about the impact they are having on the environment.
Kerrie Waterworth visited the Blue Pools Track near Makarora, where Doc has introduced a new  way to enhance the visitor experience and moderate behaviour.
Seldom is there a day, or even a time of day, when the Department of Conservation Blue Pools Track does not have foot traffic.
The 1.5km return walk through the beech and podocarp forest leading to the glacial-fed Blue Pools is promoted as being ''easy'' and its location on State Highway 6 between Wanaka and Haast, 8km from Makarora, makes it a perfect stop to stretch your legs.
With more and more tourists visiting New Zealand for its unspoilt and beautiful natural landscape, and with the Blue Pools being just inside the southern border of Mt Aspiring National Park, it has become one of Doc's ''tourist hot spots''.
As a consequence, parking in the designated area on the eastern side of SH6 is almost always full and other vehicles are illegally parked on both sides of the road. There are also often queues to walk across the two swing bridges and human waste can be found scattered in the forest.
Doc has been criticised for not doing enough to protect these tourist hot spots from being ''loved to death'' by too many visitors but with no powers to limit numbers to conservation areas and limited funds there was not much Doc could do until now.
This summer, the Central Otago, South Westland and Fiordland Doc offices have employed ''interpretation rangers'' to engage with visitors to the national parks and highlight the World Heritage area Te Wahipounamu''.
The positions have been funded from the $20million set aside in the Budget last May for improving visitor experience.
Sophie Briggs has been in the Central Otago role for the past seven weeks and said the reaction had been overwhelmingly positive.
''I say hello to everyone I meet and I always get a response back. People are incredibly friendly - they love to see a ranger on the trails.
''A lot of people have questions for me which they would not have stopped at the visitors' centre to ask, and I think they respect the place a lot more because I am here.''
She said her job was ''not to impose any sort of culture on the place'' as a conservation area was by definition a place where people could explore freely at their own pace.
However, having a ranger present ''tended to put visitors on their best behaviour and they will do things like wait for people on the swing bridges when they see me there''.
Having a ranger on site is also helping to stop any more human waste accumulating in the forest.
''I get asked about toilets a lot and I am very quick to tell people about the Cameron Flat facilities that are literally a two-minute drive away.''
This summer, Doc has also employed a seasonal ''concession compliant ranger'' to check for illegal guiding, interact with the commercial operators, record the number of passengers and other details as well as check they hold Doc concession passes.
Ranger Yasmin Smith said ''the bus drivers are actually really excited to see me''.
''They want to show me their concessions or their guiding permit because it is something they have paid for, so they are happy to have it checked.''
Doc Central Otago senior ranger Annette Grieve said commercial groups using public conservation land generated revenue which went back into managing the land for the public.
''I also believe that it is Doc's responsibility to our authorised operators to ensure that it is an even playing field.''
Other tourist hot spots visited by the two seasonal rangers include Cameron Flat in the Matukituki Valley, Diamond Lake, the Raspberry Creek car park and Rob Roy glacier track.
The seasonal ranger positions finish at the end of April but tourists such as Barbara Shelley, of Nottinghamshire, England, would like to see them stay.
''They had so much information and local knowledge. We saw a bird but were not able to identify the species but she [Ms Briggs] was able to identify it. That made a huge difference to our visit.''