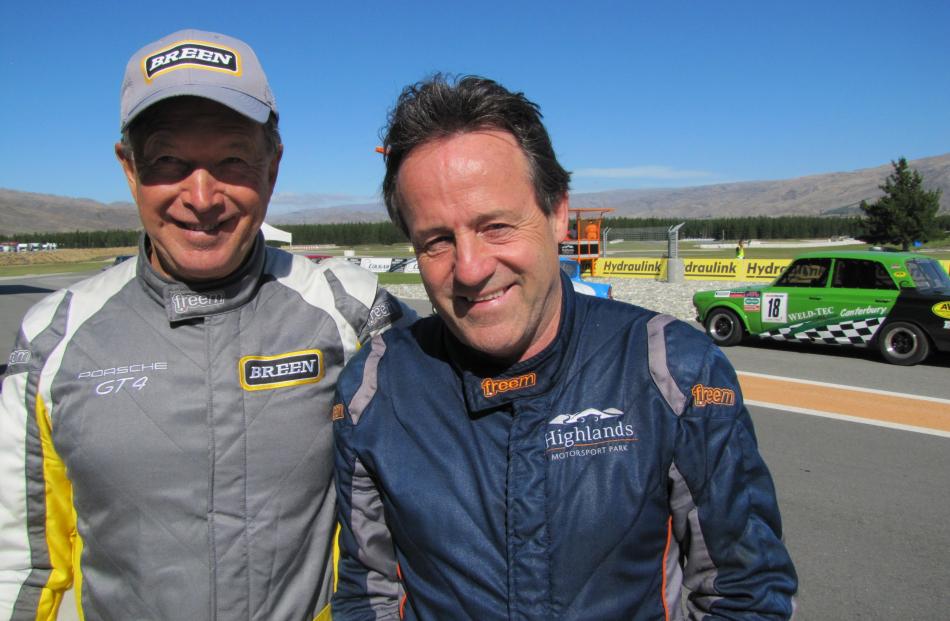 It was a ''frightening'' prospect to begin with, but after two quick laps in Queenstown race driver Grant Aitken's GT40 at Highlands Motorsport Park, Invercargill man Dale Brook was sold.
''It was unbelievable. That's an impressive bit of car.''
Mr Brook was the winner of a trip in Aitken's car at the Highlands Festival of Speed in Cromwell on Saturday and before his ride he said the GT40 looked like ''a pretty quick car''.
Mr Brook owns a 1968 Shelby Cobra Mustang convertible himself, but that was more of a ''cruising car'', he said.
''I just take my two boys tripping round the place in it.''
Aitken said his GT40 - a replica, or ''tribute'' car of the original GT40 in which Chris Amon and Bruce McLaren won Le Mans in 1966 - reached speeds of up to 200km per hour at the winding Highlands track.
However, that was a fraction of the speeds the original GT40 reached on straight tracks, Aitken said.
''It was geared to reach 225mph [362kmh] in the day and go really fast in a straight line, with horsepower to burn. It was brutally reliable right from the start.''
More than 150 cars took part in the two-day Highlands Festival of Speed, which featured Pre-65 Racing, Mainland Muscle and more classic categories.
The drivers included Oamaru man Dean Sutherland, who competed in a 1979 Toyota Starlet with a 1580cc engine.
Sutherland's father, Graeme Sutherland, who does the pit crew work for his son, said people did not believe ''how fast that thing goes. They think it's got turbos in it and all sorts''.
Dean Sutherland is at present leading the Shellsport Motor Racing New Zealand series.
He was previously known for kart racing, but switched to race cars when he bought the Toyota Starlet last year.
''It was a natural progression. It's just good fun.''