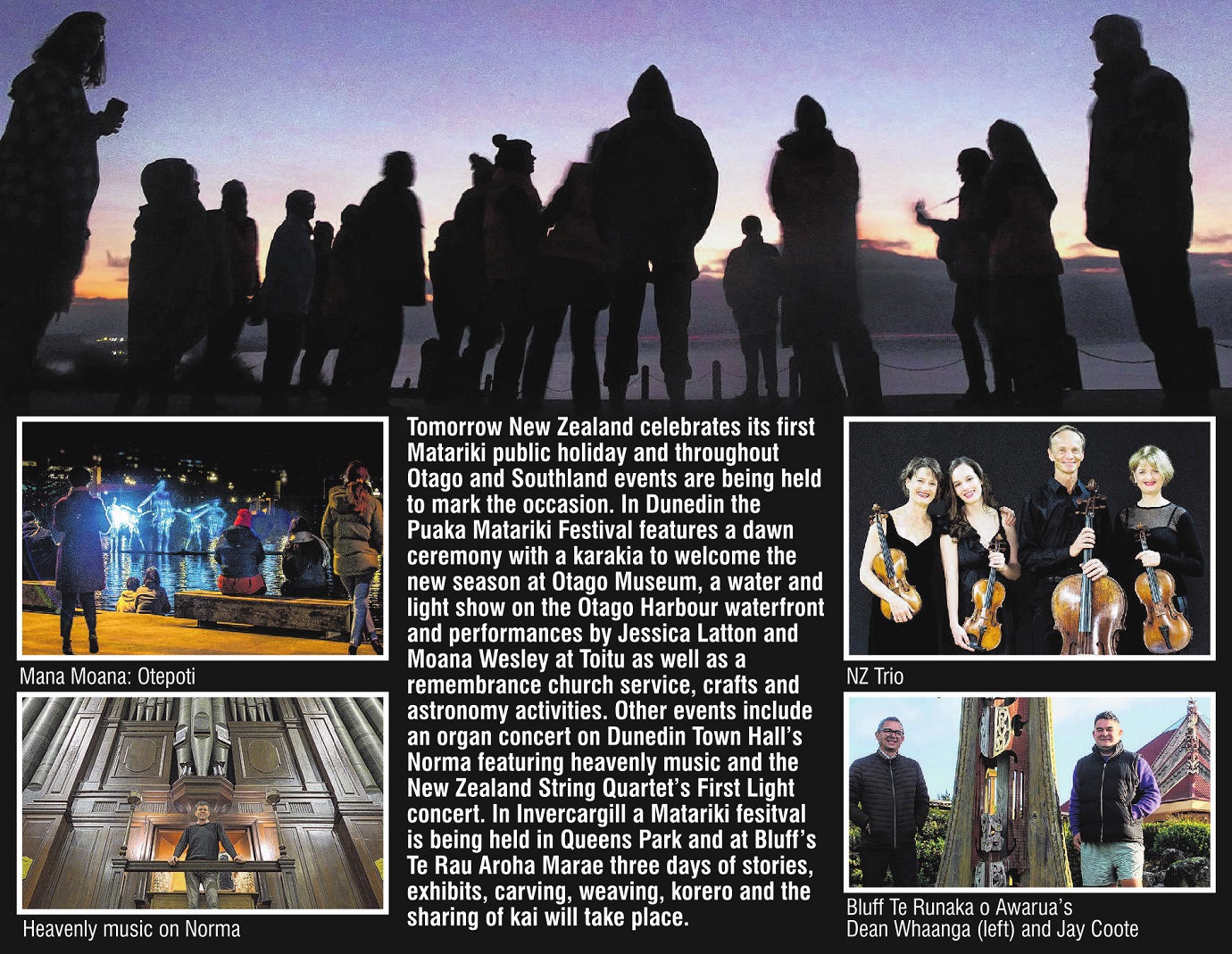 There appears to be something for everyone to celebrate Matariki this weekend.
From Queenstown to Invercargill, there are events for all as the inaugural holiday takes place tomorrow.
From a giant puppet show in Queenstown to a night market in Milton, the province is embracing celebrating the holiday.
The Queenstown area is very busy, so if someone wants to go to every event they will be very tired and very well fed.
There will be Matariki lights in Arrowtown tomorrow, Saturday and Sunday nights and other highlights include buildings being lit up, a stargazing session and a Maori film festival.
There is stargazing at Coronet Peak and a festival dinner at Glenorchy, among other events.
In South Otago, there is a night market tomorrow in Milton, which will also feature fire spinners, while some schools in the Tapanui area will give performances tomorrow afternoon at the Tapanui Community Centre.
In Wanaka, Kahu Youth is organising its annual afternoon, preparing a hangi for 700, plus a bonfire and fireworks in the evening. The hangi preparation will be tomorrow with the activities and festivities on Saturday.
In Dunedin the Steamer Basin hosts a dazzling light show starting tomorrow night and going throughout the weekend. There will be a karakia and community breakfast at the Otago Museum Reserve tomorrow morning, from 7am.
There will be events throughout the long weekend at Te Rai Aroha marae in Bluff.
DUNEDIN
Araiteuru marae, 24 Shetland St, Wakari.
Saturday, 6.30-8.30pm: Open mic night.
Dunedin Town Hall, Moray Pl.
Sunday, 3pm: Heavenly Bodies, organ performance.
Flagstaff Community Church, 9 Centennial Ave, Wakari.
Sunday, 9.30am: Under the Southern Stars Matariki celebration, remembrance service.
Otago Museum Reserve, Great King St.
Tomorrow, 7am-9.30am: Matariki Ahuka Nui dawn karakia and community breakfast.
Puaka Matariki Festival, various locations.
Visit www.matarikidunedin.co.nz for event details.
Steamer Basin, Fryatt St.
Tomorrow, until Sunday, 5.30pm-8.30pm: Mana Moana: Otepoti, water and light show.
Takiharuru Pilot's Beach Reserve, Harington Point Rd.
Sunday, 10am: Popoia te Kakano — seed bomb and planting workshop.
Te Whare o Rukutia, 20 Princes St.
Today, 12.30pm: Kaputi with a brainiac, Louise Parr Brownlie talk.
QUEENSTOWN LAKES
Buckingham Green, Arrowtown.
Tomorrow, until Sunday, 3pm-10pm: Matariki Arrowtown Lights festival. Visit www.arrowtown.com for events.
Sunday, 10am-2pm: Market Day.
Coronet Peak Ski Area, Queenstown.
Tomorrow, 6.15am: Matariki star viewing and ski, with Prof Brian Boyle and Darren Rewi.
Glenorchy Hall, Mull St.
Saturday, 7pm: Annual Midwinter Dinner — celestial bodies theme.
Lake Hayes Pavilion, 1/719 Gibbston Hwy.
Tomorrow, 5.30pm-10pm: Matariki with Mana Tahuna — music, kai, performances, guest speaker.
Te Atamira, Remarkables Park.
Tomorrow, 5pm: Paihikara: Follow the Light — mystery twilight bike ride.
CENTRAL OTAGO
Dinosaur Park, Wanaka.
Saturday, 2pm-6.30pm: Kahu Youth celebrations, hangi, kapa haka, bonfires, fireworks.
Naseby Domain, Avoca St.
Tomorrow, 5.30pm: Hangi, guided night sky tours.
Naseby Town Hall, 28 Leven St.
Tomorrow, 2pm: Karanga, waiata, kapa haka, and Matariki talk, Otago Museum Star Lab activities and demonstrations.
WEST/SOUTH OTAGO
Milton Town Hall, 150 Mary St.
Today, 4pm-7pm: Night market, kai wagons and fire spinners.
Tapanui Cemetery, Cemetery Rd.
Tomorrow, 10am: Pohutukawa tree planting.
West Otago Community Centre Gym, Tapanui.
Today, 12.10pm: Mauri Ora Matariki, Tapanui district schools share kai and kapa haka.
SOUTHLAND
Aparima College, 33 Leader St, Riverton.
Tomorrow, 8.30am: Riverton Matariki Breakfast kai and catch-up.
Eagle Hotel, 134 Gore St, Bluff.
Saturday, 7pm-late: Oyster Roister costume ball.
Field Days Shed, Waimumu.
Tomorrow, 2pm-6.30pm: Community festival, kapa haka, kai and fireworks.
Fiordland Arts Hub, Te Anau.
Today, until July 4: Multimedia art exhibition, local artists.
Gore Public Gardens, Fairfield St.
Today, 5.30pm: Kahui Whetu, light show festival.
Halfmoon Bay School, Ayr St, Oban.
Today, 2pm: Rangatahi-made, community shared lunch, BYO plate and cutlery.
Queens Park, Invercargill.
Tomorrow, until Tuesday, 5.30pm-10pm: Murihiku Matariki Festival, light show, projections, music.
RSA Riverton Aparima, 114 Palmerston St.
Tomorrow, until Sunday, 3pm-7pm: Riverton art exhibition, local artists.
Saturday, 3pm-7pm: Riverton Matariki Market.
Te Anau Library, 24 Milford Cres.
Today, 7.30pm: After Dark: Walking into the Nights of Aotearoa, Annette Lees, author talk. Register (03) 249-7379.
Te Rau Aroha marae, 12 Bradshaw St, Bluff.
Today, 4pm-10pm: Matariki o Awarua opening karakia and Matariki story.
Tomorrow, 2pm-10pm, Saturday and Sunday 4pm-10pm: Matariki o Awarua, marae open evenings with kai stalls, tours, korero, performance and whanau-friendly activities.
Sunday, 6.30pm: Brian Boyle, astrophysicist, talk.