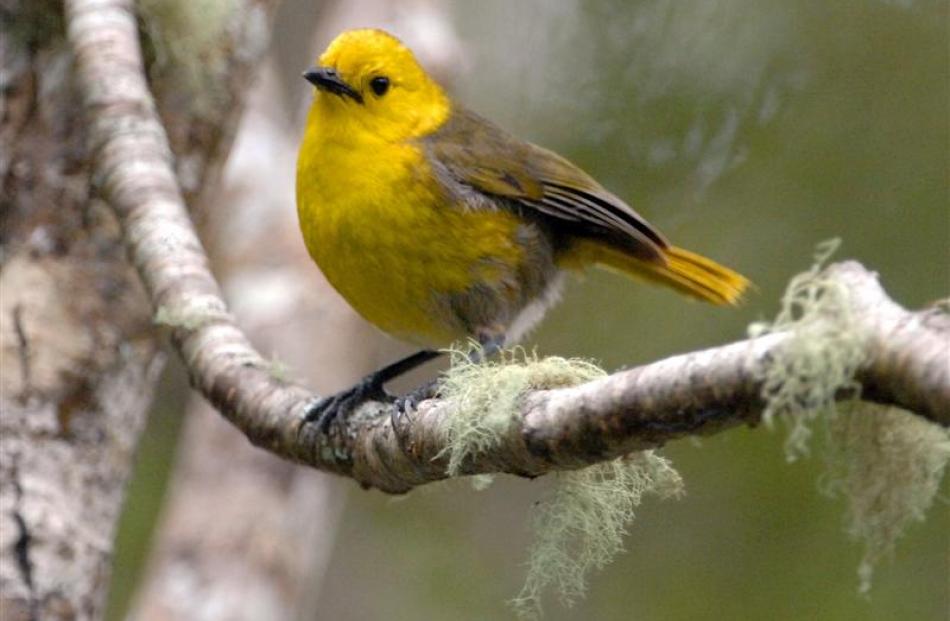 As hundreds, if not thousands, of hectares of beech trees around the South Island flower and seed profusely this summer, the potential for a population explosion in rats and stoats grows, threatening the hard work done to protect the nationally endangered mohua.
Predator plagues, one as recently as two years ago, nearly wiped out mohua populations in some areas and led to it being included in the Department of Conservation's Operation Ark announced in 2003.
The three-year project aims to protect four nationally or critically endangered species - blue duck, orange-fronted parakeet, mohua and short and long-tailed bats - from possums, stoats and rats and mitigate the effects of predator plagues in South Island beech forests.
Doc Coastal Otago biodiversity technical officer Bruce McKinlay said seed was expected to start falling next month and continue for three months, providing a food source for mohua and parakeets, as well as predators such as mice, rats and stoats and starting an extended breeding season.
"By May, the number of rodents will be responding, but the damage from stoats won't kick in till this time next year."
In response Doc was increasing its monitoring, starting to plan rat operations and restart consultation with communities about rat control.
"We are being proactive so we can build upon the gains, not lose the gains."
However, those bird populations in beech forests without predator control, such as Fiordland, West Coast or the Hunter Valley would "take a hit", he said.
While Operation Ark and its $1.24 million a year funding ended last year, its effects are still being felt in the Catlins and Dart and Caples Valleys area.
In May 2008, a check of banded birds in the Catlins revealed that in the Daphne Stream, two of seven banded birds were re-sighted while in the Thisbe Valley, 17 of 19 birds were re-sighted.
Results from Operation Ark show mohua in areas where predator control was undertaken had a greater chance of success.
Nest monitoring during the 2006-2007 summer in the Catlins showed that nesting success in the Thisbe, where poison was laid, was high while in the adjacent Daphne Stream, where no poisoning was done, it was very low.
In the Dart Valley in 2006, monitoring showed 70% of the 54 mohua banded in spring were re-sighted in autumn in the rat treatment area, compared with only 12% of the 16 in the non-treated area.
When Operation Ark started it was thought stoats were the major problem, but it soon became clear it was a rat management issue, he said.
"There is unequivocal evidence that rats in elevated numbers deal really badly to mohua."
The results also showed that mohua were susceptible to predators when rat numbers were high in both breeding and non-breeding seasons.
"Increasingly, we have to look at a rat control response whenever numbers are high, not just during the breeding season."
One of the strongest messages to come out of Operation Ark, he said, was that, to get the best results, pest control was needed on the right scale.
Early on, they tried small ground-based application poisoning operations of about 700ha-800ha but these did not deliver long-term outcomes.
In spring 2006, Doc carried out pest control on 5000ha in three parcels in the Dart Valley, including the Caples Valley, but the rats returned within six weeks.
"We learnt that large-scale ground-based poisoning operations are technically difficult and in many cases do not work."
In 2007, Doc was able to monitor predator numbers during an animal health board 12,000ha aerial 1080 poisoning operation in the Catlins.
Results showed it took nine months for rats to return.
"We went in incredibly aggressively - 100ha is too small, but the pick-up increases dramatically [when the scale is larger]."
When 1080 was dropped in the Dart, it was "our third crack after two tries of ground based" poisoning.
"To be successful we need an appropriate operational area."
Climate change could dramatically alter the problems and how Doc reacted to them, he said.
There was some evidence the beech flowering was increasing, as it was previously thought to happen every 4 to 5 years, but the last flowering was only two years ago, Mr McKinlay said.
"It could be an aberration or it could have changed.
''It's a matter for debate."
The challenge, in the face of the results from Operation Ark was for Doc or community groups to check some of their conservation work to see if it was being done on the right scale, he said.
The local community was considering possum control on the Otago Peninsula which, at 9000ha, was the right scale to get exceptional conservation gains.
OPERATION ARK

Announced: 2003, ran from 2004-07 to protect blue duck, orange-fronted parakeet, mohua and short and long-tailed bats.
Objective: Protect the species from possums, stoats and rats and mitigate effects of predator plagues in the South Island beech forests.
Where: In 10 sites in the South Island including Catlins, Blue Mountains, Eglinton, Clinton, Arthur, Cleddau, Dart, Caples and Landsborough Valleys.
Budget: $1.24 million pa plus $400,000 for aerial 1080 operations.
Recovery: Blue duck from 16 to 49 birds; bats 700 counts to 1200; mohua call counts from 225 to 325 in Landsborough Valley.
Where to see mohua this summer. - Catlins River Walk. Glenorchy. Chinaman's Bluff. Up the Makarora Valley.
Mohua/yellowhead facts. - Insect-eating birdLives only in the forests of New Zealand's South Island and Stewart Island.
• Has bright yellow head and breast.
• 1800 one of the most abundant of NZ's forest birds.
• Once it inhabited podocarp-hardwood forests (such as rimu, totara and miro).
• By 1900, bird was disappearing from many of its traditional areas.
• Now found only in beech forests.
• Fresh clearances and the introduction of new predators such as rats, stoats and possums had a devastating effect.
• Now is one of the most threatened.