Parts of the South are becoming isolated as heavy rain closes more roads this afternoon, including State Highway 1 in both directions from Gore.
​SH1 except for a small section in Gore township is closed from Mataura to Clinton and SH6 is closed from Lumsden to Kingston. SH8 is closed between Roxburgh and Lake Roxburgh village, and SH94 (the Milford Road) is closed.
Several vehicles were this afternoon trapped by slips on SH6 north of Kingston, at the base of Lake Wakatipu near Queenstown.
The NZ Transport Agency and police were on site after landslides blocked the road.
A spokesperson said they cannot yet say how many people are trapped.
Dozens of roads are closed in South Otago and the Clutha District Council announced this afternoon that the Owaka Highway will close at 5.30pm due the expected levels of the Clutha River.
"Owing to the rain that has been falling steadily, Clutha District Council has received information that the Clutha River at Balclutha is expected to rise to 2200 cumecs between 6-11 pm tonight before climbing to 2500 cumecs by 4.00am tomorrow morning.
"River levels this high will make the Owaka Highway outside Balclutha impassable."
Welfare Centres are being opened by council at 5.30pm at the Cross Recreation Centre in Glasgow St, Balclutha and at the Owaka Community Centre, Ovenden St, Owaka.
"If you are travelling on the Owaka Highway and cannot get to your destination, feel free to call into one of the Welfare Centres for a cuppa. We are also trying to provide basic sleeping facilities."
Further west, State Highway 94 is closed and is expected to remain so for some time, isolating the township of Milford Sound.
In an update this evening the NZTA said  SH94 would remain closed until at least next week because of damage from torrential rain and ongoing moving slips.
At 2.20pm today, Southland Civil Defence Emergency Management Group chair Neville Cook declared a state of emergency for the Southland region, including Gore.
People are advised to keep up to date with the latest forecasts in case any changes are made.
In the Clutha District about 50 roads have been affected, but the council is disappointed some motorists are ignoring signs.
"It is very disappointing to note that while council roads are being signed road closed we are finding road users insisting on driving straight past the road closed signs and through the flood waters.
"Road users need to be aware that any damage done to their vehicles on closed roads is not covered by insurance and by driving through the flood waters they are causing additional unnecessary damage to already affected properties."
The council warned it was expecting significant amounts of rain in the next 24 hours on top of the rain that had fallen over the last two days.
Gore District Council council asked for people to avoid driving in flood waters as well.
"Please don't drive through flood waters in town as the water surge impacts on homes threatened by flooding," it said.
MetService forecaster Lewis Ferris said one metre of rain had fallen in 60 hours in Milford Sound, and 600mm of that was in the 24 hours to about 7am today.
"Those are numbers some of our most experienced forecasters haven't seen before," Ferris said.
"So 1000mm in an entire event has been seen before, but to get that in two-and-a-half days has been quite a lot." 
The NZ Transport Agency said the highway was closed from Cascade Creek to Chasm due to flooding and extensive damage
"It is expected to remain closed all week. Unlikely to be open to The Divide until Wednesday.
"Major damage has occurred between divide and the tunnel at multiple sites."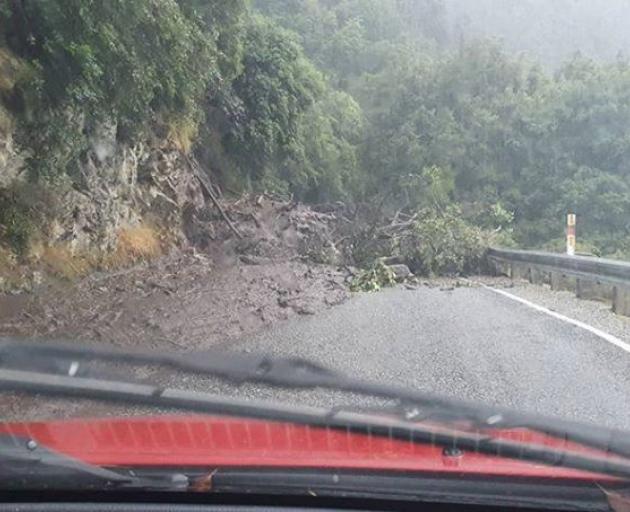 Queenstown Lakes
State Highway 6 from  Frankton (Remarkables Skifield turnoff) to Lumsden. 
SH 97 Mossburn to SH6 intersection is also closed as is SH94 from Mossburn to The Key.
QLDC said Crown Range Road has reopened after being closed due to rockfalls this morning.
"However, with significant rainfall forecast throughout the day there is a high chance of further rockfalls around the district."
Closed roads include:
Glenorchy Road – closed between Fernhill and Sunshine Bay due to a landslide; follow detour
Glenorchy Road – a slip that had closed the road near Bob's Cove has been partially cleared allowing it to reopen around 4.00pm today (initially single lane with speed restrictions)
Paradise Road (Earnslaw Burn washout) – closed at Priory Road/Paradise Road turn off
Kinloch Road – closed on the Glenorchy side of Dart River Bridge
Routeburn Road (Scott Creek washout)
Mount Aspiring Road – closed from just after the Treble Cone ski field turn off onwards.
Central Otago
Central Otago District Council said Dunstan Rd in Alexandra is closed due to flooding. The road is closed between Chicago St and Symes St.
Traffic Management is in place to identify the detour route via Chicago Street, Ngapara Street and Symes Street.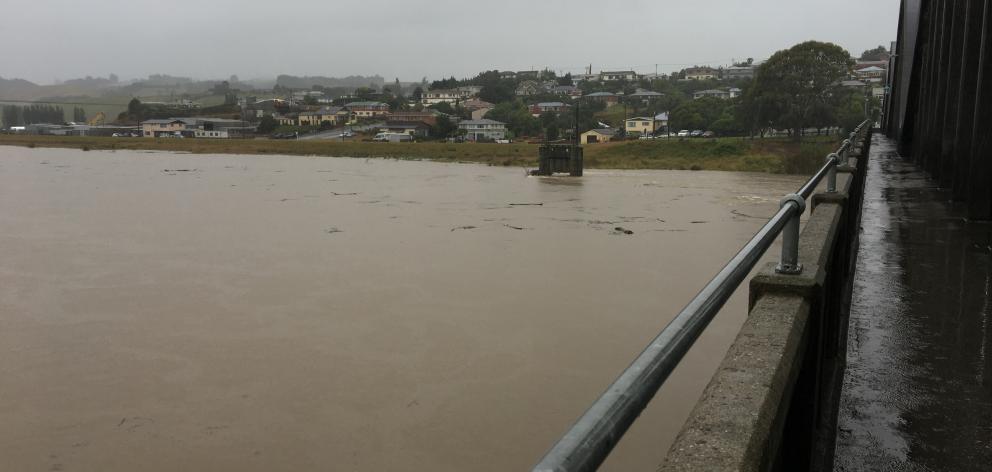 Clutha District
The Clutha District Council said the district had experienced heavy rain over night causing widespread surface flooding and more was forecast today and there
"Council contracts have been busy overnight checking the conditions of the roading network."
There are extensive road closures in the district and an incomplete list of them can be found here.
The CDC's water treatment plants are struggling under the deluge and the Council is asking residents to conserve water.
"We are asking EVERYONE in the district to please conserve water wherever possible until we can get the water treatment plants up and running as normal."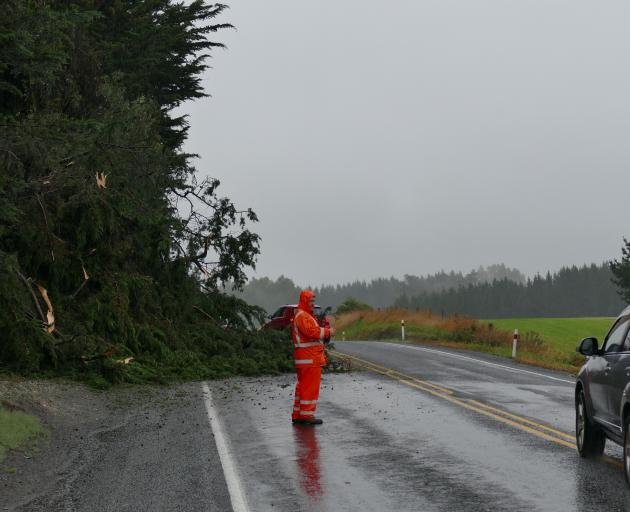 Gore District
SH1 from Gore to Clinton and SH1 between Glendhu Rd and Charlton Rd is closed, between Gore and Mataura, are closed due to flooding.
The Gore District Council posted to its Facebook page saying several of its roads are closed due to flooding which include:
Waikaka Road, River Road, MacGibbon Road, McDonald Road, Ruia Street, Koa Street.
"There is significant flooding around the District and motorists are urged to drive carefully. 
"MetService shows 25.6mm of rain has fallen in Gore since midnight, with a further 30mm forecast."
"The heavy rainfall has overwhelmed Gore's stormwater and wastewater networks causing them to surcharge. With the possibility of wastewater contaminating flood waters around the town, it's a good idea not to let children play in the water," it said.
Southland District
Due to heavy rain and flooding, the following roads have been closed:
Ellis Road between Acton and Lowther, Felton Road, McLean Road, Lora Gorge Road and Henderson Road.
We are keeping a close eye on the following areas that might see further road closures:
Otapiri Area, South Hillend Dipton, Athol Area, Garston Area, Dipton Mossburn and Wreysbush Mossburn.
MetService Warnings
Westland south of Hokitika and Fiordland north of George Sound
Periods of heavy rain and a further 250 to 350mm of rain to accumulate about the ranges on top of what has already fallen, and 80 to 130mm near the coast, mostly with thunderstorms.
The heaviest rain in Fiordland is expected to ease overnight Monday and early Tuesday morning.
"This rain is expected to cause dangerous river conditions and significant flooding. Slips and floodwaters are likely to disrupt travel, making some roads impassable and possibly isolating communities."
The headwaters of Otago lakes and rivers, southern lakes and Central Otago
Periods of heavy rain. Expect a further 70 to 90mm to accumulate on top of what has already fallen while isolated thunderstorms are also possible.
Dunedin
Periods of rain, heavy at times. Expect 60 to 90mm of rain to accumulate. 
People are advised to keep up to date with the latest forecasts in case any changes are made.
With NZ Herald