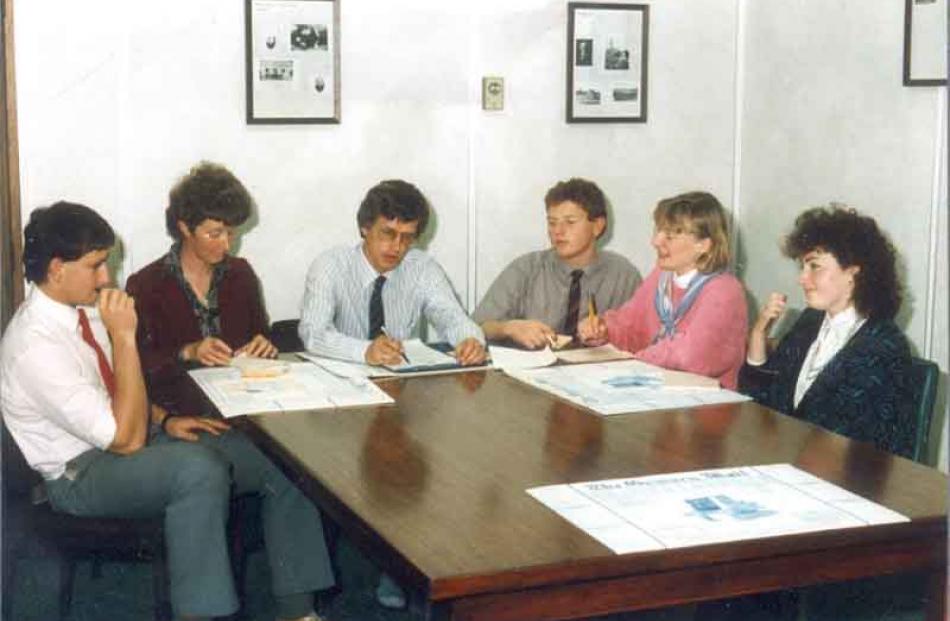 On the day after his retirement, ODT Oamaru bureau chief David Bruce reflects on his 46 years as a journalist.
It's been an accidental journey lasting 46 years.
Like any road trip, it's had its ups and downs, twists and turns but, looking back, I don't regret any part of it.
When I started as a cadet reporter with the Oamaru Mail after finishing at Waimate High School in 1968, I never imagined I would still be be in journalism - and working in Oamaru - when I retired.
You could say I got into the job by accident.
I scraped through what was then school certificate, missed out on university entrance and went back to school in my last year to again play First XV rugby.
Frankly, most of my school results were pretty dismal - except for three years' Latin and five years' English.
I had no idea what I was going to do. My English teacher looked at my results, shook her head and said: ''What about a reporter?''Armed with absolutely no knowledge of what a reporter did, apart from the excitement of chasing fire engines or crime, I half-heartedly applied for jobs at the Oamaru Mail and the Ashburton Guardian.
Somewhat alarmingly, I got both and settled for Oamaru because it was closer to Waimate, where all my friends were, and would not disrupt my social life too much. Little did I know about weekend and evening demands on journalists.
Starting in a small newspaper had its advantages.
In a large newspaper, you could spend the first year holding stories and reading to a proof reader, the idea being you learnt how a news story was written.
In a small newspaper, you started writing virtually from day one, even if it was on club reports and rose shows.
You also got the menial tasks - the first day I was sent downstairs by editor Jack Whyte to manager Jack Christie to find out how many pages there were the next day.''
Nine,'' manager Jack said.
Back upstairs, ''nine,'' I told editor Jack.
I was sent back down to check.
Three or four trips later, it suddenly occurred to me you couldn't have an uneven number of pages in a newspaper.
If the pressure was on, you also got thrown in the deep end and were expected to swim.
My first appearance as a court reporter was a couple of years after I started - an attempted murder of an Oamaru woman at the foreshore that had elements of the occult mixed up in it.
It attracted national attention and hardened reporters from publications like Truth turned up. Fortunately, I learnt quickly to ask a lawyer, prosecutor or even another reporter if you didn't know what was going on.
That was a lesson I forgot at my first Oamaru Borough Council meeting, where I sat opposite the Otago Daily Times' venerable reporter, the late Maurice Tonkin, then already approaching three decades as a reporter.
When he made notes, I made notes. When he sat back, I sat back.
A couple of days later, I picked up the ODT and found two really dramatic stories from the council meeting, Maurice using his great memory to ''take notes'' and leaving the copycat junior reporter in the cold.
It was a trick I occasionally used later in life on opposition reporters.
There were also the hard lessons.
The first big political meeting I covered was Prime Minister Rob Muldoon in the Opera House auditorium. I asked one of the local party faithful how many were there.
About 1500, he said.
I put that in my story, then editor Jack asked how many seats there were in the auditorium. Turns out there were 750 in those days, and not many people were standing. Ever since then, I've always done a head count or estimation at any meeting or event.
By 1973, I had decided it was time to try the big time and applied to the Christchurch Star, then a six-day-a-week afternoon newspaper, when it was recruiting for the 1974 Commonwealth Games.
That was also a learning curve, particularly going from a family-owned newspaper to one owned by a corporate, NZ News Ltd, in a major city.
After the Commonwealth Games, I continued general reporting but specialised in local government (all except the Christchurch City Council) and the emerging planning authorities such as the fledgling Canterbury Regional Planning Authority.
It was then I developed what other reporters thought was a weird liking for local government and planning issues that continues to this day.
I returned to the Oamaru Mail in 1976, then joined the Otago Daily Times in 1988.
When I rejoined the Oamaru Mail in 1976 as a senior reporter, then eventually editor, big changes started as newspapers finally started adopting new technology. Since 2000, that has accelerated.
There were the big projects, some of which went around in a circle and continued when I joined the Otago Daily Times.
For example, NZ Cement Holdings, which had held land in the Weston area for some time, announced plans in 1979 to build a cement plant, then cancelled the project because of an economic recession. The company became Holcim NZ, which in 2006 resurrected the plans, then in 2013 put them on hold because of economic recession.
In the 1970s, the Electricity Corporation of NZ investigated three canal-based power scheme options on the lower Waitaki River that never proceeded, then its successor, Meridian Energy Ltd, brought the plan back in 2001 as Project Aqua before cancelling it in 2004.
Since 2000, there have been rapid and accelerating changes in newspapers.
At first, stories were written on paper (with a carbon copy), using typewriters in the office or by hand at meetings or court.
Big breaking news required finding a phone, then dictating your story to a copy-taker in the office.
Photographs required developing film, making a print and, when I joined the ODT, getting it on the midday or 5pm bus.
A big story, such as the fire at The Warehouse, in the old Robertson Hardware building in Thames St, later in the day involved someone driving to Palmerston with the film to meet someone from Dunedin.
Now it is laptops, tablets and digital cameras; the internet, Wi-Fi and data transmission. Newspapers are not just delivered on paper, but distributed online.
However, through all of that there has been one constant - people, those with stories I have come into contact with and those I have worked with.
That was the best part of the journey.