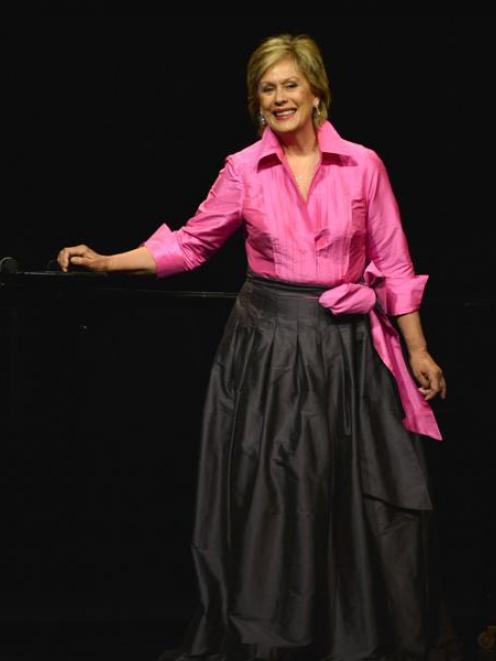 ''A little gem'', is how Dame Kiri Te Kanawa described the Oamaru Opera House, venue for her one-off concert last night.
Dame Kiri was asked to come to Oamaru through her agent, Paul Gleeson, and her appearance was cemented through contacts made by opera house director Megan Peacock-Coyle.
Dame Kiri's interest in performing in Oamaru was sparked in 2009, when she learnt of the $10 million refurbishment of the opera house.
After seeing it yesterday for the first time, she said it was ''lovely'' and the acoustics were excellent.
She had also read over the years about the town's historic buildings, so leapt at the invitation to visit and perform for the first time in Oamaru.
''I said 'that was lovely and I'd love to do it','' she said in an interview with the Otago Daily Times.
Dame Kiri did not know whether she would return to Oamaru.
''Is there another invitation? I have no idea. You have to be invited - you just can't assume you are welcome,'' she said with a laugh.
The concert, underwritten by Network Waitaki, was a major undertaking for the opera house, Mrs Peacock-Coyle said.
''There were hundreds of little things we had to make sure we had right,'' she said.
That included bringing a Steinway piano from the Dunedin Town Hall for Dame Kiri's regular accompanist, Prof Terence Dennis, of the University of Otago department of music.
The piano had to be tuned when it arrived and retuned after yesterday's morning rehearsal, Oamaru's Jim Leen given the task.
The result was well worth it, Mrs Peacock-Coyle describing Dame Kiri's concert as ''a once in a lifetime experience''. Before the concert, the Waitaki District Council ran a gala opening for about 100 people at the opera house.
Today, Dame Kiri travels to Dunedin from the luxury lodge Pen-y-bryn, where she has been staying since Tuesday, to return to London.
She will then prepare for concerts in Europe, and her first foray as an actress, following an invitation to appear as a guest star in the popular period television drama series Downton Abbey, which has been running on ITV since 2010.
In the fourth series, she will play a house guest and also sing.