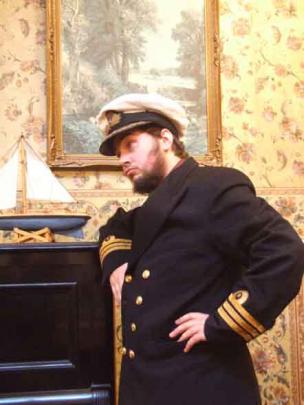 It has been dubbed a walking tour with a difference.
Shortly after the clock on the nearby Waitaki District Council headquarters chimes 7pm, a top-hat-and-tails-attired gent appears from around the corner of the Oamaru i-site centre.
He introduces himself as Robert Addison, the manager of the Living History Players, and welcomes a group of 12.
Next, the excitable Fanny appears - whose background is "none too salubrious" - and Addison discreetly disappears, returning as a hunched, cane-carrying old man - architect Thomas Forrester - and speaks, with light in his eyes, about the stone in the town which "carves like butter under a hot knife".
And so the tour begins, leading past the Harbourside railway station and down to the historic Harbour-Tyne precinct, with two young Dunedin actors, Wyeth Chalmers (19) and Louise Jakeway (21), slickly playing multiple roles based on real characters who have contributed to the town's rich past.
There's Dr Garland, who comes to the aid of Mrs Atkinson's son, William, who tripped on the train platform and was pulled on to the tracks as the train was moving.
The irrepressible Fanny encourages the group to quickly move on from the terrible scene - "try not to look, it's a bit gruesome" - and it is later learned that young William lost his arm.
Polly, the maid at the Criterion Hotel, introduces the group to Captain Whitson, the captain of the first shipment of meat carried to England on the vessel Dunedin in 1882, while Larry the larrikin causes some mayhem as a tambourine-ringing Fanny tries to conduct a prayer meeting in Smiths Grain Store.
Sergeant O'Grady tells of an unfortunate incident with a night-cart, while a young girl with whooping cough is "dosed" with the foul-tasting Lane's Emulsion - bearing the slogan "famous because it's good" - outside the old Lane's Emulsion shop in Harbour St.
"Yuck, yuck", she splutters, before declaring that she feels much better and is off to play.
"Goodness me, that's a big horse," exclaims Fanny as a four-wheel-drive vehicle passes down Harbour St.
Secrets of the Old Town has been a transition from The Great Storm of 1868.
That living history show, which stood as the longest-running production in any location in New Zealand, premiered in 2007 and ran for two seasons.
Three actors took on multiple roles to re-enact a shipwreck and flood that ravaged the burgeoning town.
But feedback showed visitors wanted more flexibility in the time and structure of what was being delivered in bringing the stories of old Oamaru alive, Living History NZ principal Scott Elliffe said.
Secrets of the Old Town started in mid-December, seven nights a week, and will run for the summer season through to Easter.
As well as Mr Chalmers and Miss Jakeway, other actors involved are former St Kevins College pupil Genevieve Scanlan, who was an understudy in The Great Storm and is now studying in Dunedin, and local man Hugh Perkins.
There had been a steady and positive response so far and while, at present, the walk was a precursor to people visiting the blue penguin colony, there was an ability to deliver at any time on request.
Various people had been involved in developing the script and Hilary Norris, of Dunedin, who directed The Great Storm, had played a big hand in it.
She had been a "tremendous supporter" of the concept of living history, Mr Elliffe said.
It had been a "real challenge" for the actors, as the initiative was a combination of acting and guiding skills, he said.
Miss Jakeway, who has just finished a degree in theatre studies at the University of Otago, said Ms Norris had "made it work like a big map".
She said it was a far more fun and entertaining way to deliver history, than through a book, while Mr Chalmers said he was "loving it".
One Australian visitor said taking part in the tour was the one thing she wanted to do in Oamaru, he said.
For Mr Elliffe, who is passionate about bringing New Zealand's history alive, it has been a hard road, which has "felt pretty lonely at times".
He got the feeling that Oamaru did not really believe in its heritage - `it's definitely a journey, not a destination" - and it required a more concerted effort, on the behalf of the town, to realise the potential of the area.
Photos by Sally Rae; prints available from otagoimages.co.nz.