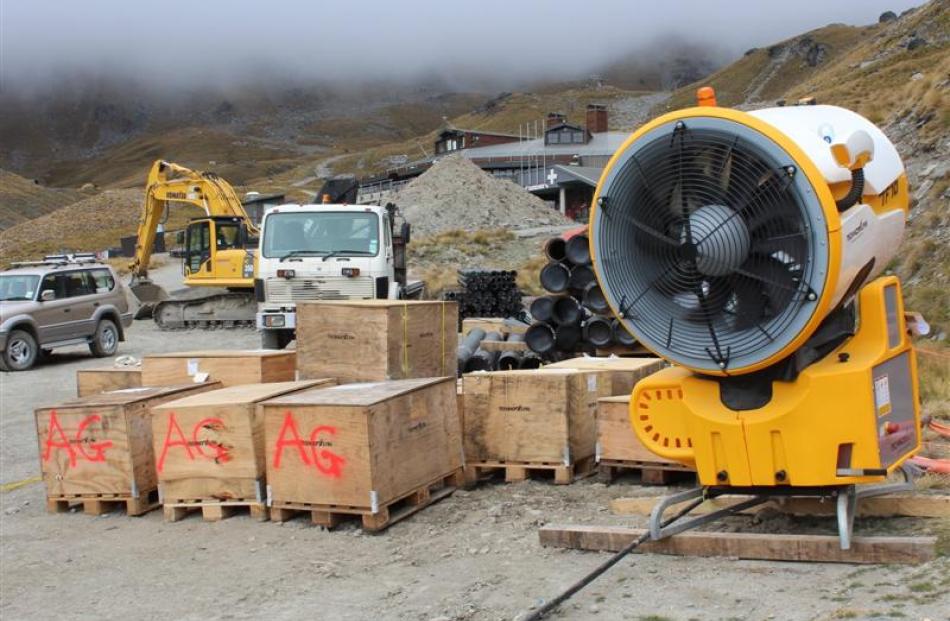 The biggest development at the Remarkables in its history has continued through varied summer and autumn weather.
NZSki's Remarkables ski area manager Ross Lawrence said while the weather had mostly ''been kind to us'', recent snow at the beginning of this month ''did slow things down for a couple of days''.
''We had up to half a metre but when the sun came out it was very warm and certainly [we have been] able to get back into it quickly.''
Yesterday was when contractors were expected to set up equipment on the skifield's winding alpine access road to begin tarsealing the bottom 4km.
The entire 13km will eventually be sealed but the bottom 4km will be ready for this season.
Mr Lawrence said the sealing was for the benefit of the customers and to make driving to the skifield less of a chore.
The sealing is part of a $45 million investment which includes a new chairlift, car parks, road realignment and double the number of snowguns.
''It's a big step forward for the Remarkables with the expansion that's going on there and it's a huge investment.
''We're always looking for opportunities to grow the market. It's been promising out of Australia and it continues to be and there's lots of opportunities to grow through that market, so that's certainly what we're about.''
Contractors with specialty expertise in chairlift installation are waiting for the concrete poured for the bottom terminal of the new Curvey Basin six-seater chairlift to mature ''before they can stand things up on it''.
''So it's going to be a little while before we see anything being erected.''
At this stage the ''big emphasis'' was at the top of the access road and creating more car parking.
''The progress generally is going pretty much to plan.''
Across NZSki this year there is a 56% return rate. At the start of this month applications opened for new staff.
Over at Coronet Peak double the amount of terrain under lights will be available for night skiing this season.
''There's certainly an atmosphere to be created in night skiing and it's a pretty unique experience so it's good to see it starting it to grow,'' Mr Lawrence said.