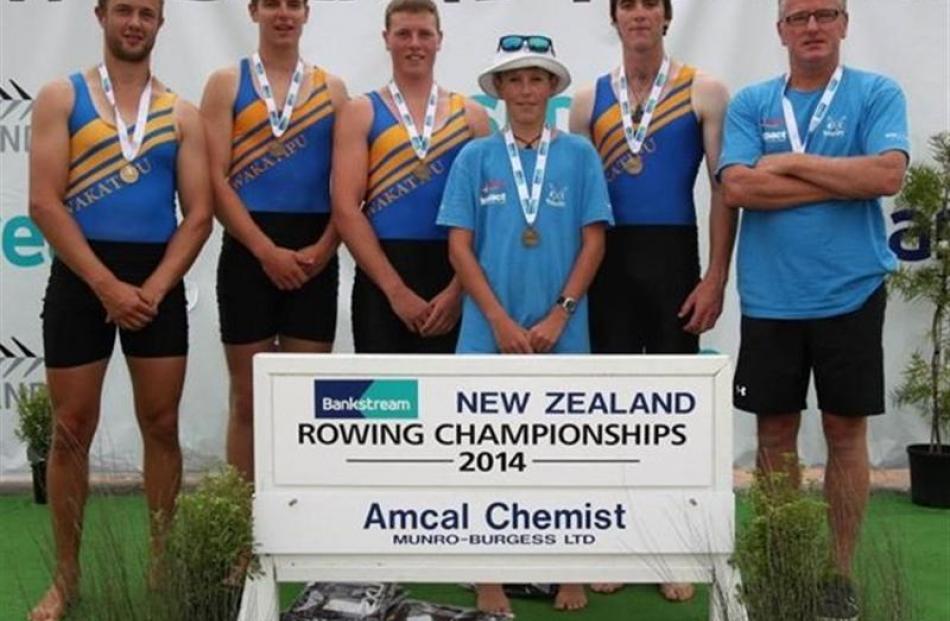 The Wakatipu Rowing Club finished the New Zealand championships in style, bringing home gold and silver medals on the final day of the week-long event at Lake Karapiro.
The Andrew Jolly-coached crew of Latham Jones (18), Reid Long (18), Willem van der Kaag (18) Chris Johnson (23) and coxswain Henry Matthews (14) completed its unbeaten season in the men's club four winning gold in 6min27sec, almost three seconds faster than the North Island champion, Hamilton Boys' High School, rowing for Waikato.
The crew was narrowly beaten by Waikato in the men's U19 coxed four, where Daniel Halligan (17) replaced Johnson in the bow seat, in a nail-biting race.
The Wakatipu crew won the silver medal, beaten by less than 0.32sec. The club now transforms into school mode as the 55-strong Wakatipu High School team heads to South Island Secondary School Championships in a fortnight, followed by the New Zealand Secondary School Championships - Maadi Cup - from March 24 to 29. Both regattas will be held at Lake Ruataniwha, near Twizel.