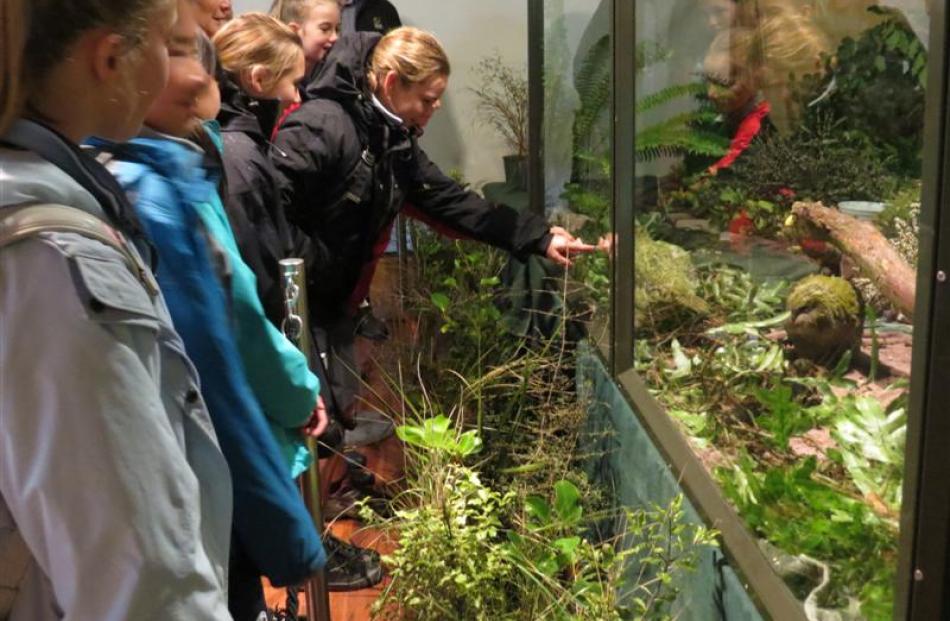 Three ''rock stars'' of the bird world won over school pupils, residents and visitors yesterday during a historic outing to Arrowtown.
The kakapo chicks, all about 10 weeks old, were chauffeured from Invercargill to Arrowtown yesterday morning in secure boxes, secured with seat belts, before being left to roam free in their plush surroundings in the Athenaeum Hall's supper room.
The ''Chicks Day Out'' was organised by the Department of Conservation's Kakapo Recovery Team and Real Journeys, with the aim of raising awareness and money for the programme.
Gold coin donations yesterday raised more than $1700. The Kakapo Adoption Programme was also in full swing and $2000 was raised.
Sian Davis (12) yesterday ''adopted'' two kakapo, having saved $200 by selling plums and possum key rings.
Doc's Kakapo Recovery Programme manager, Deidre Vercoe Scott, said the programme was a partnership with Doc, New Zealand Aluminium Smelters and Forest and Bird, and had been running for 25 years.
In that time, numbers of the endangered bird had increased from 41 left in the world to 128.
The three chicks on display yesterday - Lisa1, Rakiura2 and Heather1, all temporarily named after their mother and their egg number - were being hand-reared in Invercargill but would soon be moved to a predator-free island.
After spending four weeks in a controlled environment on the island, they would be released into the wild and monitored closely for 12 months.
''They have a tendency to do some silly things ... As they're learning about life, we'll be keeping an eye on them,'' Ms Scott said.
All kakapo were monitored using a transmitter strapped to their backs, which enabled Doc to gather data on mating, nesting and survival rates.
It also allowed targeted feeding for specific kakapo via ''hopper stations'', which could be programmed to unlock only when a certain kakapo arrived.
Ms Scott said between $800,000 and $1 million was spent on the programme each year but it was ''well worth it''. The three chicks were expected to live for up to 80 years.
Real Journeys chief executive Richard Lauder said it was important for the company to support the programme, given its vested interest in ensuring the wilderness remained ''pristine'' and endangered species were protected and able to thrive.
He said there was an ''incredible'' turnout to meet the chicks yesterday and people were ''lining up down the street''.
''But undoubtedly the best part has been the huge smiles and the fascinated school kids after they have been in the viewing room.''