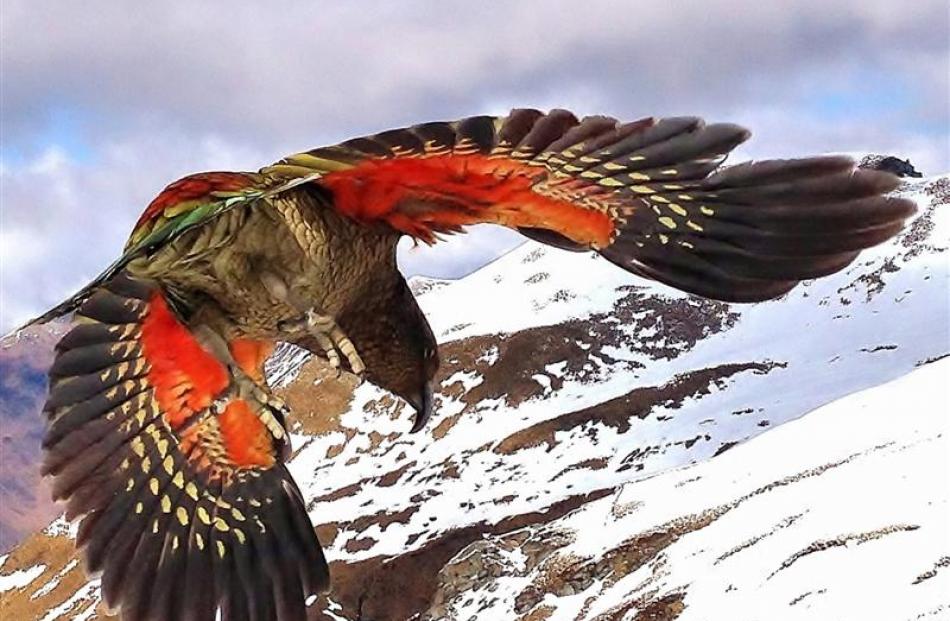 When a kea ''photobombs'' a picture, the results can be spectacular.
Just ask Geoff Marks, who was snapping away at Treble Cone recently.
Supposedly, to photobomb is ''to spoil a photograph by unexpectedly appearing in the camera's field of view as the picture is taken.''
So perhaps, as Mr Marks admits, his image doesn't quite fit the Oxford dictionary definition.
For a start, Mr Marks hoped, and even half expected, one of the mischievous kea might fly into the frame at the right moment.
As well, it can hardly be said the kea spoiled his Lake Wanaka panorama.
''But let's not let the truth get in the way of a good story,'' Mr Marks, business development executive for Lake Wanaka Tourism, joked yesterday.
''When it came out it totally looked like a photobomb ... we're claiming it as a photobomb.''
The kea, with its plumage on full display against the Lake Wanaka backdrop, was captured as the bird hopped from one post to the next near the skifield's base building.
It was one of a group ''being their normal pesky selves at the cafe, stealing sandwiches and flying off with bags of nuts'', Mr Marks said.
He uploaded the photograph along with the caption: ''My lovely scenic photograph of Lake Wanaka has just been photobombed by a kea!'' to the Lake Wanaka Tourism Facebook page, where it quickly earned hundreds of likes, shares and admiring comments.
The kea's reputation as the clown of the mountains meant most of those commenting were happy to accept the image as the ''Best photobomb EVER!'', but some questioned whether it had been ''photoshopped''.
Mr Marks promises the photograph is ''absolutely genuine'' and was taken on his iPhone, rather than Lake Wanaka Tourism's new high-tech digital SLR camera.
''[The iPhone] fits in my pocket and I was at TC [Treble Cone] to ski, not to take photos of kea ... DSLR is great, but totally impractical for a day on the slopes.''
No special settings or filters were used, but the image was cropped slightly, as was another one Mr Marks took showing the underside of a different kea.
He preferred the second photograph, though it lacked the ''comedy timing'' of a photobomb.
''No flash was used on the second photo. The light and angles were just great. Bear in mind that the kea was flying quite low over snow, which naturally reflects the light upwards.''