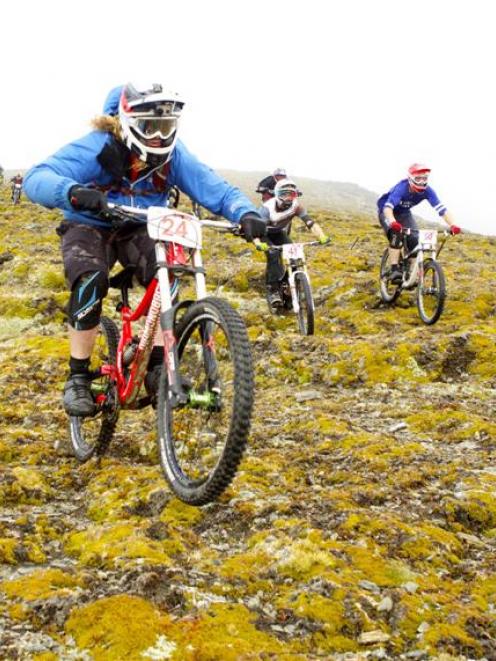 Wild weather around New Zealand kept Easter weekend numbers lower than in past years, but the organisers of the 2014 Queenstown Bike Festival are riding high after their popular nine-day event ended at the weekend.
A total of 50 daredevil mountain bikers raced from the main ridge on the Remarkables mountain range 1400 vertical metres down long stretches of high alpine terrain, tussock land and singletracks to the valley below, in the Mega Avalanche on Sunday.
Many contenders helicoptered to the start, although some dedicated riders made their own way by driving to the top of the skifield access road then pushing their bikes up to the start.
Sean McCarroll, of Queenstown, took the men's title in 15min 01sec.
Joe Nation, of Christchurch, who won the Coronet Enduro on Good Friday, finished second, 5sec behind and Hayden Lee, of Tauranga, was third, a further 10sec back.
First woman home was Meg Bichard, of Nelson, in 19:06, doubling up her win at Friday's Enduro, followed by Anja McDonald, just over a minute later and Leigh Halkett third, in 24:40.
The first, and only, tandem was piloted by Jackson Green, of Christchurch, and powered by four-months-pregnant wife Rose, on the back seat.
About 500 elite, sport and recreational riders competed in the sixth annual Tour de Wakatipu in mild and dry conditions on Saturday.
The 45km course for elite and sport racers and the 36km recreational track ran from Millbrook Resort, passing through Cone Burn Station to Chard Farm in the Kawarau Gorge.
Peter Bulling, of Invercargill, won the elite open male category in 1hr 36min 20sec, beating Mathew Lees and Johnny Van Leeuwen, both of Dunedin, who finished in a dead heat for second just under a minute later.
''Good course. It's got everything in it, like short wee bursts and nice descents,'' Bulling said.
''I got away just by Lake Hayes and they couldn't catch me, even though I missed a turn just after the old bridge.''
Kim Hurst, of Wellington, won the elite open female race in 1:45.43, with Haley Van Leeuwen second, six and a-half minutes back, followed by Sarah Moreton in third, who completed the race in just over two hours.
Elite junior male was Paul Wright and Nicole Shields took the elite junior female title.
Elite veteran male was Dave Drew, elite master male was Kevin McCarthy and Kevin Johnston was first in the elite master+ male category.
Elite veteran female was Lisa Eady, elite master female Di Williams and elite master+ female Robina Bodle.
Almost 100 mountain bikers entered the Coronet Enduro, a five stage, 13.75km timed race on Good Friday, starting at Coronet Peak base lodge and ending on the valley floor around five hours later.
Only 61 seconds separated the top three men, with 62 seconds between the top three women.
Joe Nation, of Christchurch, won the men's competition in 31min 16sec, followed by a tie for second between Tom Skillicorn, of Queenstown, and James Hampton, of Christchurch, who both came home in 32:17.
The women's race was equally competitive, with Meg Bichard, of Nelson, winning in 36:32, followed by Harriet Harper, of Christchurch, in 37:00 and Rosara Joseph, of Wellington, in 37:34.
The field included not one but two Reons (Bowe and Carroll), Ethan Glover, who won the men's open Super D Enduro the previous Saturday, Erin Greene, part of the winning mixed team at the same event, Tony Moore and Conor Macfarlane, up early despite celebrating his win in the previous night's slopestyle competition.
From Coronet Peak base lodge, riders rode untimed to the summit, from where stage one took them down the XC Track.
They travelled with the timer off to the start of stage two, and each subsequent stage, collecting to catch their breath and consume nutrition.
Stage two was Rude Rock into Skippers Canyon, followed by Greengates Trees, Zoot and Deer Lane, the final stage along a private track.
Race director Geoff Hunt, of Queenstown, said on Saturday riders and organisers had been lucky with the weather, compared with the rest of New Zealand.
He was called by riders in Akaroa and Timaru who had intended to travel but were put off by the storms.
Numbers attending had been good earlier in the festival programme.
The opening Super D Enduro had doubled its participants over last year to 200 riders.
The flow-on effects for Queenstown had been positive as well, he said.
''The bars have been jam-packed and we've had fantastic exposure on TV.''