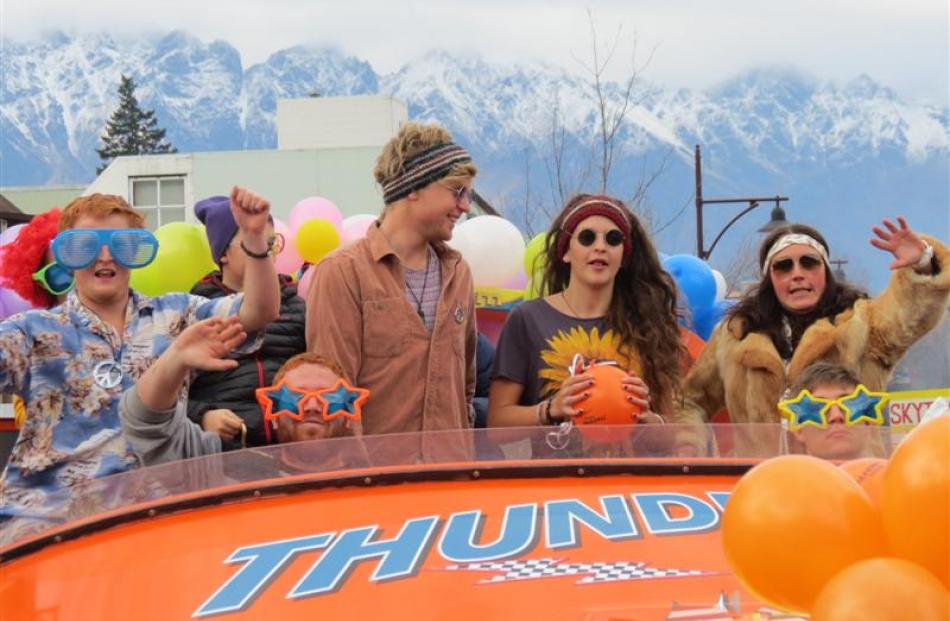 The 1970s made a comeback in Queenstown on Saturday morning as many dressed to impress during the Queenstown Winter Festival Golden Mile and Street Parade, enjoyed by thousands of visitors and residents.
• Fans of disco break out lycra and old moves
The first full day of the festival's 2014 programme saw hardy mountain bikers head up Coronet Peak for this year's Mountain bikes on snow race, where competitors took off in a mass start from the Meadows Chairlift, racing down the mountain.
Chaos and spills ensued before Queenstown's Harriet Latchem was named women's winner, Quintin McCrostie won the men's category and Matt Lawton won the junior section.
Back in the CBD, serious competitors mixed with light-hearted entrants before the Golden Mile race, where runners lapped the Queenstown CBD twice.
A crowd favourite was Joel Peasey who carried a ''1970s iPod'' - more commonly known as a record player.
Jordan de Spong won the men's division, completing the course in 4min 41sec.
The women's event was won by Gemma Morgans in 5min 49sec.
After the race, 36 floats made their way slowly around the CBD in the annual street parade, the 1970s theme a nod to the inaugural festival in 1975.
Attractions included zombies, a 1970s jet-boat - which made an early exit after the car towing it overheated - a marching band, stilt walkers, jive talkers, flowers, flares and funk.
Queenstown Primary School won the community category and Real Journeys and Cardrona the business section.