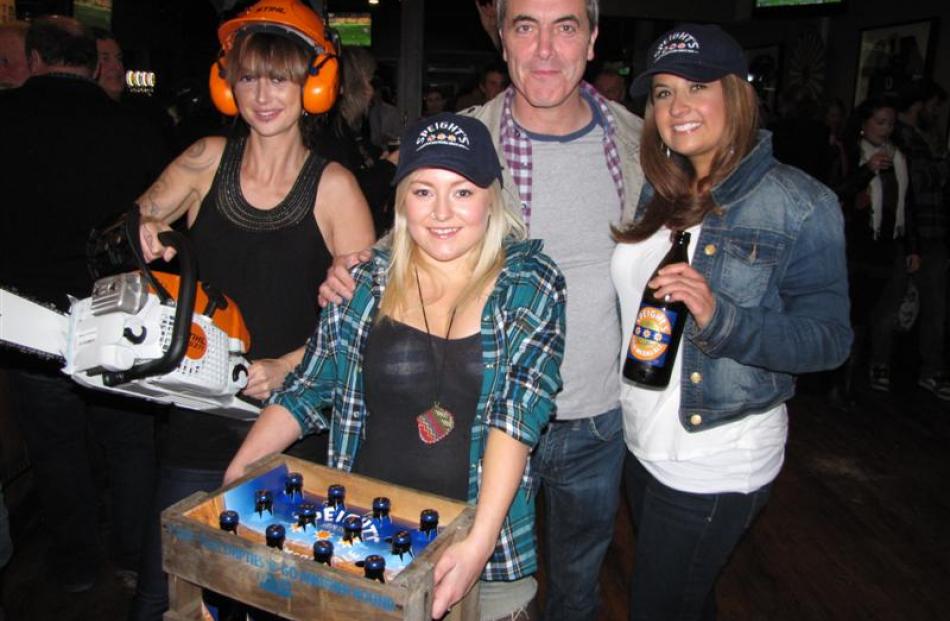 From demonstrating the best way to seduce Richie McCaw to popping bottle caps with a chainsaw, nine fearless females showed Hobbit actor James Nesbitt, an international film crew and a bar full of enthusiastic onlookers exactly what it takes to be a ''Perfect Woman'' at Wanaka's Bullock Bar last night.
Nesbitt, from Northern Ireland, was in town to film scenes for a travel documentary he is fronting which will air in the United Kingdom in December, coinciding with the release of the second of the Hobbit trilogy movies.
Last night's Perfect Woman competition was arranged especially for the film crew's visit, but served as a preliminary round for the official, and much larger, Perfect Woman event at Labour Weekend.
The contestants - a mix of New Zealand, British, Northern Irish, Australian and Welsh women - were put through their paces with pool-playing, keg-carrying, nail-hammering and chainsaw-wielding activities.
For the closing round, ''How to Score McCaw'', Nesbitt stood in for the All Black captain, as the three finalists tried out their best pick-up techniques on him.
Born-and-bred Wanaka woman Nicola King (25) was declared ''hands down the winner'' by Nesbitt when she opted for the aloof approach.
''The way to an Irishman's heart is to turn her back on him,'' Nesbitt announced to the cheering crowd.
He told the Otago Daily Times the competition had been a ''marvellous'' experience.
''Brilliant people, brilliant community spirit, all good fun ... It's competition but it's not too competitive. Everyone's supportive of each other.''
New Zealand had become a second home during the three years he had lived here on and off while filming the Hobbit trilogy, he said.
''New Zealand allows you to be the person you want to be.''