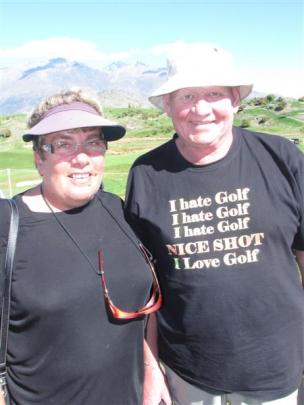 It is no secret the golf professionals enjoy Queenstown as one of the foremost golfing centres in New Zealand, but this week's pro-am championship is shaping up to be one for the crowds as well.
When tournament organisers and The Hills, announced late last year they would hold the PGA here in March with a celebrity element, you would be forgiven for wondering if this a bit last-minute.
But yesterday, 64 amateur and celebrity golfers teed off at Jacks Point in a field that includes several former All Blacks, New Zealand television personalities, golfing legend Sir Bob Charles and Hollywood actor Don Cheadle.
Former All Black and Black Cap Jeff Wilson flew in yesterday to fit in a practice round with mate and former Black Cap Mark Richardson before today's competition.
Wilson is no stranger to Otago sport, and he said the tournament had been strung together well in a short time and had hopes it would get "better and better" with each year to come.
"It's a great field of professionals and amateurs. They've done a great job in short notice.
"Have I got any picks? No because golf is a funny game."
As one of the amateurs invited to play alongside the professionals from Saturday morning, he admitted there were a few nerves about keeping up with the pace of their game.
"I've been lucky enough to play alongside Greg Turner ... When you play with them you just watch in awe.
"Absolutely I'm nervous. I know my golf's not up to it. I'll be hoping to stay out of their way and contribute where I can.
"I've roped in my brother [Richard] as my caddy so I'll be blaming him, the clubs ... I'm not a golfer so I'll blame anything I like."
Wilson said although there was a serious tournament and a prize of $500,000 at stake, the event would be entertaining for those who walked through the gates to watch over the four days the tournament ran.
"It's set up for the families. They will see some great golf from the pros and, hopefully, be entertained by those of us who aren't so great at golf."
Wilson does not have an official handicap, but said that it lay "somewhere between 10 and 12".
"I think they'll [the pros] sympathise."
This would be Wilson's first pro-am tournament and he was looking forward to challenging mates Justin Marshall, Richardson and the rest of the amateurs including Prime Minister John Key, Sir Michael Hill, and his former All Black coach and tournament chairman John Hart.
"It's exciting for me to be a part of that. You just want to support your pros as good as you can.
"The aim is to go out there and enjoy it, we are here for the experience and I'm just grateful to be asked."