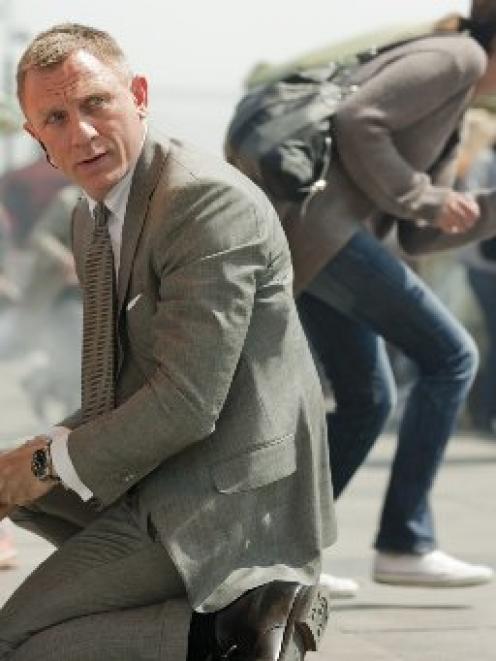 Ah, Mr Bond, we've been expecting you, but your latest adventure has been one of the longest waits in your 50-year career. Thankfully, after your previous misfiring Quantum of Solace in 2008, the wait has been worth it.
Daniel Craig continues to carve his own legacy as 007, the closest realisation yet of author Ian Fleming's vision of a "blunt instrument wielded by a Government department", a snarling, sweating, bleeding killer civil servant who appears unstoppable, until the unthinkable, in the pre-title sequence.
Past the unusually disturbing title credits, Mr Kiss Kiss Bang Bang seldom hits a wrong note in Sam Mendes' symphony of espionage by explosions, balanced by Roger Deakins' beautiful cinematography and the most personal story yet between Bond and the only woman he respects.
A Bond movie lives or let dies on the strength of its villain and bravo to Javier Bardem for not falling back, as feared, on his Oscar-winning turn as the shark-eyed assassin in No Country For Old Men.
Bardem's Silva is gleefully sadistic, ambiguous in all but his thirst for vengeance and a relief from the Eurotrash middle-management James Blond faced in Casino and Quantum. Silva is his worthiest adversary since Sean Bean's Trevelyan in GoldenEye almost 20 years ago.
Mendes, Craig, veteran writers Neal Purvis, Robert Wade and John Logan, plus custodian producers Michael G. Wilson and Barbara Broccoli have delivered not just a great Bond movie with Skyfall, which instantly breaks into the top five all-time greatest 007 adventures, but a great entertaining movie for all. It is comforting Craig and Logan have signed on for the 24th and 25th films in the franchise. Just do not take so much time off next time.
The world is a duller place without Bond, James Bond.
---
Starring: Daniel Craig (The Girl with the Dragon Tattoo), Javier Bardem (Eat Pray Love), Judi Dench (The Best Exotic Marigold Hotel).
Director: Sam Mendes (Revolutionary Road).
Screening: Reading Cinemas Queenstown, Friday, 11.45am, 1.45pm, 2.45pm, 4.45pm, 5.45pm, 8.45pm; Saturday to Wednesday 11.30am, 1.30pm, 2.30pm, 4.30pm, 5.30pm, 7.30pm, 8.30pm.