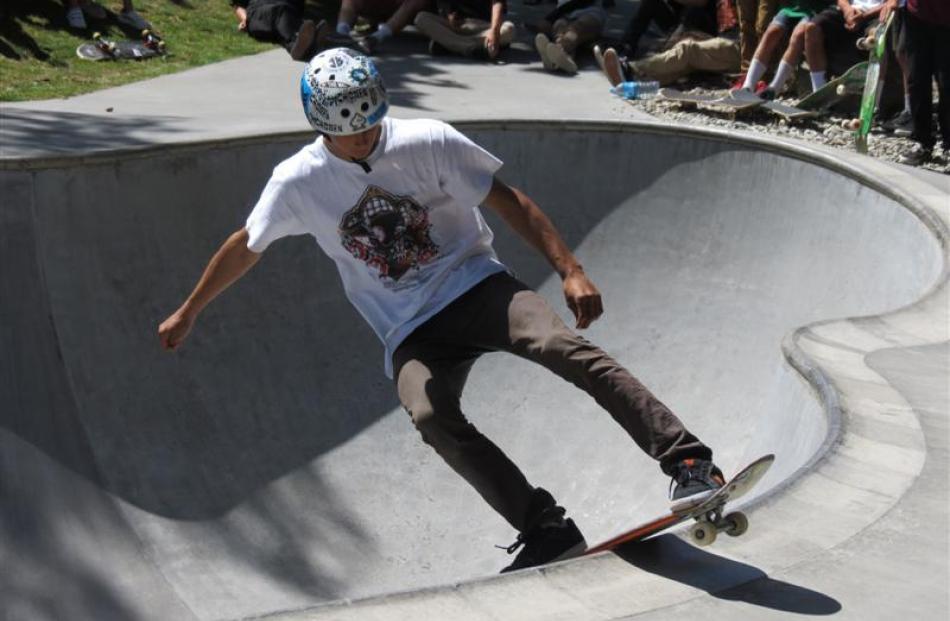 More than 20 skateboarders from throughout the lower half of the South Island impressed judges and spectators with their grinds, twists, flips and ollies at the 2013 Summer Sk8 Sesh in the Queenstown Gardens.
Despite rain delaying the start on Saturday, the annual skateboarding institution attracted a dozen under-16 contenders and 11 over-16 challengers. Todd Wilkins (11), of Wanaka, was hailed the best overall skateboarder by the four judges and took home a newly created trophy, skateboard gear and $200 of the $250 pot provided by NZONE Skydive.
Todd's twin brother Blair was the under-16 winner and Etienne Veggot (23) was the over-16 winner.
Kallan Stevens scored the highest ollie, at 82cm, while Taryn Lockley performed the best trick at the waterfall feature of the skate park. Dan Kelcher won the bowl round.
All won vouchers and skateboard merchandise.
Summer holiday programmeThe Youth Booth launched its week-long summer holiday programme with the Sk8 Sesh and announced last week
more activities for young people, on three Saturdays later this year.
A day at Frankton Beach will involve beach volleyball, water tennis, beach cricket, water skiing and boarding and socialising on February 16.
The first 3-on-3 basketball competition will be held on the Lake Hayes Estate courts, with prizes to be won, on March 16.
Musos can jam and either bring their band or start a new one in ''the garage'' on April 13.
Visit or contact the Stanley St centre for more details.