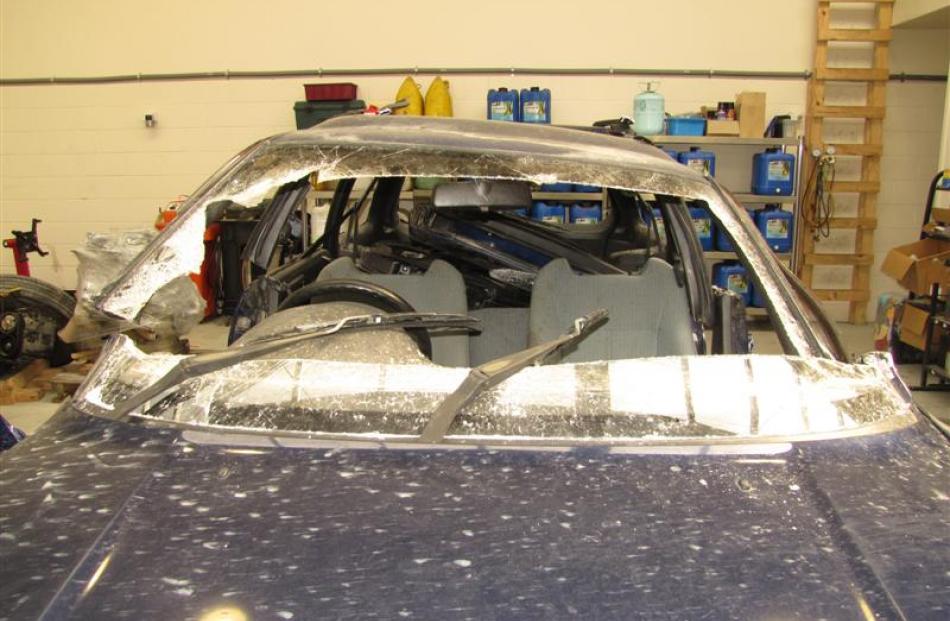 Police in Wanaka are interviewing the driver of a white four wheel drive utility in connection with their inquiry into the death of a motorist on SH6 between Wanaka and Lake Hawea early on Thursday morning. 
Detective Sergeant Brian Cameron told the Otago Daily Times this afternoon someone had approached police and told them they were the owner and driver of a white utility that used the road.
''That person's being interviewed as we speak.''
''It is not known at this stage if it is the white utility that we are interested in or not.''
Twenty-two-year old farm worker Rutger Telford Hale, of Auckland, died early on Thursday morning when an unidentified object crashed through his windscreen.
His 26-year-old partner and passenger, who was not injured, told police about the white utility being in the vicinity at the time of the incident.
Police say the death remains unexplained, but it is not believed to be suspicious.
"We do not have any evidence that suggests there is anything sinister or suspicious about this crash, but we need to work to piece together the logical parts of the puzzle to establish how it occurred," Det Sgt Cameron said. 
Earlier report 
Police have released the name of the 22-year-old man killed by an unknown object as he drove to work near Wanaka early yesterday morning.
He was Rutger Telford Hale.
Mr Hale was originally from Auckland and had been living in the Hawea area for only a few weeks.
Wanaka police have called in a forensic pathologist from Christchurch to help determine the cause of death.
Detective Sergeant Brian Cameron told the Otago Daily Times this morning a post mortem would be done within the next 48 hours.
Mr Hale died while driving his blue Subaru stationwagon towards Wanaka from Lake Hawea at about 6.25am yesterday.
A 26-year-old female passenger, whom police are now calling the man's partner, was unhurt.
The passenger told police the man was hit by an object that came through the front windscreen.
Police believe it exited the vehicle through the rear windscreen, and another search of scene may be carried out later today.
Asked if the unknown object might have been a bullet, Det Sgt Cameron said "it's a very unlikely scenario, but we are keeping an open mind''.
Asked if he could rule out the possibility the death was a homicide, Det Sgt Cameron said he would be "reluctant for anyone to report it as such, simply because we don't have enough information at this time''.
Police stopped 55 motorists early this morning near the scene of Thursday's incident and questioned them about what they might have seen.
They are looking for the driver of a late model white four-wheel drive vehicle seen by the passenger at the time of the incident.  
"As a result of that we have a number of inquiries to follow up on with potential witnesses, which is a positive result,'' Det Sgt Cameron said.
Friends of Mr Hale have been leaving tributes today on Facebook.
Ian Anderson of Alaska wrote: "Today my heart is heavy.......a good friend of ours died in a car accident when an object fell out of the back of a truck and struck the car. Living in Alaska, we all see machines, building [sic] materials, and other large things being hauled around in trucks and flatbeds. The point of this post is to remind everyone to make sure you secure your loads and be aware.
"The other point of this post is to remind everyone that we have an extremely fragile existence, and to never take life, opportunities, or loved ones for granted.
He added: "I felt compelled to try to find a positive lesson from this. It's just such a tragedy. He was only 22 and had a lust for life that was insatiable. I just hope that at least one person can read my post and possibly save a life by double checking.''
Mr Hale's Facebook page says he was from Moana on the West Coast, but had lived in Portland, Oregon. He attended Lynfield College in Auckland.