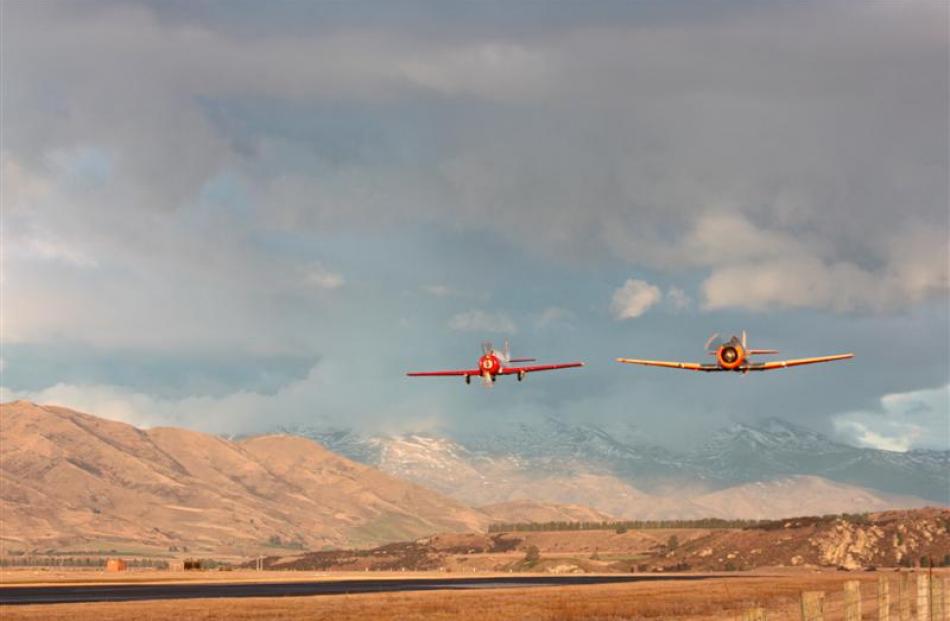 Two more ''warbirds'' will call Wanaka home after landing at the town's airport last night.
The two aircraft, a 1996 Yak 52 and a 1941 Harvard T6 belonging to XX Aviation, were flown from Tauranga by John Lamont and Peter Meadows. Bad weather meant an unscheduled stopover in Ashburton before the last leg of the flight to Wanaka.
XX Aviation owner Peter Meadows said he moved the aircraft to Wanaka as it was a tourist destination and centre of military aircraft in New Zealand.
The two aircraft would operate as a part of a tourism venture at Wanaka airport for members of the public keen to fly in military aircraft.
Warbirds over Wanaka general manager Ed Taylor said the new planes would add to the aircraft already in Wanaka.
''Even people who work here stop and look when the Mustang flies, so it will be great to have more warbirds here,'' Mr Taylor said.
The Russian-built Yak 52 is civilian and military pilot training aircraft developed during the Soviet era. It continued to prove popular and the Wanaka aircraft was built in 1996 and came to New Zealand in 2007.
The Harvard T6 first flew in Texas in 1941 before being bought in 1956 by the government of South Africa, where it remained until 1996.
- Leith Huffadine.