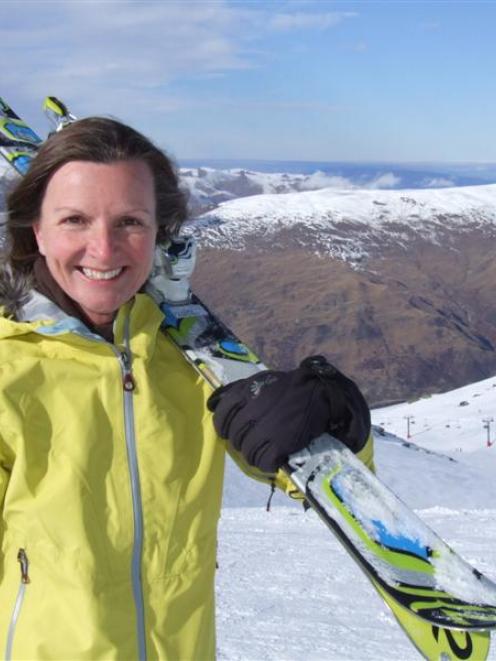 You could say skier Karen Skillen took the counterculture route of turning on, dropping out, and tuning in, to start an international fundraising bid for adaptive snowsports.
During the next 12 months, Ms Skillen will be turning on the slopes of skifields around the world after dropping out of her high-flying corporate career to tune up her skis and travel to 57 countries to encourage disabled skiers.
Cardrona Alpine Resort is Ms Skillen's first launching pad on her "Ski the world for all" tour, spending this week at the skifield's annual New Zealand Adaptive Snowsports Festival.
The San Francisco-based Englishwoman left her job in March and has spent the past three months organising logistics and promoting her world tour to boost funds for adaptive programmes to help disabled people into skiing.
During her week at Cardrona she plans to try to raise about $8000 for the skifield to buy specialised sit-ski equipment for the skifield's established adaptive programme.
While Ms Skillen admits her international fundraising idea may afford her "the ultimate ski-bum lifestyle", she is adamant her "one-woman mission" is no easy ride.
"If I'm able to do something, anything which helps, then I've made a difference.
If 10 disabled people decide to give the sport a go, if we raise enough funds to buy a sit-ski or other equipment then it all helps," she said.
The bubbly 47-year-old says she has reached the right time in her life to "get out in the world and make a difference for others".
"Today is day one, of week one, at resort one.
"I've got 50 more countries and ski resorts to go.
"That's a lot of talking and a lot of fundraising ahead," she said.
A ski accident two years ago on New Years Eve at Vail Resort Colorado "opened her eyes" to the world of adaptive snowsports and the benefits skiing provides for the disabled, she said.
"I blew my knee out on a warm-up run and spent the next six months semi-disabled."
During her recuperation she was inspired by the fortitude and attitude of people who overcame injuries and disabilities to return to the ski slopes.
"It was a huge wake-up call for me ...
"I wanted to be a part of that and decided I had to do something to try and make a difference," she said.
Her itinerary for the next year reads like a Lonely Planet guide of skifields, with Australian resort Perisher pencilled in as her next stop, followed by South Africa, Argentina, and then Chile.
The northern hemisphere winter heralds trips to Japan, India, and North Africa before an intense schedule through a "cluster" of European countries and resorts, before the tour winds up in North America.
The self-described "average skier" says she plans to finish her tour in California in April 2011, and has a message for anyone wanting to achieve their goals.
"I'm by no means a good skier.
"I'm nothing really special at all and have only ever been average at lots of things.
"But if I can do this, then you can do anything."
On the web: www.skitheworldforall.com