Canterbury's Hannah Oldroyd broke her own Queenstown Marathon record on Saturday, on the way to claiming her fourth title.
Oldroyd, originally from the United Kingdom, took the tape in 2hrs 49min 50sec, two minutes faster than the course record she set for the New Zealand Sotheby's International Realty-sponsored marathon in 2018, and almost eight minutes clear of runner-up Alex Barnes.
"That was beautiful, very unexpected — I got into a race far too early and I never thought I'd catch the girl in front, but I can't complain.
"It's just great to keep coming back to this race, and the win was very unexpected."
Wellington's Daniel Jones made the 42.2km distance look like a cake-walk on his way to taking out the overall win for the third time, finishing in 2hr 31min 13sec, with Ben Gatting second two minutes behind, and Orestas Rimkus, of Lithuania, in third.
Jones has spent this year making his name on the global ultra trail circuit, which included winning the 100km Tarawera Ultramarathon.
"I'm ecstatic," Jones said.
"To come back and get in an awesome local event and get the third win here is pretty special. It's just a nice way to wrap up the year."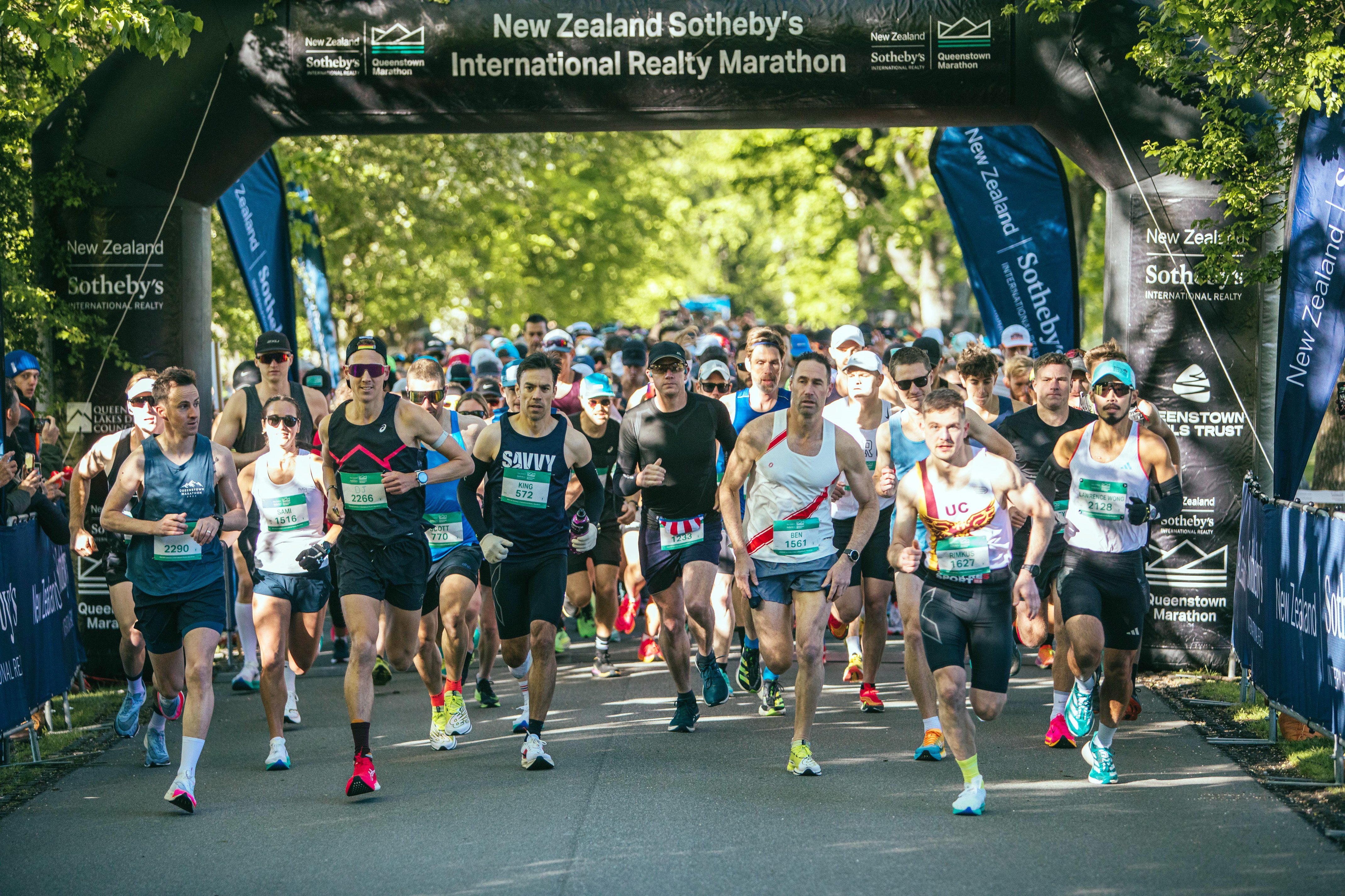 Dunedin's Rebekah Greene broke the half marathon record by almost three minutes, winning in 1hr 16min 47sec from Katie Morgan in second and Hannah Berry in third, while Wanaka's Braden Currie won the half marathon in 1hr 11min 12sec, ahead of Lithuanian runner Paulius Auryla, in second, and Mike Phillips in third.
This year's event, which also included a 10km distance and a children's 2.5km run, attracted more than 11,000 entrants.
Among those who travelled to participate in the half marathon were Eve Fone, of Levin, and her daughter, Rebecca Broughan, of Tokoroa. Saturday's event meant they had now each done the distance about 10 times, but it was their first visit to Queenstown, after cancelling the trip last year.
"We were all set to come, but I got pregnant, so had to pull out," Mrs Broughan said.
Admitting their training had not been ideal — Ms Fone, who was about to turn 70, had also been battling sciatica, while Mrs Broughan had been juggling two children under 2 — the women said they loved the course.
"It's just a beautiful half marathon," Ms Fone said.
"All I wanted was my e-bike."
It was a slightly less enjoyable experience for Mrs Broughan who forgot her running shoes.
"I've done the whole thing in Allbirds.
"The review of those shoes is 'good to walk in, you wouldn't want to run 5km [in them] though'."
Frankton volunteer firefighter Jamie Harris ran the half marathon in 3:08:06 wearing full kit, including his 17kg cylinder, raising money for Leukaemia & Blood Cancer New Zealand.
A fundraising firefighter for years, having completed more than 40 stair challenges for the same cause since 2009, the event took on a personal meaning this year.
"My sister has just been diagnosed with a rare blood cancer, so I'm just creating a bit more awareness that it doesn't matter who you are, cancer doesn't discriminate," Mr Harris said.
"Now that my family are a bit closer to it it's a bit more real, so I thought I'd put on a kit and go for a wee jog."
Meanwhile, three Queenstown-based McConnell Dowell staff raised $3000 for support centre Happiness House — site engineer Shirley Yeung, project manager Joe Hare and health and safety adviser Alex Charlick completed the 10km, half marathon and full marathon, respectively.