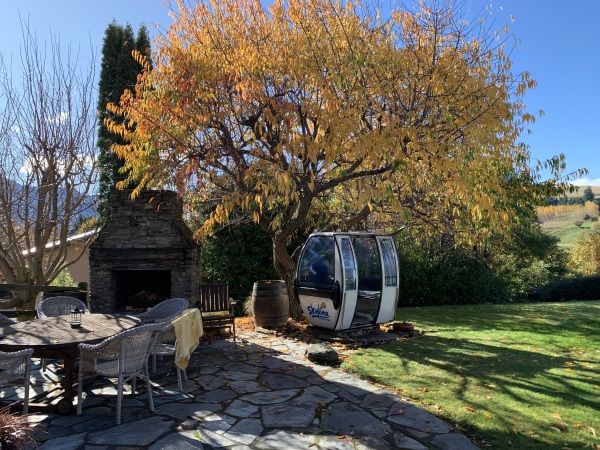 The Skyline gondolas are a memorable part of any trip to Queenstown, but for one local family, they've been an important part of life.
Louise Wright was just a toddler when she first travelled up Bob's Peak in the four-seat cabins, starting a relationship which saw her make the trip at least once a week, every week except during Covid, ever since.
Louise is now 21, and cabin No 34 is sitting proudly in her backyard in Quail Rise.
The gondolas have been her "happy place'', the inspiration for birthdays and school projects, and a steady and safe part of her routine.
Her mum, Johanna, says it's the family's "favourite thing to do" together.
She says the ride itself is peaceful and rhythmic for Louise, and it's also a foundation for learning — the numbers of the cabins helped her to count, for example, and integrating the gondola helped keep her more engaged.
Johanna recalls birthdays at the top, themed cakes and mocktails, and even a wearable gondola dress.
She says the new gondolas will be a different experience, but having her own four-seater's great for Louise.
"When it came to [giving gondolas away], Wayne [Rose] rang and … said Louise was at the top of his list.
"It's sitting in the garden under the cherry tree … she can see it from her bedroom."
Johanna says it's being used as a spot to have snacks during the day and a drink on the weekend, though Louise sometimes does wish it could take her on a ride in her own backyard.
Rose, Skyline Queenstown's boss, says he was stoked to give the cabin to Louise as she's his "best customer", and he hopes it helps her maintain some familiarity while the $250 million redevelopment project progresses.
Fundraising target exceeded
When Rose set a goal to raise $100k by auctioning off the company's iconic four-seater gondola cabins, he didn't expect to actually exceed it.
On Sunday, the last of the 15 cabin auctions closed on Trade Me, bringing the total amount raised to over $103,000.
That money's being split between the Branches Charitable Trust and the Whakatipu Wilding Control Group.
Rose says he's also thrilled Skyline's able to donate other cabins to other charities and groups.
For example, Wakatipu High School Foundation's cabin will likely play a part in its annual fundraising dinner and auction, at Flame Bar & Grill on June 8, while Living Options' gondola will sit on their Arrowtown site.
Two people snagged two each over the last few weeks, and cabin No 7, which fetched $8855, went to a man who says it's his lucky number, Rose says.
He adds the fundraising result is "absolutely amazing'' and it's awesome meeting those who'll give the cabins new life.