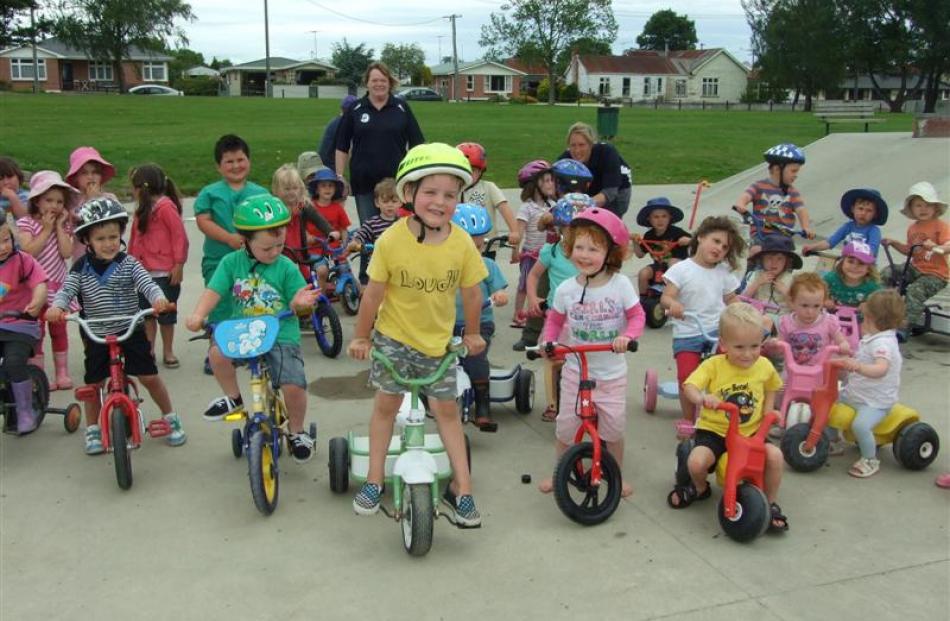 Plans to build a children's cycle track in Milton have been well received by children and parents, following the release of a design for a four-part project by Milton Area Promotions.
Moore Park is a large grassed area, bordered by Cowper, Johnson, Abercrombie and Spenser Sts, which is popular with children and teenagers and features a skate park, basketball hoop, and playground.
Milton Area Promotions secretary Kay Partridge said the group had a four-stage project for the park.
Stage one, installing a chain and post fence, was completed last year, and on Tuesday, the group began stage two, constructing a disabled toilet at the park, which is due to be finished by the weekend.
The cycle track is the third stage and the creation of a dog park the fourth.
Moore Park is also used by Milton playcentres to teach children how to ride bikes, and for other recreational activities.
Parents told the Otago Daily Times a separate area was needed to teach children how to ride their bikes, and applauded Milton Area Promotions' design.
One mother said the skate park was used by some children riding bikes, but the ramps were too high for small children on bikes.
''Wee ones need a separate area to learn how to ride.''
Last year the group sent the council more than 70 signatures from individuals and community groups, schools and the Milton police station supporting the project.
''It's been well received so far, and we've had great support from the community,'' Mrs Partridge said.
Group members looked at other cycle tracks in Otago to get ideas, settling on a design which included road markings and signs,The group estimated the project could cost about $100,000 and hoped to fund the track through grants.
Earlier this year the Clutha District Council budgeted $30,000 towards the cost of the public toilet at Moore Park if the community could raise the remainder of the cost.
Mrs Patridge said after the four stages were completed, Milton Area Promotions and other volunteers would landscape the park, also adding more rubbish bins.