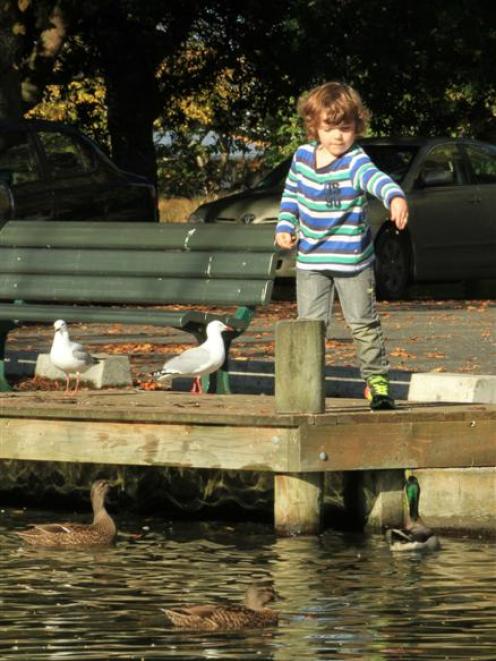 Killing the ducks and filling the pond at Naish Park in Balclutha have been considered following concerns about the water quality in the pond and the amount of duck excrement around it.
The Clutha District Council yesterday considered three options: culling the ducks, attempting to relocate them or filling in the pond.
Instead, it decided to move ahead with discouraging feeding the birds until a wide review of parks and reserves as a part of the Long Term Plan, which could change the park's future, begins on July 1.
Council chief executive Steve Hill said it was decided the problem needed to be managed as easily as possible until there was an end decision.
The council would put up signs asking people not to feed the birds, but Mr Hill told councillors to be prepared to make a final decision on the future of the park.
''The decision about having a duck pond or not having a duck pond will feature in [the reserves review],'' he said.
The council's community services co-ordinator Loesje Morrison said elderly tenants in the council's community housing had been feeding the ducks ''religiously'' and had been asked to stop.
''You feel like the Pied Piper when you walk through the gates; the ducks are everywhere,'' she said.
And despite the friendly nature of the birds, the extent of their excrement had become ''slippery and dangerous'' and the pond's water was stagnant and dirty.
Balclutha woman Mary Woodrow (31), who was at the pond yesterday, said as a primary school pupil she had come to the pond to paddle in it and collect tadpoles, but now it had become ''grotty''.
''The water was clear back then. I wouldn't put my feet in there [now].''
Mr Hill said the reserves review would look at a community's assets as a whole.
The council could invest in some parks and create ''more passive spaces'' in others.
Removing rather than replacing playground equipment, for example, he said, would allow the council to spend on ''more significant reserves that are actually going to achieve something''.
''I want the community and I want the councillors to be looking at `Let's invest in the park, let's open it up and make it family-friendly', but to do that they're going to have to address what are they going to do about the [duck pond].''
''Is it family-friendly? Because in so many ways it's not.''