Family and volunteers will carry out their own scaled-back search after a third day of searching by more than 90 people yesterday failed to find any trace of missing Clutha Valley teenager Blake Sinclair.
The 18-year-old's parents, Raewyn and Mark Sinclair, yesterday thanked everyone involved in the search for their ''wee guy'', who went missing while kneeboarding on the Clutha River near Balclutha on Saturday afternoon.
''Our son Blake loved the outdoors and all aspects of spending time in the outdoors with family and friends - including hunting, fishing, diving, boating and trail-bike riding. Blake grew up enjoying jet-boating on weekends, family holidays out and around South Otago and in the Southern Lakes region, and family boating holidays on the West Coast,'' Mr and Mrs Sinclair said.
They asked for privacy and declined to speak directly with media, opting instead to issue a written statement through the police.
Today a scaled-down search will comprise four jet-boat crews and family members. Police will spend the next week monitoring the level and clarity of the Clutha River while assessing the merits of any further search activity.
Mr and Mrs Sinclair said Blake loved visiting Stewart Island where he would fish, dive and hunt with family and friends.
He and his brother Logan shared many interests in the outdoors, they said.
''Blake was a great boy with a very friendly manner and a dry sense of humour. He wasn't one to get into trouble but he had a youthful twinkle in his eye.
''He was confident in his own decision-making and ability. He wasn't one for sitting down and not giving anything a go. He would take an opportunity, consider it and grab it with both hands,'' Mr and Mrs Sinclair said.
Blake was kneeboarding behind a boat on the Clutha River, near the confluence of the Waitahuna River - about 20km up the river from Balclutha - when he was last seen about 3.30pm on Saturday. He fell from the kneeboard into the river and immediate efforts by those aboard the boat failed to find him, so police were called.
Four police divers, from the national dive squad in Wellington, arrived at the scene on Sunday evening.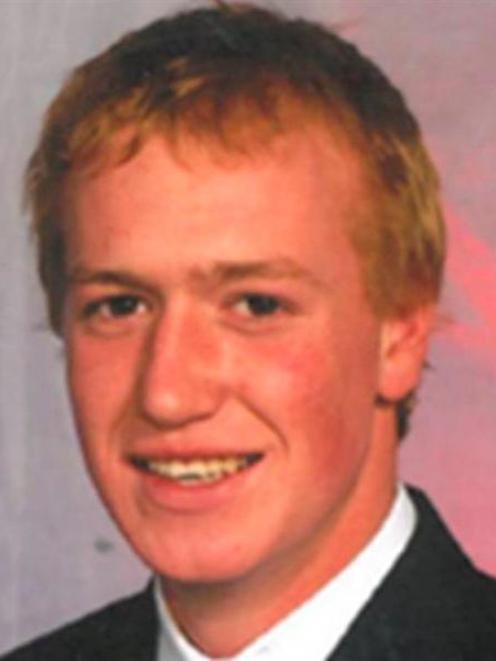 Yesterday they resumed the search for Blake at 8am, following a 7.30am briefing with almost 100 others.
Sergeant Craig Dinnissen, of Balclutha, said 18 private jet-boats, each with three people on board, were involved in the search, as well as 25 ''local'' Land Search and Rescue (SAR) volunteers who scoured the river banks.
Five Otago Regional Council staff also assisted with a land-based search at the Clutha River mouth and adjacent coastline, he said.
That was about 25km down the river from the search base on the river bank opposite Awamangu Rd, about 5km down the river from where Blake was last seen.
Sgt Dinnissen said it was a large search area, comprising the entire Clutha River below the Waitahuna River confluence.
He said the Clutha River level had dropped about 45cm overnight on Sunday but at midday yesterday was still almost double its normal level.
The highest volume river in New Zealand, and the swiftest, it has an average flow of between 400cumecs and 600cumecs. Yesterday its flow remained about 1400cumecs
as water continued to spill from the Clyde and Roxburgh dams, following heavy rain in the catchment area.
The Clutha River was expected to drop to its normal level within two weeks.
Mr and Mrs Sinclair said Blake had recently been working with a family member as a fencing contractor in and around the South Otago community but was ''looking to eventually come home to the family farm''.
The Sinclair family is well known in the area, having farmed there for several generations.
Blake attended Clutha Valley Primary School and South Otago High School.
''Blake was loved by his entire extended family. He was a wee guy that liked to do things right,'' Mr and Mrs Sinclair said.
They thanked everyone for the ''immense efforts'' in trying to find their ''dear lad Blake''.
''To all of the specialist services, volunteers and our local community, the support and efforts both on the river and at home are greatly appreciated,'' Mr and Mrs Sinclair said.