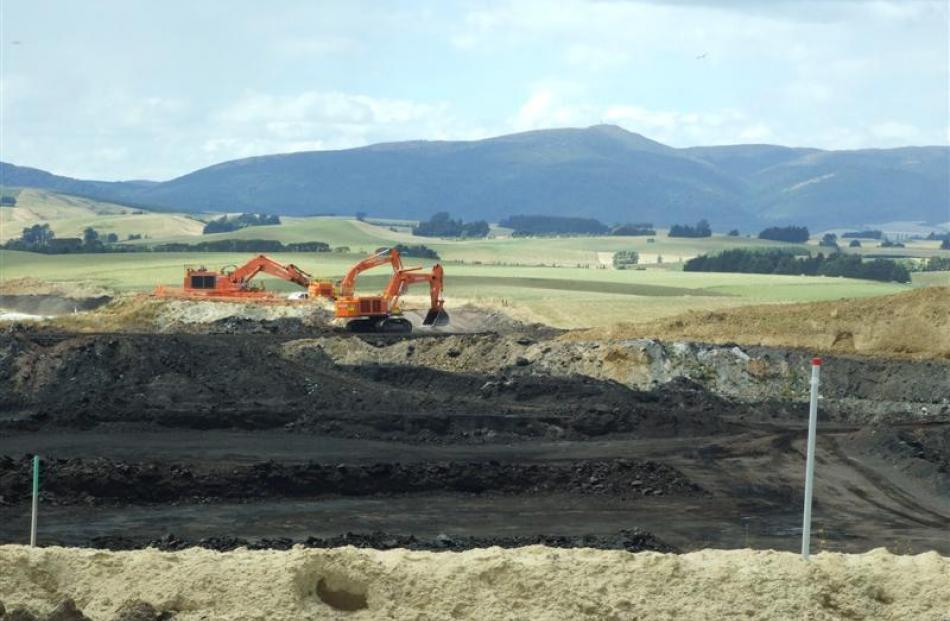 Anti-lignite coal campaigners began arriving in Southland yesterday and many spent their first hours touring Solid Energy coal sites in the province.
The "Keep the Coal in the Hole Summer Festival", organised by Coal Action Network Aotearoa, began yesterday afternoon, with a tour of the Mataura area, including visits to Solid Energy's open cast mine at New Vale, near Waimumu, and the construction site of the demonstration briquetting plant on Craig Rd, near Mataura.
Festival-goers were not allowed on site, and congregated on the roadside at both sites, under the watchful eye of Solid Energy security staff and police.
Senior Sergeant Richard McPhail, of Gore, said police knew anti-lignite campaigners would visit the sites and wanted to make sure the roads were kept clear for traffic. He said there had been no issues.
The festival continues today, most of which will be dedicated to discussing methods of non-violent protests and developing strategies and tactics for ensuring that the lignite stays in the ground.
Tomorrow will see an open day for the public at the Mataura Community Centre, and the event will wrap up on Monday morning.
Veteran Queensland beef and grain farmer Sid Plant will speak about his experience on living next to a large open cast coal mine and the impact it has on his farm. Mr Plant has farmed there for 30 years.
Others will speak on climate change, health, and lignite and economy.
The event takes place at the farm of Mike Dumbar, near the site of Solid Energy's briquetting demonstration plant, in Craig Rd, south of Mataura.
Foundation work is under way on the plant.
It will process about 148,000 tonnes of low-grade lignite coal from a nearby mine annually, turning it into 90,000 tonnes of higher-quality briquettes suitable as fuel for households and industries.
A further 15,000 tonnes of lignite will be required annually to fire its on-site boiler.
The coal will be transported to the plant from the New Vale mine, near Waimumu.
The briquette plant is the first of three projects planned for lignite from the Waimumu, Croydon and Mataura areas.
Festival organisers say Solid Energy's plans to exploit the lignite coal under Southland's farmland would constitute the largest industrial complex in New Zealand's history.