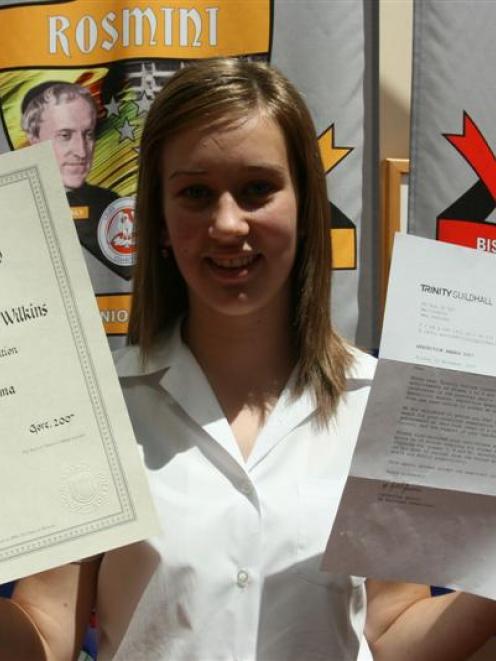 A Gore teenager is one of only a handful of people nationwide to earn a Trinity College of London Exhibition Award for Achievement in speech and drama.
St Peter's College pupil Alice Wilkins (15), who had already gained a distinction at Level Six speech and drama several months ago, said she was shocked when she received a letter to announce the award, a certificate and £50 (about $NZ80).
Earlier this year, when sitting Level Six in front of an examiner, Alice read aloud a poem, a characterisation and prose, all rehearsed, plus a sight reading which she only had a few minutes to digest.
Each piece was marked out of 20 for pause, pitch, confidence, breathing and clarity.
''It's lots of fun,'' Alice said. ''I was nine when I first started and I was really shy but it's given me lots of confidence.''
''I like anything to do with the stage, like dancing and singing, and even if I don't use it in a career it's given me lots of confidence to do other things.''
However, a career in broadcasting is not far from her thoughts. ''I might go to broadcasting school but I would like to pursue law also, or performing on stage.''
Alice said her favourite subjects were English and drama.
Trinity Guildhall national consultant Catherine Martin, of Wellington, said Exhibition Awards were granted internationally from Trinity's head office in London.
''Alice's achievement at this high level is testimony to her hard work, talent and the support of her parents and teachers,'' Ms Martin said.
Alice's speech teacher, Sherilyn Hellier, of Oamaru, said it had been wonderful to see Alice's confidence and self-belief grow.
''Alice has a very good ear for the rhythm of words and a very mature interpretation of a piece of work,'' Mrs Hellier said.
''She has excellent speaking skills, beautiful vowels and crisp consonants.
''There are no more than five people in New Zealand awarded an exhibition award a year and it is an internationally recognised award.''