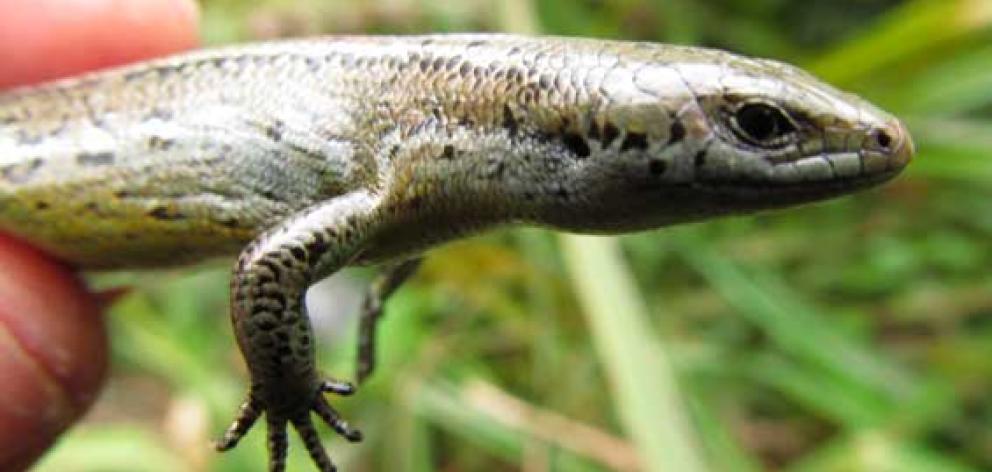 Te Kakahu skink have a new home in Fiordland.
The rare species of skink, only discovered in 2002, have previously just populated a 50m by 50m scrubby cliff site on predator-free Chalky Island in Preservation Inlet in Fiordland National Park.
The skink, which numbered only 160 when it was counted and studied in 2013, is classified as ''nationally critical'' because of its numbers and the fact it occupies such a small area.
''Chalky Island is predator-free, but a possible predator incursion or fire would pose a severe risk to the entire Te Kakahu skink species,'' Department of Conservation biodiversity ranger Bex Jackson said.
The decision was made last week to relocate 99 Te Kakahu skink to Anchor Island, further north in Dusky Sound, as a ''backup'', she said.
Home to a wide variety of endangered native species, including mohua, saddleback, little spotted kiwi and kakapo, Anchor Island is not known to have any other skink species present.
Nigel Babbage of the Mohua Charitable Trust said follow-up monitoring of the skink would be carried out on Anchor Island in two months' time.
''Each skink was photographed, and individuals can be identified from the unique scale pattern on their back and sides,'' he said.
''Monitoring will allow the team to see if the translocation has been successful, and to chart the growth of the new population.
This will be an invaluable source of information for future translocations and our knowledge of this little-known species.''