Today's the day to give the South a literal shot in the arm.
Everyone from health professionals to movie stars will come together to encourage Kiwis to get vaccinated against Covid-19 during a Super Saturday filled with events and freebies.
It comes as cases in the latest outbreak continue to mount — 65 new cases were reported yesterday — with increases expected in the coming days.
Southern District Health Board (SDHB) medical officer of health Dr Susan Jack said while the current outbreak was still largely in Auckland, there was  a chance to get ahead of the game in the South.
''But we don't have long — now is the time to be vaccinated.
''We are only as protected as our least-protected community.''
While the SDHB was doing well overall with vaccination uptake rates, there was a need to ensure all parts of the community —  the young, the old, the people with other health  conditions, the people without easy access to healthcare services — were all vaccinated with two doses.
''We need to make access to vaccinations easy and available at times and places that best suit our communities. If we don't, Covid Delta will find the unvaccinated and people will become unwell and will end up in hospital and ICU.''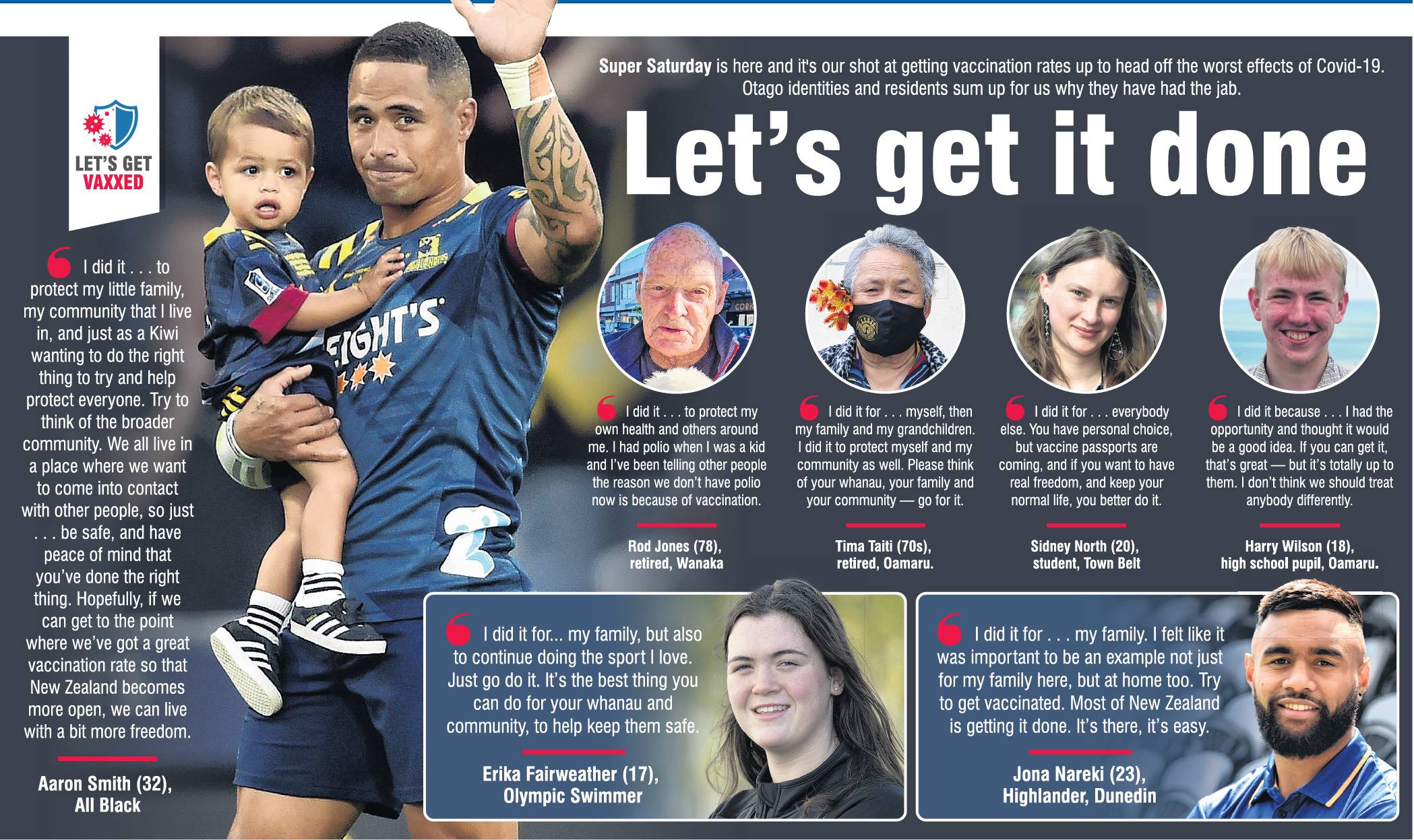 Quality and clinical governance solutions interim executive director Dr Hywel Lloyd said the SDHB was making plans based on modelling of an outbreak in the South causing 300-400 community cases.
At that rate it was expected there would be  40-80 people admitted to hospital, and 3-7 intensive-care patients.
However, the numbers would depend on what measures were implemented if a case were discovered in the South.
The current level of vaccinated people in the region meant a lockdown would still be likely, and people's level of compliance with the rules would have a big impact on the potential spread.
''If people don't get vaccinated and they ignore the rules, it could be much more than that.''
It was still important people stayed home if sick and got tested if they had symptoms, no matter how minor.
During Super Saturday in the South, more than 70 locations will take part in the big vaccination push, with many locations taking  walk-in patients.
The Otago Regional Council  is offering free travel on its Orbus Dunedin and Queenstown networks for all passengers today to ensure as many people as possible can travel to vaccination centres. — additional reporting Andrew Marshall