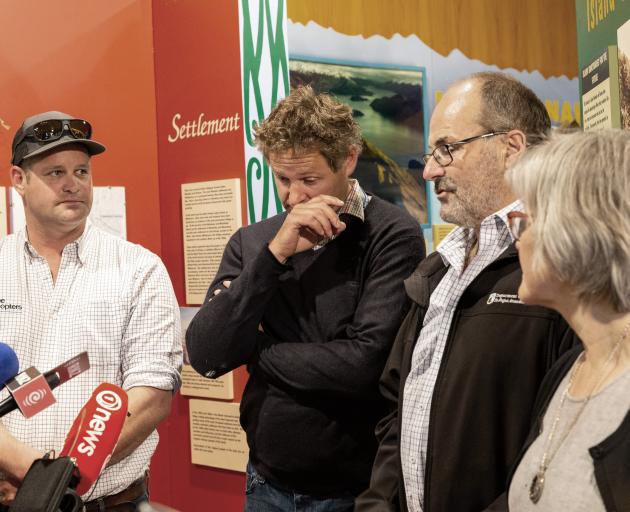 The two Department of Conservation rangers killed in a helicopter crash this week have been remembered as conservation pioneers who saved  thousands of native birds.
Tributes continued to flow yesterday for  Paul Hondelink (63) and Scott Theobald (59), and pilot Nick Wallis (38), who died when the helicopter they were in crashed shortly after takeoff near Wanaka on Thursday.  
Less than three months after losing another brother, Matthew, in an eerily similar crash, Jonathan Wallis paid an emotional tribute to his "larger than life" younger brother Nick, who was piloting the Hughes 500.
"He was 6ft 6in ... 120kg, he was effervescent, nothing was a problem. Nick was larger than life, in a literal context."
"Wanaka has a rural heart and people are supporting us."
Together with Toby, the other surviving son of Wanaka aviation pioneer Sir Tim Wallis and his wife, Prue Lady Wallis, Jonathan said the second tragedy this year compounded the family's suffering.
"That's a cruel reality, is that it is not quite three months since Matthew's death in a helicopter accident not far from here.
"That makes it doubly hard. You don't become immune to this. No-one does."
The Wanaka community was rallying around the family, he said.
Helicopters Otago managing director Graeme Gale also paid tribute yesterday to Nick, a former employee, as a highly skilled engineer as well as an excellent pilot.
"He worked on our fleet for a few years before he finally went back home to go flying.
"It didn't matter if he was engineering or flying ... he was a very caring sort of guy."
Doc  director-general Lou Sanson said  Mr Hondelink and Mr Theobald  were leaders in their field.
Mr Hondelink was the department's foremost chamois and tahr hunter. Mr Theobald pioneered the use of pest control dogs.
"In that helicopter is resources that we will never ever replace," Mr Sanson said.
"We have lost so much. Paul and Scott have some of the most significant conservation experience in the country, if not the world. Thousands of native birds are alive because of them."
"Paul and Scott went to work on Thursday for the same reason they did every other day, and the same reason Nick did, to make a difference in conservation."
Former Doc  coastal Otago area manager Robin Thomas, who had worked with both men, said their deaths were "a massive loss, in a whole lot of different ways."
Former possum trapper  Mr Theobald  became a pioneer in the use of  dogs to manage cats and stoats.
"A genuinely nice guy, very talented and very passionate with what he was doing ... and very good working with animals," Mr Thomas said.
"It's a huge loss to conservation."
Mr Thomas said he worked with Mr Hondelink for more than 30 years, remembering him as the "key field person" in developing  the Judas Goat strategy, where a goat fitted with a radio transmitter is dropped with a herd to guide hunters.
"Paul had a huge depth of knowledge on goats and tahr.
"We worked very closely on developing those systems and techniques and we flew an awful lot together."
He remembered his former colleague as cool and calm in often trying situations.
"He was very laid-back, very professional, but not easily stressed, which is something that you really need in those sorts of situations.
"I think the word laconic ... seems to spring to mind."