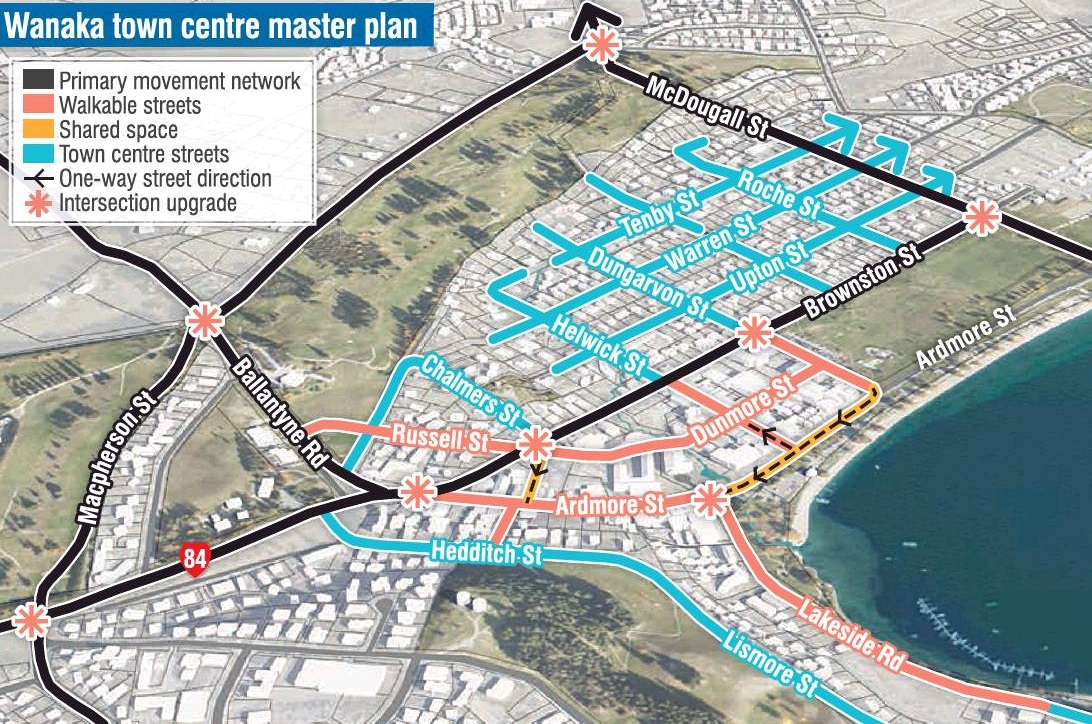 Those unhappy with the contents of a draft master plan for Wanaka yesterday were not reassured by Wanaka Community Board chairman Quentin Smith's pledge the plan was not "set in stone''.
As a result, golfers are consulting lawyers and business and building owners are planning meetings.
Wanaka Central Business District Property Owners Group member Roger Gardiner said members were "simply ignored'' during the process of creating the draft.
"Personally, I see several stumbling blocks which I think will get community pushback.''
These included the closure of Ardmore St along the lakefront.
Another member, David Crawford, speaking on behalf of the group, said it had "never had an explanation'' as to why building owners were not consulted.
"We have been locked into an inflexible agenda, and no-one has been brave enough to stand up and state the obvious.
"The process was flawed.
"The options being put forward could, potentially have a detrimental effect to many who have not been consulted.''
Five "big moves'' were signalled in the 30-year plan, two of the most significant affecting Ardmore St.
It would be removed from a long stretch of the lakefront, allowing Pembroke Park to be extended to the lake edge.
And the area in front of the town centre would become a one-way "shared movement zone'' for pedestrians cars, cyclists and other forms of transport.
A cluster of civic facilities and services, including an art gallery and performing arts centre around Dunmore St, is suggested, along with new cycle ways to Wanaka Airport and Glendhu Bay, transport bypasses along Riverbank Rd and Studholme Rd, and the controversial bypass from Anderson Rd to Golf Course Rd, taking part of the Wanaka golf course.
Club chairman David Smallbone said the club had not had "the courtesy of a formal approach or a formal consultation''.
"We will be taking the appropriate legal advice and we will be submitting against it ... making all the obvious submissions about how stupid it is.''
Mr Smallbone said as well as affecting the golf course, the proposed bypass would add to congestion on Anderson Rd.
"If they don't try to drive traffic away from that area, there's just going to be chaos there.''
Mr Smith agreed Anderson Rd would need to be upgraded.
The new bypass was intended to allow movement of vehicles from one side of town to the other, but "more feasible'' or "more cost-effective'' alternatives could be dealt with during the "business case stage''.
"There's no suggestion that we would want to compromise the operation of the golf course.''\
Deputy mayor Calum MacLeod believed the bypass should not have been included in the draft plan, but the process had been democratic.
However, he said the draft plan was a concept.
Mr MacLeod said the changes were designed to make the CBD an "attractive destination''.
The public has until June 28 to make submissions.
The the council is due to endorse the plan at its August meeting.
Main points
Close Ardmore St along the lakefront.
Make parts of Ardmore and Helwick Sts one-way, ''shared movement'' zones.
Create a new road through the Wanaka golf course.
Create a central plaza in Ardmore St.
Make Studholme Rd a bypass.
Create a cluster of civic facilities.
Change car parking, gaining 330 parks.
Add Wanaka Airport and Glendhu Bay to cycle network.