Police have released the names of all three people killed in a tragic helicopter crash near Wanaka Airport and say there is "nothing to suggest foul play" was involved in it dropping out of the sky.

Southern District Commander Superintendent Paul Basham, speaking at Wanaka police station just after 11am this morning, revealed the name of the third crash victim as Doc animal threats biodiversity ranger Scott Theobald, of Twizel.
This comes after it was earlier revealed pilot Nick Wallis, who was a director and general manager of Alpine Helicopters, and the youngest son of Sir Tim and Prue Lady Wallis, and experienced ranger Paul Hondelink were the other two killed.
Mr Hondelink was previously based in Wanaka but had moved to Twizel.
The crash comes less than three months after Mr Wallis' brother and fellow pilot, Matthew Wallis, was killed in a helicopter crash.
All three occupants of the Hughes 500 died when it came down about 1500m from the airport.
In reference to suggestions the incident had something to do with retaliation for the Tahr cull Supt Basham said: "There is nothing to suggest the machine was subject of foul play."
A specialist disaster victim identification officer from Queenstown would work with the remains of the men, which they hope to remove later today.
"Everybody involved in this event... is really motivated and determined to get through this as quickly and efficiently as we can, particularly the recovery of the human remains ... so we can get them back to the families quickly so they can grieve."
It had brought in a "significant team" from across the district to support the investigation.
"We are working at the scene today and potentially tomorrow."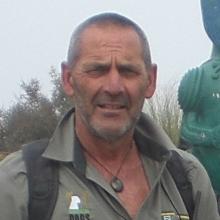 Supt Basham said the impact of the crash on the wider Wanaka community could not be overstated.
"We recognise the significance of this tragedy not only for immediate family but also for the wider Doc staff and the alpine and aviation community in Wanaka.
"I think it's huge.'' 
He said there was ammunition on board at the time of the crash.
He confirmed the helicopter was leased and there were witnesses to the crash.
This morning, specialist crash investigators could be seen at the site, along with several police cars, tents, and officers in a base several hundred metres from the wreckage.
What appears to be the tail section is more than 100m away.
Doc director general Lou Sanson paid an emotional tribute to Mr Hondelink, Mr Wallis and Mr Theobald in an interview on RNZ this morning.
"We just lost so much, these are some of the most experienced people in the world."
"It's just a tragedy, we are just absolutely stunned, we don't know what to say.
The two Doc workers and Mr Wallis all played crucial roles in protecting New Zealand's environment and helping native birds.
"This is huge what has happened to Doc.
"Thousands of birds are alive on islands because of these people."
Mr Theobald "was just born to kill predators to bring back our birds".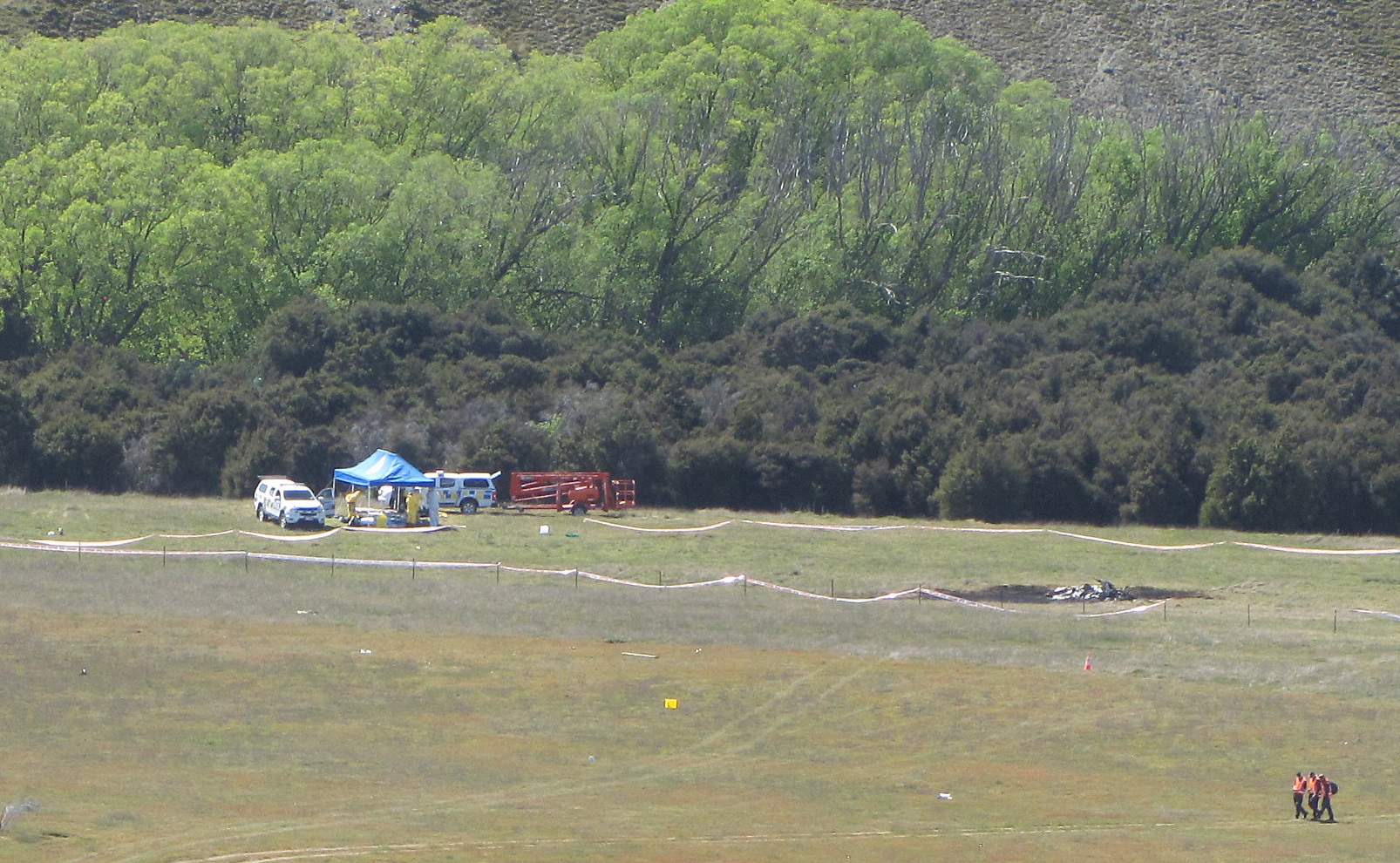 Mr Wallis, using his engineering experience, was "constantly trialling new ways of pest control" and was part of the Wallis family's crucial link with the Doc.
"We were linked at the hip with the Wallis family and we just can't believe what's happened."
Chief executive of Aviation New Zealand John Nicholson told the New Zealand Herald  the organisation was "deeply sorry to learn yesterday of the helicopter accident at Wanaka".
The Wallis family had a long history with the development of aviation in New Zealand and were highly respected for the contribution they have made, he said.
The accident also had wider repercussions with the deaths of two Department of Conservation employees.
"This accident will hit the families and the Wanaka, aviation and Department of Conservation communities hard. Events such as this do not seem fair," Nicholson said.
"Scott McKenzie, chairman of the New Zealand Helicopter Association joins me and all our members in extending our deepest sympathies to Nick's wife and two daughters, Sir Tim and Lady Pru and the families, friends and colleagues of the three so tragically killed."
He said he was now focused on supporting the families of those killed.
A large cordon marked by white tape surrounds the remains of the leased Hughes 500 helicopter (ZK-HOJ), that the  New Zealand Herald understands was brought in specially by Wallis' Alpine Helicopters company for the tahr cull contract.
The burnt-out wreckage is virtually unrecognisable as a helicopter.
It lies on flat ground, about 100m from the Clutha River and well clear of any apparent aerial hazards.
What appears to be the tail section is more than 100m away.
Yesterday afternoon, men in high-viz jackets could be seen searching even further afield for parts of the helicopter.
RadioLIVE Rural exchange host Sarah Perriam told The AM Show through tears her family knew Mr Wallis very well.
"We lost our step brother in a helicopter accident and the Wallis family were very supportive through that time," she said.
"It's just ripped through the entire rural New Zealand, this accident, and the two DoC staff are a huge part of the fabric of Wanaka."
Prime Minister Jacinda Ardern and Conservation Minister Eugenie Sage expressed their sympathies for the families, colleagues and friends of the three people killed.
"My heart goes out to the families and loved ones of all those who died in today's tragic crash," Ms Ardern said.
"Doc staff go to work every day on our behalf to take care of New Zealand's precious environment.
"It's an absolute tragedy that these staff and the helicopter pilot, who were just going about their work, will never return home.
"We will make sure we get to the bottom of this crash as soon as we can."
Alan McKay, who was nearby when the crash happened, said he never heard a thing, but when he got to a point where he could see the crash scene, described it as looking like a camp fire.
"There was virtually nothing left."
He said the weather was perfect and there was no breeze.
"I'd say it's just a very very unfortunate accident.
"It's a sad day for Wanaka."
An official inquiry into the crash was opened yesterday, and four Transport Accident Investigation Commission staff are understood to now be in Wanaka.
The helicopter is believed to have been under lease to Alpine Helicopters.
In a brief statement late yesterday, a company representative said the helicopter was heading to the Landsborough Valley and it "failed to reach its destination".
According to a New Zealand Herald report, a former Doc worker who has flown with Mr Wallis on many occasions said it was a new Hughes 500 helicopter that was "super safe".
"It will be really interesting to find out what has happened here. I can't believe it would be pilot error, as Nick was super-experienced and a really talented pilot."
He said Mr Wallis ran a well-organised operation and they were using a new machine that was specifically designed to be super-safe.
The ODT understands police officers met Sir Tim to inform him of the tragedy yesterday afternoon.
Sir Tim, who is in poor health, had been in hospital for the past month.
Warbirds Over Wanaka Community Trust chairman John Gilks paid tribute to Nick Wallis yesterday, saying the tragedy would have a huge impact on the Wanaka community.
"It's in the realm of being almost unbelievable.
"The community will be devastated."
Mr Gilks, who knew Mr Wallis well, said the pilot was a "lovely guy, a wonderful guy".
"He was a man's man and yet a real gentleman."
"The person I feel deeply sorry for is Nick's wife ... and their children."
Former New Zealand Deerstalkers Association president Bill O'Leary expressed deep regret at the "tragic loss of life".
"All our members, indeed hunters everywhere, will join in expressing their deepest sympathy to the families of those lost."
With NZME