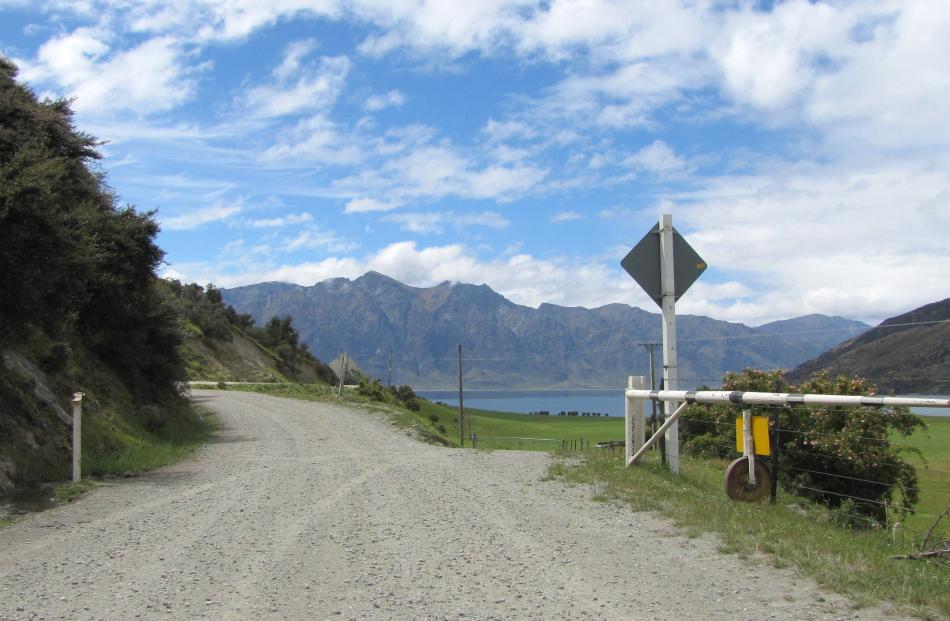 Thousands of tourists flock to Wanaka and surrounds each year to experience the breath-taking scenery. It is for land with those same views — of Lake Wanaka and the snow-capped Southern Alps — that wealthy foreigners and New Zealanders are happy to hand over millions of dollars. Tim Miller looks at the impact  of such sales  on New Zealanders who value access to some of the most important conservation areas in the country.
This week, top US news anchor Matt Lauer was revealed as the mystery new leaseholder of thousands of hectares of high country land on the northern shores of Lake Hawea.
With his acquisition of the leasehold of the 6468ha Hunter Valley Station, the host of NBC's The Today Show joined the growing list of wealthy individuals, based overseas and in New Zealand, who own large plots of rural land near Wanaka.
Other owners of large tracts of land in the area include American billionaire and adviser to US President Donald Trump Peter Thiel, who bought a 194ha lifestyle block in Mt Aspiring Rd near Glendhu Bay in 2015; British businessman Richard Anthony Magides, who bought Mt Isthmus Station just across the Neck from Hunter Valley Station  in 2015; and Shania Twain and her now-ex-husband Mutt Lange, who bought the 24,731ha Motatapu Station and Mt Soho for $21.5million in 2004.
Mr Lange still owns the properties and calls his collection of stations, which now includes Glencoe and Coronet Peak Stations, Mahu Whenua.
In 2014 about 53,000ha of the land was protected under a conservation covenant and he is often cited as an example of an owner who has protected and enhanced public access through his land.
It is likely more land is in the hands of overseas owners, but authorities were unable to collate that information in time for this article.
It is not just overseas buyers who are interested in high country stations or large swaths of Wanaka farmland.
Wealthy New Zealanders have also got themselves a slice.
In 2008 Trade Me founder Sam Morgan bought the 2665ha Hillend Station and last year an unknown New Zealander bought Mt Albert Station at the headwaters of Lake Wanaka near Makarora.
While the Overseas Investment Office must approve purchase by overseas buyers,  there is no agency which approves the purchase of land by New Zealanders, so such sales often go unnoticed.
The buy-up by the wealthy looks likely to continue.
A search through the Wanaka listings on any "high-end" real estate company website shows various offerings still on the table.
Combings Farm, a 137ha lakefront property next to Mr Thiel's, is under contract after being advertised as waiting for someone to build their dream home.
Two other high-country stations, Lake Hawea Station and Lake McKay Station in Upper Clutha, are for sale.
While the rich get their slice of paradise, the arrival of multimillionaire landowners in the area does not necessarily please everyone and there has been some criticism of purchase processes and what is done with land once it has been bought.
In the case of overseas landowners, Queenstown lawyer Graeme Todd thinks people are too quick to judge.
Mr Todd specialises in sales to overseas buyers and represented Mr Lauer in the purchase of Hunter Valley Station, and Twain and Lange in their purchase of Motatapu and Mt Soho Stations.
"I've dealt with numerous clients from overseas who have bought land here and in almost every occasion the ownership of that land by overseas buyers has ended up being better for New Zealand."
Often overseas buyers were able to invest more in properties than if the ownership had stayed in New Zealand, he said.In the case of the Hunter Valley Station, millions would be spent increasing the productivity of the farm and  public access, which fitted in around the day-to-day running of the farm, would be greatly enhanced under the new ownership.
"What people have to remember is this land is a working farm and will continue to be a working farm, with a substantial increase in investment."
When approving applications by foreigners to buy land in New Zealand the OIO often sets conditions which secure access to parts of, or through, a property.
But critics say in many cases, such as the sale of Hunter Valley, the conditions can easily be worked around by using farming operations or health and safety concerns as reasons to deny access.
Upper Clutha Walking Tracks committee member and Wanaka resident John Wellington said in many cases access through farmland and high country stations was becoming more difficult as new owners took over, but not in all cases.
But people needed to be careful when criticising overseas landowners about access on their land, he said.
"Shania Twain got an awful lot of stick when she purchased her property because she didn't grant access through Motatapu Valley.
"People conveniently forgot it was the previous Kiwi family who didn't let anyone go anywhere through that farm."
If landowners worked with local communities and organisations such as the Walking Access Commission or the tracks trust, they could usually expect far less resistance to their purchase, he said.
"Look at Mt Aspiring Station: more than 60,000 people are allowed to travel through that working farm every year to Mt Aspiring National Park and it works."
With a general election in September, making it harder for non-citizens to buy land looks to be a promise of at least one political party.
Local councils have no power to stop the sale of land to foreigners and the man heading the Queenstown Lakes District Council thinks there is no need.
Mayor Jim Boult said there were many positives associated with wealthy people both from New Zealand and overseas coming into the district.
"People who buy these very expensive properties generally are going to build very expensive dwellings on them ... A $15million home is not unheard of these days, so clearly that employs a lot of people and sees a lot of money being spent on building supplies around town."
He had met some of the millionaires and billionaires and found them to be  good people, he said.
"In my experience, they are very excellent citizens and are some of the first to put their hands in their pocket when you're trying to raise money for a good cause."
In most cases, those wealthy individuals bought land here for the same reason as everyone else — the lifestyle, Mr Boult said.
"They're generally ecologically minded people and they're not here to spoil the area. In most cases, it's why they have chose to come here or buy here and most of them get it."
Other than pushing property prices higher, he could not see any other negatives from the increase in foreigners buying land in the area.
One Wanaka man is keeping a close eye on what these landowners are doing.
Julian Haworth has made it is business to make sure large landowners play by the rules and do not overdevelop their land.
The secretary of the Upper Clutha Environmental Society for the past 22 years is intimately familiar with the Resource Management Act and is not shy about using it to ensure compliance from landowners around Wanaka.
A decade ago he battled the then-owners of  Mr Thiel's Damper Bay land, concerned the beauty of the area and the Te Araroa hiking trail would be spoilt by mansions, and was successful in having the approved number of building sites reduced from six to one.
Mr Haworth could not be contacted this week, but last month  told The Guardian newspaper it was almost impossible for small groups like his with limited funds to fight people with endless resources at their disposal.
"... All we have are our brains and our local contacts and our knowledge of the resource plan. That is our only advantage."
Increasingly, Wanaka was becoming a self-interested community motivated by money, he told the paper, which was the "polar opposite" of the peaceful town he moved to nearly 30 years ago.
He may well still have some battles to come.